TOP CHILL MUSIC - WEEK 25
The best thing about chill music is that it appeals to everyone. While our indie and indie pop columns, for example, are aimed at people with very specific tastes, we like to think that anybody can come here and enjoy the relaxing vibes. Whether you're into folk, metal, or improvised acid jazz, then, you're sure to find something to appreciate in the latest edition of We Are: The Guard's Top Chill Music, featuring Tycho, Cuco, San Holo, Joji, Burial, and plenty more!
-
TYCHO – JAPAN
Tycho is taking us on a journey through the late-night streets of Japan on his enthralling latest single – the Saint Sinner-featuring "Japan." With percussion raining down on asphalt and synths flickering like neon signs, I can't help but feel like I've stepped inside of a Haruki Murakami novel listening to this arresting cut, which is lifted from Tycho's forthcoming album Weather.
CUCO – FEELINGS
I'm pretty sure that if you were to look up the definition of "sultry" in the dictionary, you'd find this song. Latin crooner Cuco is embracing his inner smooth operator on his latest single "Feelings" – a brass-laden piece of psychedelic jazz that makes me want to stretch out on a fur rug and pretend that I'm in a James Bond movie (or, failing that, Austin Powers!).
SYML – GIRL
I'm not crying, you're crying! Okay, fine – I admit that SYML has completely moved me with this video for his song "Girl." Directed by Hayley Young and shot near the artist's home, the clip is very much a study of childhood and its many complexities that we tend to forget about when "looking back," with SYML's gently nostalgic vocal performance really adding weight to the visual's affecting narrative.
SAN HOLO – LOST LATELY
We must protect San Holo at all costs! The bitbird founder never fails to bring a smile to my face, even when his music takes a more introspective turn, as it does on "Lost Lately." Written about the loneliness that comes with being a touring musician and how San found himself questioning his purpose in life while on the road, "Lost Lately" is a plaintive composition that nevertheless manages to light up the darkness with its melodic vibes.
JOJI – SANCTUARY
Joji pledges allegiance to a lover on his latest single – the ethereal "Sanctuary." "If you've been waitin' for fallin' in love/Babe, you don't have to wait on me/'Cause I've been aimin' for heaven above/But an angel ain't what I need," sings the former YouTuber on the cut – a dreamily futuristic power ballad that comes accompanied by an otherworldly video directed by Eoin Glaister that sees Joji turn space pirate.
ALEC BENJAMIN – MUST HAVE BEEN THE WIND
Having made his breakthrough in January with the Alessia Cara-featuring remix of "Let Me Down Slowly," Alec Benjamin continues his meteoric rise this month with the release of "It Must Have Been the Wind." The gentle ballad is an ode and testament to human kindness that finds the Phoenix singer-songwriter caring for a neighbor in an abusive relationship, with the vulnerable, tender acoustics really allowing Alec's inner storyteller to shine.
EMOTIONAL ORANGES – ME & U (CASSIE COVER)
It's only been one month since they released their cover of Ja Rule and Ashanti's "Always on Time," but Emotional Oranges are already back this June with a take on another baby-making R&B classic: "Me & U" by Cassie. Listen as the Los Angeles duo crank up the heat several notches on this version of the early 00s cut, with the male and female harmonizations really adding to the song's sense of sexual tension.
APPLEBY – LADY SUNSHINE
Introducing Appleby, the Chicago native who's making his debut on We Are: The Guard this Friday morning with "Lady Sunshine." As the song title suggests, it's a blissfully warm composition that hears Appleby paying tribute to a very lucky lady in his life, with the bedroom pop artist's delightfully intimate blend of vocals and guitars plucks making for nothing short of perfect listening as we head into the summer months.
BURIAL – STATE FOREST
London ambient producer Burial is inviting us deep into the woods on his latest single and the follow-up to "Claustro" – "State Forest." With droning synths forming like clouds of fog and mist around a variety of echoing field recordings, "State Forest" is an eight-minute mood piece that sounds a whole lot like this GIF: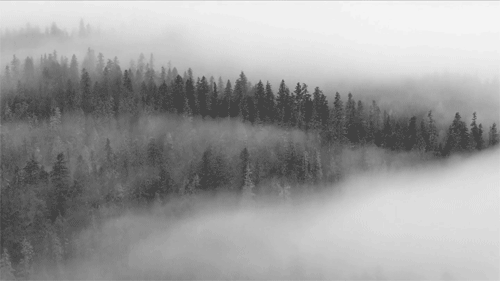 DAMEER – EASIER
Concluding this week with a song that was introduced to us by our good friends over at Majestic Casual. Dameer has completely won us over with "Easier" – a hypnotic, captivating fever dream of a song that Dameer reveals that he wrote for his ex. He continues: "I try to express the sheer frustration one can feel in a long-term teenage relationship; wondering whether you did the right thing or not and questioning your own state of sanity. The chorus therefore begs the question: 'Does it get easier?'"
-
Until we meet again, why not follow We Are: The Guard's Weekly Chart for plenty more?! x
Photo by Rota Alternativa on Unsplash
Jess Grant is a frustrated writer hailing from London, England. When she isn't tasked with disentangling her thoughts from her brain and putting them on paper, Jess can generally be found listening to The Beatles, or cooking vegetarian food.