TOP CHILL MUSIC - WEEK 29
This heat is quite honestly rude. Seriously, how am I meant to stay cute out here when the temperatures are causing my hair to frizz à la Monica Geller in Barbados and my body to sweat in places that I didn't even know that it could sweat?! Ugh... And to think that it's only going to get worse this weekend! Anyway, it's all good in the hood as it's time for us to cool down and chill out this Fri-yay with the latest edition of We Are: The Guard's Top Chill Music. Just grab the coldest beverage that you can find (alcohol is permitted) and join me in enjoying the following tracks from Four Tet, San Holo, Cuco, Blood Orange, Alec Benjamin, and more.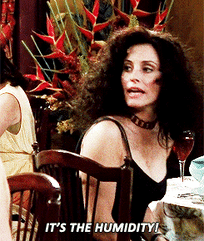 -
FOUR TET – DREAMER
They say that you shouldn't judge a song by its cover, but in this case, you very much should. Light, airy, and bursting full of color – just like the freshly washed laundry pictured billowing against a blue sky in the artwork – "Dreamer" is another textured, rhythmic opus from Four Tet's Kieran Hebden that you'll want to get lost in for days on end this summer.
SAN HOLO – LOST LATELY (PURE ALTERNATIVE VERSION)
San Holo's "Lost Lately" is a gift that keeps on giving. Three weeks on from sharing the full dance production, the bitbird beatmaker returns this Friday with the "Pure Alternative Version," or as I prefer to call it, "Makes You Cry Like a Baby Version." This is so unbelievably precious.
CAMP.30 & JONATHAN K – 12 STEP
And now for some big-time summer vibes courtesy of Toronto-based newcomers CAMP.30 and Jonathan K. Close your eyes and feel yourself drift away to the vacation of your dreams while listening to their latest single "12 Step," which hears hazy, woozy vocals pairing with psychedelic guitars for a song that makes for an essential addition to any beach playlist.
CUCO – FEELINGS
Three weeks on from sharing the brassy psychedelic number "Feelings," Cuco returns this Friday with the suitably psychedelic video. Directed by Pasqual Gutierrez and RJ Sanchez, the clip is very much a deep dive into the sense of isolation that the Latin newcomer felt while recovering on painkillers from his car crash last year, with Cuco gradually being driven to delusion by his solitude.
GAVIN HALEY – SHOW ME
The tears just keep on flowing this Friday! Gavin Haley is sure to tie your heartstrings into knots with his latest single "Show Me," an emotionally raw ode to a dying love that hears the Louisville crooner's lightly Auto-Tuned voice meeting a minimal electroacoustic production.
CLARK – PRIMARY PLUCK
Ahead of the release of Kiri Variations, an album that initially started life as a score for the BAFTA-nominated British television drama Kiri, Clark has shared "Primary Pluck." With its blend of broken toy pianos, childlike choirs, and sweeping strings, there's something inherently unnerving about "Primary Pluck," with the horror-like composition not releasing its foreboding grip on its listeners for its entire two-and-a-half-minute duration.
DOPE LEMON – HEY LITTLE BABY
I don't smoke, but if I did, I'd probably roll up a big ol' one listening to this latest single from DOPE LEMON. The Australian folkie will take you to a place of instant calm and tranquility with "Hey Little Baby," a sleepy acoustic ballad that gently warms the soul like the morning sun filtering through the bedroom window.
BLOOD ORANGE – BENZO
Blood Orange's Devonté Hynes continues to remind us why he's a master of his craft on his serene latest single "Benzo." Featured on his recent mixtape Angel's Pulse, it's an avant-garde jazz dream, with saxophones softly swaying beneath the queer artist's mellow falsetto. "This is one song where I think that the mix matches the mood," writes Devonté, who also directed the Marie Antoinette-inspired video. "Lyrically, it's about feeling like no one sees your worth, while at the same time knowing that's a lack of self-worth anyway."
EMOTIONAL ORANGES – SOMEONE ELSE (REJUICED)
Coinciding with the release of the video for "Someone Else," Emotional Oranges return this Friday with the "rejuiced" version of the track. Listen as the enigmatic duo put a darker, Weeknd-esque spin on the Juice: Vol. 1 bop, with gloomy guitars and moody basslines reverberating out beneath the R&B two-piece's inimitable boy-girl harmonies.
ALEC BENJAMIN – JESUS IN LA
Alec Benjamin just keeps on getting better and better. Three weeks on from sharing "It Must Have Been the Wind," the young storyteller returns this Friday with "Jesus in LA." The delicate ballad was written about the first time that Alec moved to the City of Angels in search of fame and success, only to realize that everything that he needed was waiting for him back home in Arizona. "Even at my lowest point, being back home with my family is what made me truly happy," says Alec. Listen.
-
Follow We Are: The Guard's Weekly Chart on Spotify for more chill vibes. x
Photo by Yoann Boyer on Unsplash
Jess Grant is a frustrated writer hailing from London, England. When she isn't tasked with disentangling her thoughts from her brain and putting them on paper, Jess can generally be found listening to The Beatles, or cooking vegetarian food.