TOP CHILL MUSIC: THE 10 BEST VIBES OF THE WEEK
Photo by Sophia Juliette
Happy Beyoncé Day, everybody! While I appreciate RENAISSANCE is about to be the only album on heavy rotation this weekend, if you're looking to indulge in some Me Time™ before getting the party started over the next couple of days, then I'm pleased to tell you you're in the right place. Just don't forget to follow us on Spotify after checking out the latest edition of We Are: The Guard's Top Chill Music, featuring Ambar Lucid, Elohim & Yoke Lore, Billie Eilish, and lots more!
-
AMBAR LUCID – TIMELESS
Love is such a powerful force, it can sometimes seem as if it's traveled across numerous ages and generations, with Ambar Lucid tapping into this energy on the cosmic, psychedelic "Timeless." "It was inspired by the feeling you get when you meet someone and it feels like you've met them in many other lifetimes; an instant connection that is so deep that it feels like it transcends all time and space," says Ambar in a press release of the cut, with her Latin melodies coming tinged with a hint of the interstellar.
ELOHIM & YOKE LORE – PASTEL AURAS
Los Angeles, California's Elohim and Katonah, New York's Yoke Lore come together today for the intoxicating ode to infatuation, "Pastel Auras." Following Elohim's collaboration with Felix Cartal, "Pastel Auras" is a beautifully sweet-smelling summer dream. "You're like a scent caught on the breeze/That leads you to a prairie, of sex-crazed daffodils and asters/Screaming forth from the earth in gasps of beauty and disorder/Glowing pastel auras," sing Elohim and Yoke with giddy devotion.
BILLIE EILISH – TV
She's been performing it live for a few weeks now, and this Friday, Billie Eilish is finally offering up an official studio recording of the gut-wrenching "TV." Featured on her brand new collection, Guitar Songs, alongside "The 30th," "TV" is a devastating ballad that hears Billie touching on everything from Roe v. Wade to the Amber Heard and Johnny Depp trial. "The Internet's gone wild watching movie stars on trial/While they're overturning Roe v. Wade," sings Billie as her voice crashes into our chests like a comet.
CAROL ADES – SADTOWN USA
Sorrow is as sticky as glue, with Carol Ades exploring the residue on her heart on "Sadtown USA." "I wrote 'Sadtown USA' during a time when I was grieving an old relationship at the same time as starting a new one and found myself in this constant cycle of sadness," reveals Carol. "No matter how hard I tried I couldn't get out of it." With her husky voice powerfully piercing through the acoustics, "Sadtown USA" is an Americana-tinged lament that makes for an honest, authentic exploration of grief.
DAPHNI – CLAVICLE
Earlier this month, Caribou's Dan Snaith returned to his Daphni handle to deliver the fun, groovy "Cloudy," and this Friday, the Canadian auteur is back with "Clavicle." The latest single to be unveiled from Daphni's forthcoming fourth album, Cherry, "Clavicle" is built on a driving dance-floor beat fit for the club as much as the after-party. As "Clavicle" progresses, however, shiny synthesizers take the production to a different plane altogether, with Dan reminding us he never remains in one place for too long.
MONTELL FISH – DARLING
Having recently signed to Virgin Records, TikTok star Montell Fish is one step closer to bringing his gospel-tinged soul music to the masses with "Darling." Featured on his recent debut album, JAMIE, a 10-song collection that came together after a breakup, "Darling" hears Montell begging his lover to not leave. "Please don't run away/From me/My love, still stay/Don't leave," pleads Montell in the surging roil of a chorus, before reaching a place of calm acceptance after the storm: "I'm finally lettin' you go."
ECHOS – MOURNING
Portland duo Echos make music for deep feelers as rendered through an atmospheric pop lens, with Alexandra Norton and Tai Richards continuing to hone their cinematic sound on "Mourning." Speaking on TikTok, Alexandra says "Mourning" is "about grieving things before they're gone even when you don't need to." Featured on Alexandra and Trai's recent third album, AFFIRMATIONS, "Mourning" is a haunting song for highly sensitive souls: "I hate that I feel so much/Do you think that I feel too much?"
SEIJI ODA – BREATHE
Back in March, Oakland's seiji oda caught our attention with "aero³," a song that heard him working alongside not one, not two, but nine producers, and this July, seiji continues to capitalize on his healing, nourishing hip-hop breed on "BREATHE." "I often try to keep calm by removing myself from the world, living in my lil peaceful oasis where everything is quiet," says seiji on Instagram, with his voice stretching out over the beats like an exhale. "Thru all the chaos, find your pocket of silence, where you can breathe."
YAEOW – BOTH OF US
He recently announced he's completed all of the songs for his next album, but before then, yaeow's Kevin Häggström is returning to We Are: The Guard with the unspeakably sad "both of us." According to yaeow, "both of us" is about "missing a person even if they don't miss you." Written and produced alongside Teddy Failure, "both of us" is a melancholy ballad full of summer nostalgia for walking through woods and dancing on rooftops: "And I miss all of that/But it's ok if you don't/Then I keep it for the both of us."
LEV – TELL ME
When that Majestic Casual vibe hits: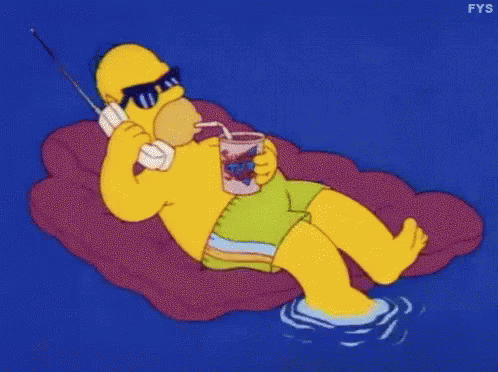 -
Don't forget to follow We Are: The Guard on Spotify for lots more! xo
Sources:
Homer Simpson GIF
Jess Grant is a frustrated writer hailing from London, England. When she isn't tasked with disentangling her thoughts from her brain and putting them on paper, Jess can generally be found listening to The Beatles, or cooking vegetarian food.