TOP CHILL MUSIC: 10 VIBES FOR THE WEEKEND
Photo by Rebe Pascual on Unsplash
The Delta Variant may be currently wreaking havoc on the Internet's fall plans, but there's one thing that COVID-19 can't take from us, and that's music. With the weekend almost upon us, then, it's time to switch off from the bad news and enjoy the latest edition of We Are: The Guard's Top Chill Music. Check out the following chill vibes from Appleby, Fiji Blue, Omar Apollo, and lots more.
-
APPLEBY – YOU'RE MY HOME
It's said that music has healing properties, and never has that been more certain to me than on Appleby's "You're My Home." Featured on Appleby's brand new EP While You Were Sleeping – a six-song collection that came together while he was visiting his family in Elgin, Illinois – "You're My Home" is the kind of listen that genuinely feels like a therapeutic tonic to the soul. With Appleby's tender vocals coming surrounded by gentle swirls of guitars and muted drums, "You're My Home" is a comforting ode to finding "home" inside of another person.
FIJI BLUE – ONLY WHEN I LOOK INTO YOUR EYES
While it feels like only yesterday that Fiji Blue was dropping Reasons You Should Care – one of our favorite EPs of the year so far – the Los Angeles two-piece is already making their return today with the radiant "Only When I Look Into Your Eyes." Clocking in at three and a half minutes, "Only When I Look Into Your Eyes" hears Trevor Dering and Valentin Fritz exploring a more guitar-heavy sound than what we're used to. That isn't to say it isn't totally glistening, however, with Fiji Blue transmuting their sad-boy feels into solid gold.
OMAR APOLLO – CALIFORNIA DREAMIN' (THE MAMAS & PAPAS COVER)
Just in time for the final sultry wisps of summer, Omar Apollo returns today with a cover of "California Dreamin'" by The Mamas & Papas. Released as part of Spotify's Singles Series, Omar's exotic, mystical take on the 60s classic was put to tape at EastWest Studios in Los Angeles, where the original was also recorded. "I chose that song because I heard it in Chungking Express by Wong Kar-Wai. They played it so many times in the movie that I became obsessed with it," explains Omar of the cut, which makes for intoxicating heat-wave listening.
ÁSGEIR – ON THE EDGE
Having explored a more folktronica-leaning sound on last year's Bury the Moon, Ásgeir is stripping back his music to its emotional core on his latest single "On the Edge." Featured on his forthcoming EP The Sky Is Painted Gray Today – a four-song collection that was recorded at Hljóðriti Studios, one of the oldest and most respected studios in Iceland – "On the Edge" is a quietly hushed acoustic reverie that hears Ásgeir singing about his desire to return home to a lover: "Though we're divided by a stretch of green and blue/I'll bridge the gap."
BAYNK – TOUCH ME (HOLD MY HAND)
He recently teamed up with Lexington R&B singer-songwriter Tinashe on the critically acclaimed "Ester," and this Friday, BAYNK is making his dreamy return with "Touch Me (Hold My Hand)." "'Touch Me (Hold My Hand)' is a collection of lonely thoughts from the road," reveals the New Zealand producer of the composition. With the titular phrase repeating with almost mantra-esque fashion while beats and synthesizers twirl and dance with ethereal ease, "Touch Me (Hold My Hand)" is an otherworldly paean to human connection.
AMELIA MEATH & BLAKE MILLS – NEON BLUE
Coinciding with the announcement of their brand new label Psychic Hotline, Sylvan Esso has shared the first release on the "artist-led enterprise." "Neon Blue" is a dusky collaboration between Sylvan Esso's Amelia Meath and Santa Monica guitar virtuoso Blake Mills. Written by Amelia on a flight from Durham to Los Angeles, the song is an evocatively jazzy ode to nighttime in suburbia. Bringing to mind images of rain-dappled alleyways and bar signs fizzing like static in the darkness, "Neon Blue" is a crepuscular lullaby that's full of unspoken secrets.
ALAINA CASTILLO – WISH YOU WERE HERE
Loneliness is a feeling that many of us have had to come to terms with over the last few months, including Alaina Castillo, with the Houston act delving into the depths of her despair on "Wish You Were Here." "'Wish You Were Here' is a song I wrote during quarantine when I really just needed that one person to get me through things but they weren't there. The days felt longer and the nights felt endless in their absence," says Alaina of cut – a sparse, minimal piano ballad that hears the 21-year-old's powerhouse voice filling the void.
CHRISTIAN LEE HUTSON (FEAT. JULIA JACKLIN) – YOU'RE STILL THE ONE (SHANIA TWAIN COVER)
And now for something completely different from Christian Lee Hutson. Having teamed up with We Are: The Guard favorite Shamir earlier this year to deliver a spin on The Cure's "Just Like Heaven," Christian is returning today with a brand new cover of "You're Still the One'' by Shania Twain. Featured on his recent EP The Version Suicides, Vol. 3, "You're Still the One'' hears Christian enlisting Australia's Julia Jacklin for the cover, with both artists sounding genuinely lovely as they trade careless whispers atop soft acoustic strums.
SWEET AND LONELY – DAYS LIKE THESE
September is only a matter of weeks off, but Minneapolis, Minnesota bedroom-pop singer-songwriter and producer Sweet and Lonely is keeping the summer vibes going a little bit longer on his latest single "Days Like These." The follow-up to his previous offering "Crawling Home When the Morning Comes" feels like the audio equivalent of diving into a vintage vacation polaroid. Bringing together Sweet and Lonely's longing falsetto with nostalgia-laced synthesizers, "Days Like These" is an aching groove that laps over listeners like an ocean wave.
SANS SOUCIS – ON TIME FOR HER
We spend so much of our lives showing up for and bending over backward for others, but British singer-songwriter and producer Sans Soucis is reminding us of the importance of showing up for ourselves on her gentle brand new single "On Time for Her." "I'm on time for her," repeats Sans to herself on the cut. With vocals breaking apart and reassembling into a kind of staccato siren call atop muted flourishes of percussion, "On Time for Her" is a quietly affirming, empowering piece of music that softly enters the bloodstream.
-
Follow We Are: The Guard on Spotify for lots more chill vibes. xo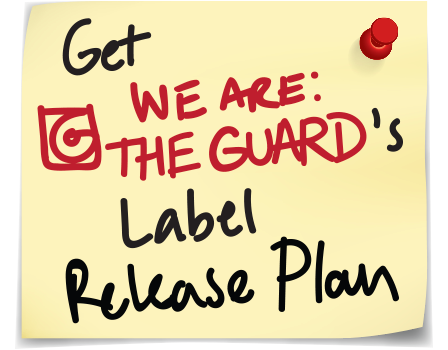 Jess Grant is a frustrated writer hailing from London, England. When she isn't tasked with disentangling her thoughts from her brain and putting them on paper, Jess can generally be found listening to The Beatles, or cooking vegetarian food.