TOP CHILL MUSIC: 10 SONGS OF SELF-CARE THIS HOLIDAY SEASON
Photo by Carolina Heza on Unsplash
"It's the most wonderful time of the year," kind of? As much as I love Christmas, it's important to remember the holiday season can be a chaotic, stressful, and overwhelming period for some people. While Christmas is made for giving to others, that doesn't mean we shouldn't check in on ourselves on occasion. On that note, why not treat yourself to some self-care this Friday morning with the latest edition of We Are: The Guard's Top Chill Music, featuring Alix Page, Benny Sings, Montell Fish, and more?
-
ALIX PAGE – RADIOHEAD
Moving on is hard to do, especially when your subconscious mind continually insists on bringing up your past relationship. Alix Page ruminates on this on "Radiohead." Written after Alix had a disturbingly realistic dream about her ex, "Radiohead" is an unspeakably pretty acoustic dispatch that hears the 19-year-old coming to terms with her unresolved heartache: "Back so soon to come and haunt me/Drop your shoes and hang your coat/Stay however long you want to/You will until you won't."
BENNY SINGS (FEAT. JONES) – LOOK WHAT WE DO
From Mac DeMarco to Tom Misch, Benny Sings has collaborated with his fair share of musicians over the years, and today, the Dordrecht native is adding to his list with the JONES-featuring "Look What We Do." The latest single to be lifted from his forthcoming project Beat Tape II is a gleamingly funky, psychedelic cut that hears JONES soaking in the sunrays of a brand new love. "We got this love/Look what we do," sings JONES, her backing vocals dappling like an ocean over the record's deep grooves.
MONTELL FISH – DESTROY MYSELF JUST FOR YOU
Just a few weeks on from making his debut in this column with "Fall in Love With You," TikTok viral auteur and visionary Montell Fish is back today with the stirring "Destroy Myself Just for You." Much like "Fall in Love With You," "Destroy Myself Just for You" hears Montell continuing to dabble in rawly minimalistic post-Blonde hymnals. With Montell's meditations on death and the afterlife soaring to falsetto highs atop an echoing guitar, "Destroy Myself Just for You" is best listened to by the light of the moon.
JONNY GREENWOOD – LICORICE PIZZA
He recently dropped the score to the Kristen Stewart-starring Spencer and the Jane Campion-directed The Power of the Dog, and today, Radiohead's Jonny Greenwood is once again returning to the cinematic world with "Licorice Pizza." Lifted from the score for Paul Thomas Anderson's forthcoming movie of the same name, "Licorice Pizza" is a gently stirring string vignette that filled me with an incredible sense of longing for something I couldn't quite put my finger on. Licorice Pizza is out on December 25.
HAHLWEG & WAFIE – EYES ON FIRE (BLUE FOUNDATION COVER)
This one goes out to all of my fellow Twihards. Hahlweg and wayfie are plunging us into our emo feels on this brooding reinterpretation of Blue Foundation's "Eyes on Fire," a song perhaps best known for its appearance in 2008's Twilight. While the original packs a steeply angsty punch, Hahlweg and wayfie are bringing a whole new level of haunt to "Eyes on Fire," with wayfie's voice skulking like a shadow through the song's darkly distorted alleyways. Hahlweg's Nostalgia Reimagined EP is out on December 9.
LITCHE (FEAT. YIBBY) – BAD CONNECTION
Our world is more connected and integrated than ever. Why is it, then, so many of us couldn't feel more disengaged from those around us? Litche is searching for answers on "Bad Connection." With glittering synth motifs rippling over a sample of a crackling voicemail, "Bad Connection" is a Bonobo-esque bop that comes topped off by some soul-searching bars courtesy of Sydney's Yibby. "It was a lot of fun piecing it together," says Litche. "It felt like new territory which is always exciting."
APRIL – SOMEONE THAT I MADE
It can be scary growing up, moving out, and stepping beyond our comfort zones, but Dublin's April is reminding us it'll all be okay in the end on "Someone That I Made." Produced alongside Clarence Clarity, "Someone That I Made" is "about being away from comfort and missing family and safe familiar places." "It's about growing up and realizing everything you need is already there no matter where you go," adds April of the cut, which glitters with all of the wistful nostalgia of a starry night sky.
EDAPOLLO – IVY (SUNDREAMER REMIX)
In September, edapollo released one of our favorite albums of the year in the form of Blue Spring, and today, the Bristol-via-Melbourne artist is rounding off his year with this lush remix of "Ivy." Produced as part of his ambient side-project Sundreamer, "Ivy (Remix)" is a blissful sanctuary that finds the beats of the Blue Spring original moving aside for more sublime piano notes. The final result is nothing short of tranquil, with edapollo evoking walking through a role-playing video game village of dreams.
CATIE TURNER – GOD MUST HATE ME
Former American Idol contestant Catie Turner continues to establish herself as one of the most emotionally intelligent songwriters of her generation on "God Must Hate Me." Described as her "most vulnerable release yet," "God Must Hate Me" finds Catie warring with feelings of physical imperfection and not being good enough compared to others. "Got ample mental illness, personality flaws/While their only flaw seems to be that they have none at all," sings Catie, her voice arching with a genuine soul.
SANS SOUCIS – ON TIME FOR HER (LIVE)
It's quite rare I get to feature live music in this column, but every once in a while, a performance comes along that deserves all of our attention. Case in point: Sans Soucis and her recent session for our friends over at Majestic Casual. Coming a few weeks after she released her EP and won Best Original Track for "Air" at the Youth Music Awards, this performance of "On Time for Her" is an equal parts cool and captivating window into the London singer-songwriter and producer's live show.
-
Why not follow We Are: The Guard's Weekly Chart for more? xo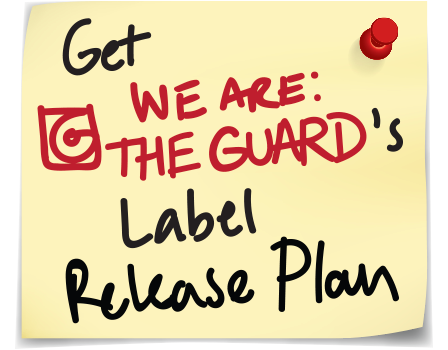 Jess Grant is a frustrated writer hailing from London, England. When she isn't tasked with disentangling her thoughts from her brain and putting them on paper, Jess can generally be found listening to The Beatles, or cooking vegetarian food.