TOP CHILL SONGS: 10 TRACKS TO EASE YOU INTO THE WEEKEND
Photo by Dingzeyu Li on Unsplash
It's been an incredibly tough couple of days for me, personally, following a loss in the family. It feels as if the whole world has experienced a lifetime's worth of pain over recent months, but it's during moments like this we realize how extremely important music is. With the weekend almost upon us, then, let's take a few minutes to heal, rest, and recover with the latest edition of We Are: The Guard's Top Chill Songs. Featuring DWY, Rhye, daste., and seven other favorites, this playlist has something for everybody.
-
DWY – YOU & ME
The loves that shine the brightest are often the loves that burn out the fastest, as is the case in DWY's "You & Me." "Wе're a volcano, we might explodе/But if we gotta blow oh, let's give em fireworks," croons the British R&B crooner over refracting, glassy atmospherics on the cut, which features on DWY's forthcoming mixtape 8-bit Memories.
RHYE – SAFEWORD
We Are: The Guard favorite Rhye is continuing to wreathe in domestic bliss on the sublime "Safeword." The latest single to be unveiled from Home is another ode to the evident goddess that is Mike Milosh's lover, with disco-referencing strings sweeping and swooping beneath Rhye's Sade-esque, luscious vocals: "Do you know your safe word?"
DASTE. – SOMEBODY LIKE YOU
Summer is a long way off yet for those of us in the Northern Hemisphere, but Australia's daste. are nevertheless giving us a taste of the humid nights to come on "somebody like you." "This song came about shortly after everyone was coming to terms with the severe necessity of isolation," explain daste. of the cut – a sultry, tropical-tinged groover.
COLE ALLEN – SOFA SURFER
Cole Allen is 17 years old, not that you'd believe it listening to his latest single "Sofa Surfer." Lifted from the Canada singer-songwriter's recent sophomore EP I Broke Like a Sweat in the Heat, it's a vagabond anthem of sorts about loneliness and isolation, with Allen bringing a maturity and precision to his performance that more than belies his age.
SERENA ISIOMA – MEADOWS IN JAPAN
Serena Isioma's music is bliss personified. Case in point: "Meadows in Japan." Featured on the Chicago singer-songwriter's recent EP The Leo Sun Sets – one of We Are: The Guard's favorite releases of 2020 – it's a ballad about the pain of rejection and unrequited love, with Isioma channeling her heartache through serene, tranquil trip-hop.
BEN KESSLER – CRUISE CONTROL
Ahead of the release of his debut EP Cruise Control in March, Ben Kessler has shared the fragile title piece. "'Cruise Control' is about finding balance between extremes: chaos and calm, floating and falling, feeling lost and found," explains the Nashville artist of the song, which hears Kessler's heart-shattering, brittle vulnerability piercing the soul.
LANE 8 (FEAT. JULIA CHURCH) – OH, MILES
It's been a minute since We Are: The Guard last heard from Lane 8, but the Denver producer is making his scintillating return to our column this Friday with "Oh, Miles." A collaboration with Julia Church, it's a soaring piece of progressive-house music, with gleaming arpeggios and ascendant drum fills helping to send Church into the firmament.
DEPT (FEAT. NOBODY LIKES YOU PAT) – WINTER
Only a few days on from the release of "boys (til i had you)," nobody likes you pat is returning to our ears this Friday by way of Dept's "Winter." Featured on the South Korean act's recent EP A Night of January, it's a twinkling ode to heartache through the coldest, darkest months that sees Pat Kiloran getting in his feels over lo-fi "study" beats.
STILL CORNERS – STATIC
Still Corners reimagine "Wicked Game" as a dystopian dive-bar song on "Static." Featured on the British duo's recent fifth album The Last Exit, "Static" is a Lynchian romp through small-town America, with desert-noir guitar riffs penetrating the band's apocalyptic lament: "The world has gone blue/Nothing we can do/Just static on the line."
HEALY – PART OF ME
Memphis singer-songwriter Healy comes to terms with the passing of time on the "Part of Me." Clocking in at almost three-and-a-half-minutes, it's a quiet, unassuming lo-fi meditation on impermanence, with ticking beats and undulating grooves underpinning Healy's existential ruminations about the unstoppable march of life. Tungsten is out now.
-
Follow We Are: The Guard's Weekly Chart on Spotify for more. x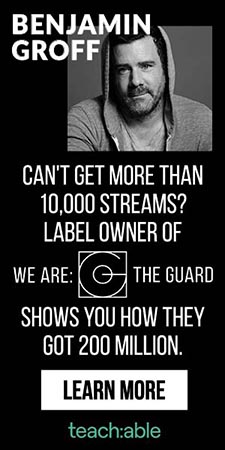 Jess Grant is a frustrated writer hailing from London, England. When she isn't tasked with disentangling her thoughts from her brain and putting them on paper, Jess can generally be found listening to The Beatles, or cooking vegetarian food.