TOP CHILL SONGS: THE 10 BEST VIBES OF THE WEEK
Photo by Brie Conomos
While the season isn't changing for a few months yet, Coachella has totally got me in the mood for summer. Bring on the top-down drives to the beach with iced coffee to-go! Of course, no summer is really complete without music, which leads me on to the latest edition of We Are: The Guard's Top Chill Songs. Sunblock and Starbucks loyalty cards at the ready, then, as it's time to check out the following chill vibes from Vancouver Sleep Clinic, Vansire, Ravyn Lenae, and more!
-
VANCOUVER SLEEP CLINIC – THE FLOW
He recently celebrated five years of his debut album, Revival, and today, Vancouver Sleep Clinic's Tim Bettinson is back with the lofty, towering "The Flow." According to Tim, "The Flow'' was written about his fears and uncertainties during the pandemic. "It's all about surrendering to and even trying to embrace the chaotic ebbs and flows of this strange life," adds the Brisbane act of the song. Sounding like a long-lost Soundgarden cut that came to Tim in a dream, "The Flow" is soaring excellence.
VANSIRE – NIGHT VISION
This is deeply otherworldly. Rochester, Minnesota two-piece Vansire teams up with Barrie this Friday for "Night Vision." Clocking in at almost two minutes, "Night Vision" is as nostalgic as a summer evening, with hues of purple-pinks dancing across the sky like streaks of paint. With Vansire and Barrie trading soft coos against a comforting dream-pop groove, "Night Vision" is so very ethereal: "Like a full moon/The predictable surprises me/Wander through the night you're a/Night vision." Aah.
RAVYN LENAE – M.I.A.
Ravyn Lenae is back this Friday with details of a debut album, Hypnos, and a brand new single, "M.I.A." While the Steve Lacy-featuring "Skin Tight" and "Light Me Up" heard her exploring a kind of silken, sensual bedroom-soul, "M.I.A." finds Ravyn hitting up the club instead. Produced alongside Frank Ocean collaborator Sango and Nipsey Hussle associate IAMNOBODI, "M.I.A." is a Grimes-meets-dancehall bop that Ravyn describes in a press release as being about "feeling free and comfortable in your skin."
HELADO NEGRO – YA NO ESTOY AQUÍ
It was only a few months ago Helado Negro's Roberto Carlos Lange unveiled his seventh album, Far In, but the Florida native is making his vivid, emotional return this Friday with "Ya no estoy aquí." According to a press release, "Ya No Estoy Aquí" was inspired by the independent film of the same name about "a young man from Monterrey, Mexico, who gets into trouble and is forced to leave for his safety to New York." A soothing, shifting expression of loneliness, "Ya no estoy aquí" is pure sonic catharsis.
LEI HOPE – A SAD SONG
Meet Lei Hope, the Manchester-based singer-songwriter making his debut on We Are: The Guard this Friday with the halcyonic "a sad song." Having found his start as a church musician before progressing to learning the guitar, "a sad song" marks the follow-up to Leo's debut EP, Autonomous Affection. As the title suggests, "a sad song" is a delicate exploration of Lei's struggles with his mental health, with his voice sounding as soft as a lullaby as violins form like the most fantastical of fauna around him.
BÜLOW – BOOTY CALL
While booty calls are often portrayed in the negative sense, German-Canadian singer-songwriter bülow is bringing an alternative point of view to her latest single of the name. Produced by Billie Eilish's big brother, FINNEAS, "Booty Call" is all about looking for connection with no strings attached. "I want to give power to this word. It's always seen as such a negative thing. It doesn't have to be," explains bülow of the cut – a softly tender ballad that hears her singing from a place of genuine emotion.
STEVAN – THE WAVE
Sydney, Australia's Stevan is learning to go with the flow on his shimmering latest single, "The Wave." The follow-up to 2021's "Mr Pants," "The Wave" is a shiny, propulsive guitar-pop bop that could accompany a day trip to the beach as much as it could a nighttime cruise through the city lights. "'The Wave' is about being present in the moment and moving with the motion. Even if external factors are trying to distract you," reveals Stevan in a statement of the dappling dance-floor anthem.
LATE JUNE (FEAT. SYD SILVAIR) – POLAROID
He recently announced he's planning on taking a break from social media for mental-health reasons – and no doubt to spend time with his newborn baby, Sofia – but before he goes, Late June is leaving us with the healing "Polaroid." A collaboration with New York City singer-songwriter Syd Silvair, "Polaroid" is a thumping, reinvigorating house banger about doing everything you can to hold on to a memory: "Hold still/I'm trying to make this feeling last/Hold still/Before we drift into the past."
BEARCUBS – EVERYDAY
Bearcubs is providing us with an escape from the monotony of everyday life on the aptly titled "Everyday." Featured on his recent third album, Weather Report – an 11-song collection that also includes the previously featured THALA duet "In the Flowers" – "Everyday" is a lo-fi late-night transmission that hears Bearcubs stepping outside of the routine of normal life to deliver a dose of soulful hypnosis. With James Blake-esque vocal stacks coming paired with hip-hop drums, "Everyday" is a captivating nocturne.
GRAE – DON'T KNOW HOW TO GIRLFRIEND
The first few weeks of a relationship can be a stressful, confusing time, especially for those of us who have spent a large part of our lives on our own. Toronto's GRAE is very much capturing that feeling of surrendering to love despite the fragilities it brings on the evocative "Don't Know How to Girlfriend." "I don't know how to girlfriend/I've been not my own too long," sings GRAE atop soft strums – her voice stunning in its viscerality. "But now that I'm your girlfriend/It's hard to believe that we're so strong."
-
Follow We Are: The Guard's Weekly Chart on Spotify for more! xo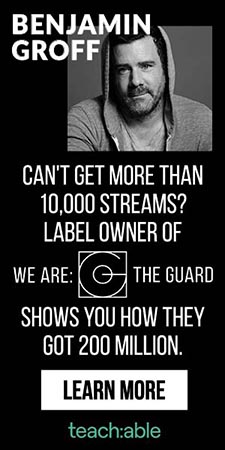 Jess Grant is a frustrated writer hailing from London, England. When she isn't tasked with disentangling her thoughts from her brain and putting them on paper, Jess can generally be found listening to The Beatles, or cooking vegetarian food.