TGIF: 10 TOP CHILL SONGS FOR THE LONG WEEKEND
Photo by Benigno Hoyuela on Unsplash
With Memorial Day marking the unofficial start of summer, it's time to get our Spotify playlists prepped for exciting months ahead! Lucky for us, there's a whole bunch of summer vibes to be found in the latest edition of We Are: The Guard's Top Chill Songs. Whatever your plan is for the long weekend, then – be it meeting up with friends and family, or chilling on the sofa with some snacks – you're sure to discover something to suit among the following vibes from daste., Fousheé, SEB, and plenty of other favorites!
-
DASTE. – HOLDING ON TO YOU
Australian trio daste. continues the countdown to their debut album dusk / dawn this May with the release of "holding on to you." The song, which We Are: The Guard was recently honored to premiere a part of our Featured Find series, hears Tyler Harden, Callum MacDonald, and Braxton Tahi embracing a more opulent, orchestral sound. Combine that with a narrative about a relationship on the brink of collapse, and "holding on to you" is a soul-shifting listen that surrounds you like a lush lullaby.
FOUSHEÉ – ENJOY THE SILENCE (DEPECHE MODE COVER)
"Enjoy the Silence" by Depeche Mode is, hands down, one of the greatest songs of all time. It's also infamously difficult to cover. Fousheé manages to make the whole thing sound entirely effortless, however, on this resplendent reinterpretation. Recorded as part of H&M's Find the Strength in Silence campaign, Foushee's cover transforms the 90s synth-pop banger into a sultry piece of R&B majesty, with her breathy vocals coming reflected in an infinity pool of atmospheric bass throbs.
SEB – SEASIDE_DEMO
TikTok sensation SEB is making a bid for the song of the summer with his viral smash hit "seaside_demo." According to the Chicago native, he was inspired to write and produce the song after falling in love with watching the nightly sunset and the positive impact this had on his mental health. Sounding like a July evening spent driving along the coast, when everything takes on an amberous glow, "seaside_demo" is the kind of music that nourishes the soul and leaves you feeling forever young.
MUSTAFA – THE HEARSE
We Are: The Guard favorite Mustafa continues to come to terms with death, grief, and forgiveness on his somber latest single "The Hearse." "There's a war outside and I can't lose all my dawgs/I can't choose right or wrong, right or wrong," laments the Canadian poet over fluttering motifs on the follow-up to "Ali. A crushing exploration of untimely loss, and the subsequent impact this can have on a local community, "The Hearse" is another sobering piece of storytelling from Mustafa.
HAUSKEY – CREAM SHIRT
Hauskey longs for a simpler, more innocent time on his latest single "Cream Shirt." "'Cream Shirt' is about loss, and the last oblivious and blissful day you had before you found out you'd lost it; a partner, a family member, a job, a pet, normal life pre-COVID, whatever it is," reveals Hauskey. As someone who's experienced much loss over recent years, I need hardly say "Cream Shirt" hit incredibly different, with Hauskey's lo-fi, nostalgia-swept sounds making for a genuinely healing balm.
FELICE (FEAT. LEO MANZARI) – IT'S ALL MY FAULT
Los Angeles up-and-comer Felice is speaking from the deepest depths of her soul on her gorgeous latest single "It's All My Fault." "This is by far the most vulnerable song I have written thus far," reveals Felice of the follow-up to "Make It Feel Good." A jazzy bijou of a listen about being in an abusive relationship and making excuses for someone else's toxic behavior, "It's All My Fault" is a stunningly personal confessional that hears Felice trading vocal beauty with Leo Manzari.
SMOKO ONO & CORINNE BAILEY RAE (FEAT. UMI) – YOU ARE
"Put Your Records On" legend Corinne Bailey Rae and rising artist UMI come together as one on Chicago producer Smoko Ono's latest single "You Are." It's a warm, deeply inviting offering that laps over listeners like an ocean wave. Featuring Corinne and UMI trading lyrics about a love that transcends time and space atop radiant, dappling psychedelic guitar riffs courtesy of none other than Daniel Caesar, "You Are" is a soulful treat for the senses that's best experienced through headphones.
WILL DAVILA – YOURS
The word "dreamy" is used a whole lot by music bloggers, including me, but Will Davila's music is genuinely the very definition of the adjective. Case in point: "Yours." Featured on the Los Angeles rising act's recent EP Super Great, "Yours" is a soft, gentle reverie about patiently waiting for a love to take hold. Bringing together Will's easy-going vocals and Mac DeMarco-esque guitar riffs that speckle like sunlight, "Yours" is a song for fantasizers and wishful thinkers everywhere.
EASY LIFE – OCEAN VIEW
Just in time for summer, easy life has shared the breezy "ocean view." Featured on the British band's recent album life's a beach, it's a song about taking a sojourn with a lover that doesn't quite go to plan. "I thought you said you loved the ocean/When we were standing at the shore/You didn't even dip your toes in/I can't believe I just took you home," sighs Murray Matravers on the cut, which hears easy life playing with vocal pitch-shifting for a Powfu-indebted melancholy chiller.
JWESTERN – FEEL LIKE THIS
There's nothing quite as scary as falling in love. From the fear of rejection, to the overwhelming sense of fragility and vulnerability, the whole thing makes for a real mind-trip. Just ask British crooner JWestern, who explores the subject in depth on his latest single "Feel Like This." Built around a blend of crushing doubt and nervous, excitable anxiety that comes while in the throes of a crush, "Feel Like This" is a dreamily moonlit ballad that serves as a direct ticket to Cloud Nine.
-
Follow We Are: The Guard's Weekly Chart for more chill vibes! xo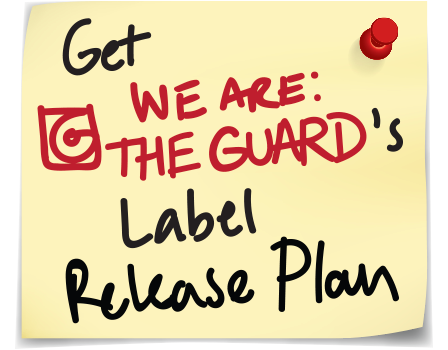 Jess Grant is a frustrated writer hailing from London, England. When she isn't tasked with disentangling her thoughts from her brain and putting them on paper, Jess can generally be found listening to The Beatles, or cooking vegetarian food.