FEATURED FIND: AUSTRALIAN TRIO DASTE. DEBUT A LUSH MATURITY ON "HOLDING ON TO YOU"
If you regularly read our Chill column, then you'll know that we're hopelessly devoted to daste. here at We Are: The Guard. Over the last few months, the Australian trio has been churning out a stellar array of downtempo grooves – songs that melt into the skin like the finest shea butter. It made for a legitimate thrill, then, when we were recently approached by Tyler Harden, Callum MacDonald, and Braxton Tahi about premiering their brand new single, "holding on to you." While we generally don't publish song premieres here at We Are: The Guard – preferring instead to focus on larger bodies of music – within a few seconds of hearing the soft, string-swept ballad, the team and I quickly realized that it was an opportunity that, quite frankly, none of us could refuse.
Hailing from the Gold Coast, a coastal city in the Australian state of Queensland, Tyler Harden, Callum MacDonald, and Braxton Tahi first met while studying for a Popular Music degree at Griffith University. Bonding over their mutual listening tastes, the three friends soon found themselves performing together in a local band named ANNY. It wasn't until a few months later that the trio would find their true calling, however, with Tyler, Callum, and Braxton quitting ANNY to form their own exclusive outfit. A contract with Australian record label Mammal Sounds – home to We Are: The Guard favorites such as Golden Vessel, Benji Lewis, and cln – quickly followed, with daste. releasing their debut single, the slinky, sensuous "Thinkin' Of," in August 2018.
DASTE. - THINKIN' OF
It's only been smooth sailing since then for daste. – who, rather appropriately, named themselves after a play on the words "taste" and "delicious." Bringing together the unspeakably sublime vibes of California outfit Emotional Oranges with the sultry, serpentine curvatures of British indie legends Glass Animals, daste. is utterly irresistible in every possible regard. From perhaps their most successful single to date, "SOBER" – a wavy lo-fi transmission about overcoming drug and alcohol addiction for the sake of love – to deeper cuts like "What If?" – a breathy carnal hymn from their sophomore EP, Same As It Ever Was – the Australian trio has spent the last three years writing and releasing music that serves as nothing short of a treat for the senses.
DASTE. - SOBER
As their debut album, dusk / dawn, approaches, daste. has continued to sculpt their sound over recent months, with singles such as "somebody like you" and "here with me," showcasing a decidedly more mature side to Tyler Harden, Callum MacDonald, and Braxton Tahi. This maturing is perhaps most evident, however, on "holding on to you." A collaboration with Brisbane's Uhkirra, the lush, orchestral-tinged delicacy hears daste. entering into an emotive singer-songwriter territory inspired by the likes of Bon Iver and Harry Styles. Written about "having a fight with someone you really love but then deciding that you're just not right for each other," it's a genuinely dreamy listen that only confirms our thoughts that daste. is about to be the next big Australian chill export to sink into both our Spotify algorithms and our hearts. With the countdown to dusk / dawn officially on, then, We Are: The Guard recently caught up with daste. to discuss the creative process behind "holding on to you," their plans for 2021, and lots more.
WE ARE: THE GUARD:  Hi daste., thanks so much for chatting with us. Congrats on the release of "holding on to you." Can you tell us about the process of writing and recording this song?
DASTE.: I was inspired by Bon Iver's "Re: Stacks" and a song called "Cherry" by Harry Styles when I wrote the first few verses. I specifically remember coming up with the bridge ("so open up") while I was at work and sung it for the rest of my shift, itching to get back home and try some chords to go with it. We knew we had to get Kirra to collaborate on this track and knowing how talented she is at string arrangements, we were so excited to see what she could do. - Tyler Harden, daste.
WE ARE: THE GUARD: Your debut album, "dusk / dawn" is on the way in June and we are SO excited! What can listeners expect to hear?
DASTE.: We really left behind any rules or boundaries on this album and wanted to experiment with all different fusions of genre. I think people can expect a big development in our songwriting, and a little less reliance on big scale production.
WATG: What else is on the horizon for the rest of 2021?
DASTE.: We plan to fill up the rest of the year with lots of live shows. Things are getting pretty close to normality here in Australia, and we already have some domestic dates ready to announce for the winter. Super excited. There's more, but we have to keep it on the DL for now.
WATG: Can you tell us about how you guys got your start in music?
DASTE.: The three of us met in university. While we had all dabbled in bands before, we really felt something special about this project and it's grown into something we couldn't have imagined. Three years later and we're releasing our debut album... It's honestly weird to say out loud... I think the universe really put all three of us on this path together.
WATG: Do you three have any secret talents or hobbies outside of music that people might not guess?
DASTE.: Yeah, the three of us make one strong Fortnite squad. You do not want to see these three bad boys on the other side of Pleasant Park.
WATG: Who inspires you musically?
DASTE.: So many. We are all so flexible with our music tastes and inspiration. One month we can all be vibing to Bob Dylan and Bon Iver and the next... we're all listening to Jungle and Franc Moody. We've always said there's no boundaries to the kind of music we make and we'll always make music we like no matter the 'genre".
WATG: Who inspires you in life?
DASTE.: We're super inspired by a lot of musicians locally to be honest. We're blessed to be surrounded by acts such as Felivand, Golden Vessel, Akurei and First Beige to name a few and each of them are killing it right now and we're always inspired by their hard work and success. It makes us work harder and helps us believe in ourselves.
WATG: To end with a fun one, what would be your weapon of choice in a zombie apocalypse?
DASTE.: We'll all take a Gold SCAR thank you!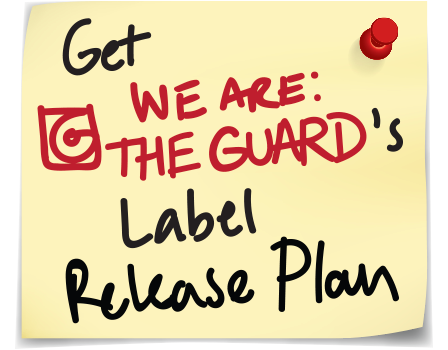 Jess Grant is a frustrated writer hailing from London, England. When she isn't tasked with disentangling her thoughts from her brain and putting them on paper, Jess can generally be found listening to The Beatles, or cooking vegetarian food.
daste.
Inspirations
Bon Iver, Daughter, James Blake atm.
Instruments played
Guitar, Drums, Piano, Bass (between all three of us)
Life changing album
We came together as a band over our mutual love for the 'Take a Rest' album by Tora.
Dream Collaboration
Tora, Leisure or Parcels could be cool.
WE ARE: THE GUARD LATEST RELEASES
Leon Else