TOP CHILL SONGS: 10 AUTUMN FEELS FOR SAD GIRL FALL
Photo by Rūta Celma on Unsplash
It was the first day of fall on Wednesday, and I'm not sure about you guys, but I'm so ready to get into my autumn feels. Of course, no Sad Girl Fall™ is complete if you don't have a playlist to match, which leads me nicely on to the latest edition of We Are: The Guard's Top Chill Songs. With the first weekend of autumn fast approaching, then, enter into a fall state of mind this Friday with the following songs from José González, anaiis & Chronixx, Kina & Cavetown, and lots more.
-
JOSÉ GONZÁLEZ – LINE OF FIRE
He recently debuted a more playful, confident inflection to his sound on "Swing," but Sweden's José González is once again retreating to a place of reflection on "Line of Fire." Featured on his recent album Local Valley, "Line of Fire" is in fact a cover of a song by Junip, the band José founded with his childhood friends Elias Araya and Tobias Winterkorn. Listen as José strips the song down to its introspective core, with the sparse acoustics allowing the confrontational narrative to hit different.
ANAIIS & CHRONIXX – CRY IN YOUR SLEEP
This is completely, utterly lush. We Are: The Guard favorite anaiis teams up with Jamaican act Chronixx for "cry in your sleep." Featured on her recent album this is no longer a dream, "cry in your sleep" is a beautifully experimental reverie about anaiis going in search of self-love. "It's the most affirming song on the record, and it felt like quite a unique place for our two artistries to meet," reveals anaiis of the cut, which hears her voice intertwining with Chronixx's with majestic ease.
KINA & CAVETOWN – TRYING NOT TO CRY
Cavetown has never been afraid to get real about his mental health, but the British singer-songwriter is showcasing perhaps his most personal side to date on "Trying Not to Cry." A collaboration with Italy's Kina, "Trying Not to Cry" is a heartbreaking electronic lullaby about being consumed by depression. "I've been fighting for my sanctuary/How do I stay alive if I don't wanna be?" sings Cavetown at one point, his AutoTune-laced voice surrounding Kina's soft beats like a comforting embrace.
THOMAS REID (FEAT. FOG LAKE) – WORN OUT
It's not every day you're able to collaborate with your favorite artist, but Thomas Reid is getting to do exactly that on his latest single "Worn Out." Featured on the Nashville, Tennessee act's forthcoming album Hiding Place, "Worn Out" hears Thomas teaming up with one of his music idols, Fog Lake, for a sleeping beauty of a listen. "This song was an absolute dream come true to make," says Thomas on Instagram, and it shows, with his voice coming together with Fog Lake's in gorgeously drowsy union.
AMBAR LUCID – AMBAR BOSSA NOVA
Just a few months on from sharing Get Lost in the Music EP, Ambar Lucid is sliding back into our ears this Friday with a reimagining of "Billie Bossa Nova" from Billie Eilish's recent album Happier Than Ever. "I love Billie's music so adding my own lyrical twist to 'Billie Bossa Nova' was lots of fun," reveals Ambar of her Spotify Singles cover, which she's renamed "Ambar Bossa Nova." With her breathy Spanish croon caressing the Latin-esque percussion, "Ambar Bossa Nova" is a sultry soul treat.
JMSN – ACT LIKE I'M NOT HERE
It's no secret JMSN's Christian Berishaj is a master of seduction, but on "Act Like I'm Not Here," the Dallas, Texas native struggles with feelings of unrequited lust. The latest single to be unveiled from his recent album Heals Me after "Rolling Stone" and "Love 2 U" is a late-night soul transmission that drips with tortured desire. "You've already made up your mind/So don't mind me/Just act like I'm not here," sings JMSN in the chorus, with Latin-like guitars backing his anguished croon.
T. EVANN & OSCAR LANG – POINTING THE FINGER
Oscar Lang is a regular over at our indie column with his distorted bangers, but this Friday, the British musician is debuting a more soft, tender side to his artistry on T. Evann's "Pointing the Finger." "This one is about the false successes of social media and how it can have a negative impact on you," reveals T. of the song. With his voice pairing with Oscar's over a shimmering swirl of acoustic guitars and muted, pattering drums, "Pointing the Finger" is a gleaming dive into existential angst.
GROUPER – ODE TO THE BLUE
Ahead of the release of Shade next month, Grouper singer-songwriter Liz Harris returns today with the spectral "Ode to the blue." The follow-up to "Unclean mind" hears the West Marin, California native singing with hushed delicacy over a fingerpicked acoustic and very little else. The tape hiss, meanwhile, lends the song a sense of intimacy, like a home movie found collecting dust in a forgotten attic, with the whole thing coming topped off by a ghostly graveyard cinematic starring Julia Holter.
MYLES CAMERON – HEAVEN'S HANDS
Summer is over in the Northern Hemisphere, but Myles Cameron is keeping the dream alive on the deeply radiant "Heaven's Hands." The latest single to be taken from the Rye, New York native's forthcoming EP Black Boys Look Blue, "Heaven's Hands" is an ode to the kind of love that makes you feel nothing short of invincible. "The world on fire/But that doesn't mean/That you can't be who/What you want to be," sings Myles in the verse, his gritty, soulful gruff coming set against a scintillant spread of acoustics.
ANZ – REAL ENOUGH TO FEEL GOOD
If you're heading out tonight, then British act Anz has the song for you. Featured on the Ninja Tune signee's forthcoming EP All Hours, "Real Enough To Feel Good" is a glossy, hypnotic house pulser Anz reveals was the first song she made for the collection. "With the 24-hour concept fully front of mind, I tried to make something sleek and bouncy for the evening with nods to Baltimore club, and of course UK garage – the genre I listen to every time I'm getting ready to go out," says Anz. Enjoy.
-
Follow We Are: The Guard's Weekly Chart for lots more autumn feels. xo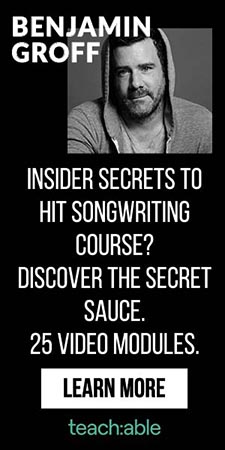 Jess Grant is a frustrated writer hailing from London, England. When she isn't tasked with disentangling her thoughts from her brain and putting them on paper, Jess can generally be found listening to The Beatles, or cooking vegetarian food.