THE 10 TOP CHILL SONGS TO EASE YOU INTO FALL
Photo by Nicholas Bartos on Unsplash
Now the Pumpkin Spice Latte is back at Starbucks, the fall celebrations can officially begin! While I'd usually be sad to see the summer go, I feel like I need all of the cozy, comforting vibes after so much bad news of late. As September slowly approaches, then, ease into a fall state of mind this Friday with the latest edition of We Are: The Guard's Top Chill Songs, featuring José González, Kevin Abstract, Palmistry, and more!
Pumpkin has entered the chat.

— Starbucks Coffee (@Starbucks) August 24, 2021
-
JOSÉ GONZÁLEZ – SWING
There's something incredibly joyous – and therefore incredibly healing – about José González's music. Case in point: "Swing." The latest single to be unveiled from the Swedish musician's forthcoming fourth album Local Valley after "El Invento," "Visions," and "Head On" is genuinely nourishing to the soul. "It's a song about dancing and following your natural impulses," reveals José. Drawing inspiration from Ghana's highlife genre, "Swing" is one of those tunes that's felt deep inside of the hips.
KEVIN ABSTRACT (FEAT. RYAN BEATTY) – SIERRA NIGHTS
With the final BROCKHAMPTON album due to drop later this year, Kevin Abstract continues to carve out a name for himself as a solo artist with his latest single "SIERRA NIGHTS." The follow-up to the slowthai and $NOT-featuring "SLUGGER" is a hazy, sultry love letter that hears Kevin duetting with the golden-throated Ryan Beatty. "Look at the fireworks going off/Look at my boy, man, he loves showing off," spits Kevin on the dreamy ballad, the kind of which is best listened to while watching the sunset.
PALMISTRY – OCEANIC HEALING
Palmistry's Benjy Keating has operated on the fringes of music for several years now, with the London-based producer and singer-songwriter continuing to hone his breed of outsider-pop on his latest single "oceanic healing." Featured on his recent album wyrdo – a 10-song collection as written alongside professional hit machine Danny Parker – "oceanic healing" is a desperate plea for honesty in a relationship, with the sounds of sea waves coming close to submerging Benjy's ghostly, haunted voice.
AYELLE – STILL A BOY
It doesn't matter how much hurt and resentment has built up over the days, weeks, and months. It's never easy ending a relationship. Ayelle is coming to terms with this fact on "Still a Boy." "Gotta let you know it's time to/Be back on our sеparate ways/Even if it hurts like hеll," coos the Swedish-Iranian act, as if mentally steeling herself to cut ties with her lover. With Ayelle's glacial, icy cool voice concealing a vulnerable emotional core, "Still a Boy" is nothing short of goosebumps-inducing.
EDAPOLLO – FREE
As much of the world slowly but surely begins to emerge from the dark, dreary shadows of lockdown, Melbourne-based electronic producer edapollo is there to welcome us with wide-open arms with his latest single "Free." "This one is a high energy one inspired by post-lockdown freedom and excitement," explains edapollo of "Free." With shuffling percussion and bouncing basslines coming together to lend the song a sense of kinetic, dynamic dance energy, "Free" is a joyous, euphoric ode to living life to the fullest.
DASTE. – CHANGES
We Are: The Guard regular daste. continues to build up to the release of their debut album dusk / dawn by sharing the sumptuous reverie "changes." "'changes' is a song about those times when life is beating you around and you're feeling a little bit sorry for yourself. Where things aren't going as planned and it seems like wholesome days are rare," explains the Gold Coast-based act of the cut. Bringing together hushed vocals with lush flourishes of horns, "changes" is a comfort blanket in song form.
EMMIT FENN – DO YOU FEEL THE SAME?
Just a few months after sharing his debut album Far From Here, Emmit Fenn is already returning to our ears today with "Do You Feel the Same?" Featured on his brand new EP All This To Live For – a three-song collection that was written after Emmit moved to New York City – "Do You Feel the Same?" is a radiant, arpeggio-laced stomper about love and the endless doubts that accompany it. "The world stops spinning every time you stay/Now I can't stop thinking do you feel the same," emotes Emmit. Stunning.
RYAN HEMSWORTH & BLOODZ BOI – CUSTOM EMOTION
This is utterly intoxicating. Canadian electronic auteur Ryan Hemsworth teams up with Chinese rapper Bloodz Boi on "Custom Emotion." Coming a few months after Ryan's Quarter-Life Crisis EP – a six-song project that featured collaborations with Hand Habits, Frances Quinlan, Claud, and more – "Custom Emotion" is a pillowy-soft haze of a listen. With Bloodz Boi's vocals curling like cigarette smoke over Ryan's lush albeit hard-hitting beats, "Custom Emotion" makes for a truly potent sensorial experience.
YAEOW – DOES IT REALLY MATTER?
While he rarely shows his face, yaeow is continuing to bare his soul on his latest single "Does It Really Matter?" Clocking in just over three minutes, "Does It Really Matter?" is a sweepingly, crushingly honest ballad that details his battle with social anxiety. "I hope it can help others know that you are not alone with those feelings," says yaeow of the tune. With his voice coming backed by resonant keys and very little else, "Does It Really Matter?" is songwriting at its most personal.
LOVE LEVEL – DO THIS TO ME
Introducing Love Level, the Australian two-piece who practically sent me into an altered state of consciousness with their brand new single "Do This to Me." Featured on their recent self-titled debut EP, "Do This to Me" is a trance-inducing transmission from the soul that sounds like Clairo as assisted by James Blake. "'Do This to Me' is about feeling stagnant in a relationship – like you should leave but you have no will to go," says the duo of the cut, which was produced by Callum MacDonald of daste.
-
Follow We Are: The Guard's Weekly Chart on Spotify for more! xo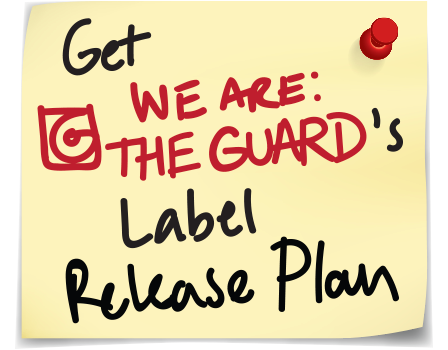 Jess Grant is a frustrated writer hailing from London, England. When she isn't tasked with disentangling her thoughts from her brain and putting them on paper, Jess can generally be found listening to The Beatles, or cooking vegetarian food.