TOP INDIE SONGS - WEEK 11
Hello, readers, and welcome to We Are: The Guard, where we're broadcasting to you from Austin, Texas for SXSW 2018! That's right, it's that time of the year when the who's who of the music industry descend upon ATX for a week's worth of live performance, craft beer, and, of course, lots and lots of tacos! Make sure to stay tuned to our site for daily coverage of all of our favorite moments from the festival, and also keep it locked to our Twitter, Facebook, and Instagram for some of the best shots from our photographer Stuart Hargrove. Before we head off to find our first food truck, however, we're once again bringing you the latest edition of Top Indie Songs. Featuring George Erza, The Kills, Beach House, and plenty of others, the following playlist makes for a better start to a Monday morning than any soggy breakfast taco!
-
GEORGE EZRA – PRETTY SHINING PEOPLE
British balladeer George Erza continues to get us hyped for the release of his second album Staying at Tamara's by sharing "Pretty Shining People." Like the R.E.M. classic of a similar name, this song is all about the feel-good vibes! With its buoyant acoustical cascades and catchy-as-hell chorus, "Pretty Shining People" is made for summer singalongs with friends around the campfire, where you'll hopefully get a better reaction than George does in this hilarious karaoke-inspired lyric video!
ZHU & TAME IMPALA – MY LIFE
Tame Impala's Kevin Parker continues to add to his list of unlikely collaborators (Mark Ronson, Lady Gaga, SZA) this March by teaming up with dance producer ZHU. "My Life" reinterprets Tame Impala's signature breed of neo-psychedelia for a club setting, with Kevin's shimmering falsetto coming set against a backdrop of neon-streaked synth arpeggios and downtempo house beats.
THE KILLS – LIST OF DEMANDS (SAUL WILLIAMS COVER)
Two years on from the release of Ash & Ice, British-American duo The Kills are back this 2018 with a kick ass cover of the Saul Williams song "List of Demands (Reparations)." Sounding like a rhythmic work song with its stomp-stomp-clap-style percussion, the intense reworking comes paired with an effortlessly cool video that sees band members Alison Mosshart and Jamie Hince dancing in chains with a group of prisoners.
BEACH HOUSE – DIVE
As spring approaches, bask in the warm glow of "Dive" by Beach House. Featured on the Baltimore duo's forthcoming album 7, the song starts out like a typically Beach House affair, rippling in a golden haze of organs and vocals courtesy of lead singer Victoria Legrand. It's around the midpoint, however, that "Dive" really comes into its own, with guitars and drums entering like a propulsion unit to sweep us up into the track's blissful conclusion.
ONLY GIRL – MOUNTAIN
If you press play on only one thing today, make it this video from Britain's Only Girl. There are some stories in life that are too beautiful for words, like the relationship between Only Girl's Ellen Murphy and her husband Jamie McKechnie – who suffered a life-changing traumatic brain injury following a "one-punch" assault in South London in 2011. Watch, cry, and cry again – then proceed to tell all of your friends and family just how much you love them. <3
SASHA SLOAN – NORMAL
"Normal" is a song all about pretending to be someone else in order to fit in with the crowd, but Sasha Sloan finally learns to embrace her true self in the David O'Donohue-directed video. "I wanted to focus on showing the real me," the 22-year-old tells Refinery29 of the clip – a visual ode to authenticity that was shot over 24 hours and follows Sasha as she goes thrift stopping (we NEED that Pink Freud t-shirt!) and chows down on some McDonalds, before cycling her way through the streets of Los Angeles.
BOTALKS (FEAT. CAROLINE PENNELL) – FUCK IT
Introducing BoTalks, a musical duo comprising of former X Factor winner Alex Kinsey and Swedish producer Johan Lindbrant, who're making their debut on We Are: The Guard this March with the attitude-packed "Fuck it." Featuring Alex exchanging vocals with one-time Voice finalist Caroline Pennell over an instrumental chopped and screwed to pop perfection by Johan, "Fuck It" is the definition of a spring break anthem that kind of reminds us of "Closer" by The Chainsmokers.
ELOHIM (FEAT. YOSHI FLOWER) – PANIC ATTACKS
Following on from the announcement that she's set to release her self-titled debut album next month (!), Los Angeles electronic pop artist Elohim has shared yet another crisp cut. The Yoshi Flower-featuring "Panic Attacks" is a song that, rather than evoke the intense rush of adrenaline after which it's named, instead opts for a far more sparkling sound, with Elohim and Yoshi's voices interweaving to form a kind of comfort blanket that listeners can wrap themselves in at the height of their anxieties.
GABRIEL BLACK (FEAT. SOFI DE LA TORRE) – JUMP
Gabriel Black AND Sofi De La Torre?!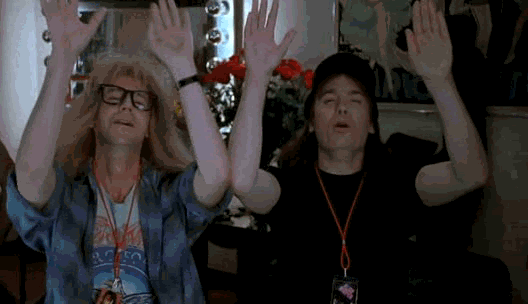 Via Imgur
SUPERORGANISM – SPRORGNSM
Superorganism – the eight-member collective made on the Internet, for the Internet – recently dropped their debut album, and in case you haven't heard, it's one of We Are: The Guard's favorite releases of 2018 so far. "Something for Your M.I.N.D.," "Everybody Wants to Be Famous," "Reflections on the Screen" are all there, and so too is "SPRORGNSM" – a technicolor piece of maximalistic pop that sounds like The Avalanches if they fell down a dank meme rabbit hole.
-
Until next week, readers! x
Photo by Marvin Meyer on Unsplash
Jess Grant is a frustrated writer hailing from London, England. When she isn't tasked with disentangling her thoughts from her brain and putting them on paper, Jess can generally be found listening to The Beatles, or cooking vegetarian food.