THE 10 TOP INDIE SONGS WE'RE LOVING THIS WEEK
Photo by Vera Gorbunova on Unsplash
Did you see the footage of The Flaming Lips bubble concert at The Criterion in Oklahoma City on Tuesday night? Because, honestly? If that's the future of live music, my socially anxious ass is kind of here for it! (My claustrophobic ass? Not so much!) Anyways! It's Monday morning, which means it's time for the very latest edition of We Are: The Guard's Top Indie Songs! Just don't forget to mute your Zoom meeting with your boss before hitting play on the following selection of tracks from Q, beabadoobee, James Blake, and seven other favorites!
 

 

 

View this post on Instagram
-
Q – TAKE ME WHERE YOUR HEART IS
Meet Q, the cosmic, mythical love child of Prince, Tame Impala, and Childish Gambino. "I'm asking to be taken to where your heart is, to be taken to a place of love because I've never been there before," writes Q of the falsetto-laden "Take Me Where Your Heart Is" – a psychedelic neo-soul stunner that already sounds like a classic in the making.
BEABADOOBEE – TOGETHER
British-Filipino act beabadoobee continues her meteoric rise to rock stardom with "Together." The fifth and final single to be unveiled from her recent debut album Fake It Flowers is a certified juggernaut about toxic dependency, with beabadoobee launching into the kind of sweet, sticky chorus that'd make Josie and the Pussycats proud.
JAMES BLAKE – BEFORE
He was once a dubstep outsider, but James Blake finally finds acceptance amongst the dance community on "Before." "Clubs make people feel a sense of belonging, of being surrounded by people who are all being moved by the same thing," writes the Brit of the cut, within which he strives for a kind of cathartic euphoria over a four-on-the-floor beat.
LANA DEL REY – LET ME LOVE YOU LIKE A WOMAN
She's been in the news for all of the wrong reasons of late, but Lana Del Rey is finally returning the focus to music this October. The first single to be lifted from Chemtrails Over the Country Club is an ode to leaving Los Angeles with a lover for a quieter life, with Lana sonically doubling down on those sweeping Norman F*cking Rockwell! vibes.
TENNIS – SUPERSTAR (CARPENTERS COVER)
Move aside, Sonic Youth. There's a brand new cover of "Superstar" in town. Denver husband-and-wife duo Tennis are immersing us in that late-70s retro bliss on this revision of the Carpenters classic of the same name, with Alaina Moore's full-bodied albeit weightless voice effortlessly lending itself to this timeless tangerine dream.
LAURA WURSTER – GRASS STAINS
New York City's Laura Wurster is reflecting on more innocent times on "Grass Stains." "It's a song about growing up, heartbreak, personal growth, and learning how to pick yourself up from hard times," says the rising act of the chunky, 90s-tinged chugger, with Pixies-like guitars backing Laura as she unleashes a vocal that's soulful and nostalgic.
KING PRINCESS – ONLY TIME MAKES IT HUMAN
King Princess is back, baby. Just a year on from the release of her debut album Cheap Queen, Mikaela Straus returns today with "Only Time Makes It Human" – a scintillating disco groover about unrequited love that hears big, brilliant basslines backing Mikaela as she sings: "All of her love became an album/And I'm still the one who's crying."
PORCHES – I MISS THAT
Having recently donated his drumming skills to Blood Orange's remix of Tame Impala's "Borderline," Porches returns this October with "I Miss That." It's a careening carousel of a listen about losing what you love the most, with mutant guitars and haunted synths backing Aaron Maine as he admits: "I couldn't believe what I had so I threw it away."
CLAUD – GOLD
Coinciding with the announcement she's signed to Saddest Factory – the brand new record label from Phoebe Bridgers – Claud returns today with "Gold." It's a coruscating bop about a relationship falling apart at the seams, with Claud delivering an emotionally-driven vocal packed full of hopeless whimsy over glistening guitar grooves.
CHANNEL TRES – SKATE DEPOT
Channel Tres keeps on getting better and better. Having recently collaborated with everyone from Disclosure to Robyn, the Los Angeles act is back on his bullsh*t with "Skate Depot." Written about a skating rink where he used to work, it's a sumptuous, certifiably chill ode to West Coast house that goes off, and then goes off again.
-
Follow We Are: The Guard's Weekly Chart on Spotify for more! x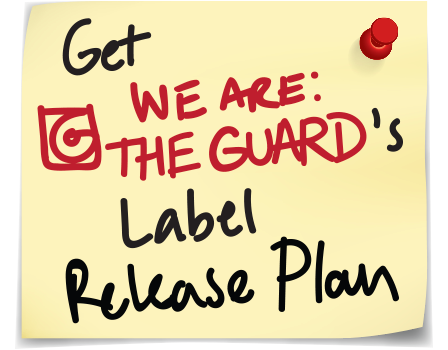 Jess Grant is a frustrated writer hailing from London, England. When she isn't tasked with disentangling her thoughts from her brain and putting them on paper, Jess can generally be found listening to The Beatles, or cooking vegetarian food.