TOP INDIE SONGS: THE 10 TRACKS YOU NEED TO HEAR THIS WEEK
Photo by Jaxon Whittington
Now Thanksgiving is over, the countdown to Christmas is officially on! Before we defrost Mariah Carey from her cryogenic festive snow globe, however, it's time for the latest edition of We Are: The Guard's Top Indie Songs. Just don't forget to take a listen to our Indie Christmas covers album after checking out the following tracks from Jadu Heart, meija, serpentwithfeet, and seven other favorites!
-
JADU HEART – FREEDOM
Jadu Heart continues the countdown to Derealised with the life-affirming "Freedom." "'Freedom' is a song about wanting to escape, it seems almost impossible to get away from the constant claustrophobic tightening of technology, information overload, bills and commitments; unfortunately that just seems an integral part of life in the 2020's," reveals Jadu Heart of the cut – a bright bolt of shoegaze that feels like a helping hand reaching through the mud. "This song is a dream for space to breathe."
MEIJA – HOW YOU LIKE
Having made his name in the alt-pop band Echosmith, Australia's Jamie Sierota is continuing to turn the focus to his solo project, meija, with "How You Like." Coming alongside a video directed by Redamo Rosa, "How You Like" is a crunchy bit of indie-rock swagger that Jamie explains is "about intimacy and how our culture talks (or doesn't!) about it." With meija's fun, lighthearted hooks digging into a swirl of Black Keys-esque chug and distortion, "How You Like" is contagiously replayable.
SERPENTWITHFEET – THE HANDS
Just over a year on from DEACON'S Grove EP, serpentwithfeet's Josiah Wise is back with "The Hands." Lifted from the soundtrack for The Inspection – the forthcoming A24 film that tells the story of Ellis French, a gay Black man who flees homelessness by joining the Marines – "The Hands" is a breathtakingly evocative worship song. "By the film's end, Ellis French has a strong sense of self but doesn't lose his sensitivity or optimism," says Josiah. "I wanted to reflect that lyrically and musically."
YB. – BLACKPHEMY
Yb. is embarking on a journey of self-acceptance on "Blackphemy." "All my life I've felt like I've had to leave my cultural predispositions behind in order to feel accepted in what was, at the time, a predominantly white community," says the Aussie of the title track from his forthcoming EP. "But the beautiful thing about this EP is it truly is an encapsulation of my unfiltered and sometimes crude self." An intensely emotional ballad that builds to a cathartic zenith, "Blackphemy" is the sound of freedom.
ETHEL CAIN – FAMOUS LAST WORDS (AN ODE TO EATERS)
Not content with releasing one of the best albums – and best songs for that matter – of 2022, Florida singer-songwriter Ethel Cain is returning with "famous last words (an ode to eaters)." According to Ethel, the song was inspired by Bones and All – the Luca Guadagnino road-trip film starring Timothée Chalamet and Taylor Russell as two cannibals called Lee and Maren. "Can't stop thinking about Bones and All. This one's for Lee and Maren," says Ethel of the cut – a devotional love note with a bloodthirsty twist.
SOMOH – I KNOW YOU CARE
British singer-songwriter SOMOH is showcasing the patience of a saint on her brand new single, "I Know You Care." "This song is about how people's intentions don't always reflect well in how they act towards you. I tend to just walk away from situations that hurt me, without holding the person accountable because I'm not the best at confrontation. At least I can get my anger out in writing songs!" notes SOMOH. A softly soaring acoustic dispatch, "I Know You Care" is a reminder to lead with love.
YOT CLUB – FEEL GOOD
Ahead of embarking on his first headline tour on Tuesday, Yot Club's Ryan Kaiser is returning with the thrilling "feel good." Lifted from rock candy EP alongside a cover of "Anything" by Suburban Lawns and a remix of "cant celebrate" by Blaketheman1000, "feel good" is a galvanic piece of Wavves-esque garage-rock that hits like a shot of epinephrine. "I'm excited to see what people think of it since it's a little different from the rest of the album," says Ryan of the follow-up to June's off the grid.
ELI SMART – BABY BENZING
Hailing from Hawaii, Eli Smart specializes in Mac DeMarco-esque slacker-pop if left out in the sun too long, with the 23-year-old delivering a carefree, delightful dose of "aloha-soul" on "Baby Benzing." Produced alongside Bien et Toi's Gianluca Buccellati, "Baby Benzing" is an ode to kicking back and getting lost in the most colorful crevices of the imagination: "In slow motion, never landing/Lazy commotion, I'm pretending/I'm close to you, we're baby-benzing/I know I got a big imagination." Enjoy.
MAZ – MAYBE LOVE
Utah up-and-comer Maz has had enough of swiping right on her electrifying latest single, "Maybe Love." Written with Tyler Harris, "Maybe Love" is a dream-inducing soft-grunge banger about searching for meaning in a world of dating apps and hookup culture. "I think my generation is missing the possibility of deeper connection and the ability to see the individuality of each soul," says Maz of "Maybe Love" – a defiant two-and-a-half-minute blast that aims straight for the brain's reward system.
JAMIE LIDELL – DO YOU HEAR WHAT I HEAR?
And, finally. Did you really think I'd go this holiday season without revisiting Jamie Lidell's brilliant mutant-soul cover of "Do You Hear What I Hear?" from We Are: The Guard's Indie Christmas? Enjoy!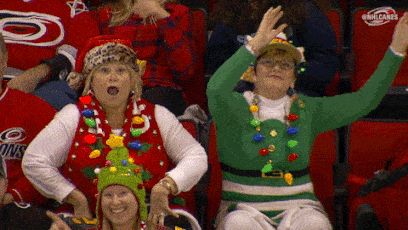 -
Follow We Are: The Guard on Spotify for more! xo
Sources:
Christmas GIF
Jess Grant is a frustrated writer hailing from London, England. When she isn't tasked with disentangling her thoughts from her brain and putting them on paper, Jess can generally be found listening to The Beatles, or cooking vegetarian food.