THE 10 TOP INDIE SONGS TO KICK OFF FESTIVAL SEASON
Photo by Helen Kirbo
Coachella may be done for another year, but festival season? That's only just beginning. That means there's *a lot* of new music coming out over the next few weeks and months. And what better way to kick things off than with the latest edition of We Are: The Guard's Top Indie Songs? From Ethel Cain's heartland-pop anthem "American Teenager," to About You's sultry, aching love song "MoNa," to Lykke Li's ode to emotional ruin "HIGHWAY TO YOUR HEART," this column has something for everyone!
-
ETHEL CAIN – AMERICAN TEENAGER
Ethel Cain is preparing to drop her debut album, Preacher's Daughter, in a couple of weeks, but before then, the Tallahassee, Florida native is sharing "American Teenager." Coming after "Strangers" and "Gibson Girl," "American Teenager" is a stomping, anthemic piece of heartland-pop that hears Ethel singing about being let down by the American Dream. "Grew up under yellow light on the street/Putting too much faith in the make-believe," sings Ethel, her multitracked twang levitating several feet off the ground.
HOT CHIP – DOWN
Hot Chip is back, baby. Just under three years on from A Bath Full of Ecstasy, the British outfit is making their return with the funky "Down." The first taste of their forthcoming eighth album, Freakout/Release, "Down" is a big, chunky dance-floor banger that Hot Chip recorded during the pandemic at their Relax & Enjoy Studio in London. Built around a sample of Universal Togetherness Band's "More Than Enough," "Down" is an ode to mental collapse, with Hot Chip as ever finding joy in the freefall.
SOCCER MOMMY – UNHOLY AFFLICTION
From collaborating with Los Angeles industrial-rockers HEALTH, to enlisting Oneohtrix Point Never's Daniel Lopatin to produce her forthcoming third album, Sometimes, Forever, Soccer Mommy's Sophie Allison is no stranger to experimentation. Now, the Nashville artist is delivering perhaps her darkest offering to date in the form of "Unholy Affliction." With Nine Inch Nail-esque bass roiling like an inky, unsettling swamp beneath her, "Unholy Affliction'' constantly threatens to pull listeners into the deep.
BARTEES STRANGE – COSIGNS
Having recently signed to 4AD, Bartees Strange is setting his sights on success with the eruptive "Cosigns." Coinciding with the announcement of his forthcoming sophomore album, Farm to Table, "Cosigns" starts out as a trap-esque heater, with Bartees spitting braggadocio bars starring Phoebe Bridgers, Courtney Barnett, and Bon Iver's Justin Vernon, among others. Eventually, as "Cosigns" progresses, it rushes into rockier territory, with Bartees leading the charge with unstoppable force and determination.
ABOUT YOU – MONA
Just in time for Earth Day, About You's Max Poscente is sharing a sultry love song to Mother Nature in the form of "MoNa." "I broke up the 'Mo' and the 'Na,' found Mother Nature, and I'm super passionate about advocating for the climate crisis, so I thought this could be the opportunity to do that," reveals Max. With his aching falsetto bending around B.B. King-esque licks, "MoNa" is a blistering blues freak-out that doubles up as an important reminder to treat our planet with love and respect while we can.
HATCHIE – THE RHYTHM
Brisbane, Australia's Hatchie is feeling herself and then some on her latest single, "The Rhythm." Featured on her recent sophomore album, Giving the World Away, "The Rhythm" is a glimmering ode to self-confidence, as seen through some of the most momentous pop music this side of Visions-era Grimes. "No face I can see, no love/'Till I took some timе for me to find the rhythm," testifies Hatchie, with the blend of grunge guitars and Eastern drums channeling Primal Scream meets Madonna's "Ray of Light."
THE SMILE – FREE IN THE KNOWLEDGE
Coinciding with the announcement of their debut album, A Light for Attracting Attention, The Smile has unveiled "Free in the Knowledge." The follow-up to "Pana-vision," "Skrting on the Surface," "The Smoke," and "You Will Never Work in Television Again," "Free in the Knowledge" is a piercingly beautiful reckoning with mortality. "Free in the knowledge/That one day this will end," keens Thom over soaring strings courtesy of the London Contemporary Orchestra. "Free in the knowledge/That everything is change."
WARPAINT – HIPS
Earlier this year, Warpaint returned with the dappling love letter, "Stevie," and today, the Los Angeles band is back with "Hips." The latest single to be unveiled from Warpaint's forthcoming fourth album, Radiate Like This, "Hips" is a sultry, syncopated vibe that hears them exploring the primitive power of rhythmic music. "She's a little Messiah/Jewel in the crown/Walking on water/Cruising through fire," chants Warpaint over the kind of gyrating grooves and irregular beats that are felt deep in the pelvis.
FONTAINES D.C. – ROMAN HOLIDAY
Fontaines D.C.'s Skinty Fia is very much an album about processing national identity in a foreign place, with this topic coming to a head on the longing "Roman Holiday." Following "Skinty Fia," "Roman Holiday" is a dreamy, sunbleached hymn about "the wide streets of North London in the summer and the urge to discover them at nighttime." "The thrill of being a gang of Irish people in London with a bit of a secret language and my first flat with my girlfriend," continues Fontaines D.C.'s Grian Chatten. Listen.
LYKKE LI – HIGHWAY TO YOUR HEART
There's no one capable of capturing the sound of romantic ruin quite like Lykke Li, with the Swedish indie icon once again bringing the melodrama on "HIGHWAY TO YOUR HEART." Featured on her forthcoming fifth album, EYEYE, "HIGHWAY TO YOUR HEART" is a sweeping ode to emotional devastation, with Lykke singing about the pain of unrequited love with the candlelit intimacy of voice memo sent in the small hours: "Night falls and it, it rains and I wake up alone/Get high, but it won't last, I'm still alone."
-
Follow We Are: The Guard on Spotify for *lots* more new music! x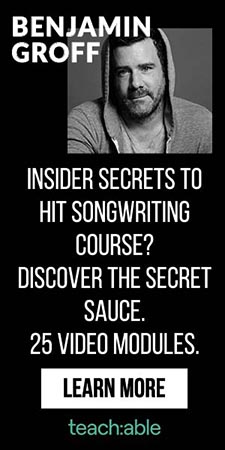 Jess Grant is a frustrated writer hailing from London, England. When she isn't tasked with disentangling her thoughts from her brain and putting them on paper, Jess can generally be found listening to The Beatles, or cooking vegetarian food.