10 TWITTER MOMENTS: CARDI B & NICKI MINAJ DOG WALK TOMI LAHREN
Hi, guys, and thanks for joining me for the latest edition of We Are: The Guard's 10 Twitter Moments!!! That's right, between the problematic 21 Savage memes and people complaining about the Super Bowl, I'm pleased to say that the team and I managed to find plenty of celebrity tweets worth featuring this week! If you're searching for some Hump Day entertainment to see you through until the weekend, then, look no further than the following 280-character highlights from Cardi B & Nicki Minaj, Kid Cudi, Halsey, Ariana Grande, Dua Lipa, and many more!!!
-
CARDI B & NICKI MINAJ DOG WALK TOMI LAHREN
Don't make me get my leash https://t.co/ErQ2RhzDeg

— iamcardib (@iamcardib) February 4, 2019
Your obsession w/our culture is scary to say the least. I hate giving you the attention you so desperately crave. Laughing @ ppl getting deported as if your ancestors discovered America. Are you Native American? You fkn clown. https://t.co/7m0fYnubkq

— QUEEN (@NICKIMINAJ) February 4, 2019
I'm SOOO here for Cardi B and Nicki Minaj putting aside their differences to collectively dog walk Tomi Lahren. 21 Savage's arrest is far from a joke, so please think twice before sharing any of those dumb-ass, tone-deaf memes currently doing the rounds on social media (cc: Demi Lovato). Here's hoping that Saint Laurent Don is reunited with his loved ones soon. #Free21
HAPPY BIRTHDAY KID CUDI
— The Chosen One (@KidCudi) January 31, 2019
Nothing to see here, just Kanye West, Timothée Chalamet, Kid Cudi, and Pete Davidson casually hanging out in the same room together to celebrate Kid Cudi's birthday last Wednesday. Welcome to the simulation, everybody!!! By the way...did you know that this photograph was the true inspiration behind Leonardo da Vinci's The Last Supper?! The more you know!!!
PROTECT WINGTIP AT ALL COSTS
had real moments of doubt last year where i thought about giving up music

last week a room full of people sang a song i wrote and i grinned like a dummy

hang in there!!

— wingtip (@itswingtip) February 4, 2019
Wingtip is no doubt one of the most talented and underrated artists that I've ever had the pleasure to write on here at We Are: The Guard, so it goes without saying that this tweet totally warmed my heart. Life is full of ups and downs, and sometimes it can feel like the whole world is against you, but let this message serve as a reminder to never give up on your dreams <333. Brb, going to listen to Wingtip's entire discography.
HALSEY IS NO MANIC PIXIE DREAM GIRL
people to not trust:
-robbers
-thieves
-politicians (mostly)
-men who routinely fall in love with a new "way-younger-than-them, manic-pixie-dreamgirl" thinking she's gonna be the one to change them
-your big cousin who kept that draw 4 on deck during Uno

— h (@halsey) February 4, 2019
People to not trust:
–People who dislike Halsey
–People who dislike Halsey
–People who dislike Halsey
P.S. Am I the only one who's picking up some SEEERIOUS shade towards G-Eazy from this tweet?!? Haaa! Team Halsey and YUNGBLUD for LIFEEE!!!
JESSE SAINT JOHN CALLS OUT THE SUPER BOWL
If Janet can't show her nipples why could Adam Levine??

— jesse saint john aka yxng jak skillingtvn (@jessesaintjohn) February 4, 2019
RIGHT, JESSE?!? The double standard was clear to see during this year's Super Bowl... Not to mention that I found Janet Jackson's pasties a whole lot less offensive than Adam Levine's half-naked torso... Just bring on the day when jesse saint john is headlining the Halftime Show alongside Charli XCX and Kim Petras!!!
LIL PUMP SAYS THAT LADY GAGA IS GOING TO BE ON HARVERD DROPOUT
Lady Gaga will be on Harverd dropout

— Lil pump (@lilpump) February 1, 2019
Lady Gaga reading this while at the Oscars luncheon like...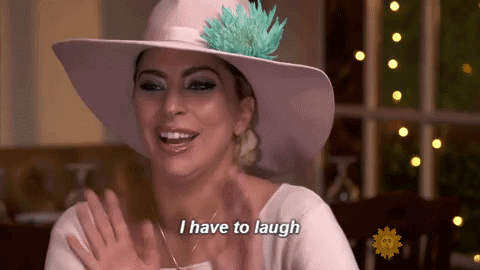 ...meanwhile, has anyone informed Lil Pump that Portishead's Geoff Barrow is coming to sue his sorry ass?!
Who is lill Pump ?
He's used Mine and @Benjaminsal Annihilation score in his deeply fucking sexist song https://t.co/TlUSHJSVMz
Just so you know we didn't give clearance..
As 2 fathers of daughters this shit needs to seriously fuck off

— Geoff Barrow (@jetfury) February 1, 2019
ARIANA "JAPANESE BARBECUE FINGER " GRANDE WANTS TMZ TO "GET OFF HER NUTS"
i'll give y'all a million to get off my nuts https://t.co/7yMyP0eHtt

— Ariana Grande (@ArianaGrande) February 2, 2019
And this week in "Pop Star Gets Poorly Thought-Out Tattoo." Something tells me that Ariana Grande should have just gone down the Kelsy Karter route and hired a special effects artist to do her most recent inking. Anyways...am I the only one who thinks that "Japanese Barbecue Finger ♡" sounds like a long-lost Grimes song?!
DUA LIPA IS OVER TOXIC TWITTER
I just wanna make sure that you guys know that none of this online craziness means anything, never let anyones stupid opinions define how you feel about yourself. Any tweets that trigger you or make you feel uncomfortable mute or unfollow with absolutely no fucks given.

— DUA LIPA (@DUALIPA) February 3, 2019
F-A-C-T-S. I live for Twitter (why else do you think that I write this column?!?!?) although it can be easy to forget just how toxic a place it is sometimes. Shout-out to Queen Dua for reminding us that it's okay to unplug from the insanity every once in a while and not let social media define us. Alexa, play "Swan Song."
LEWIS CAPALDI IS GETTING THAT MONEY
Very sorry to everyone in Manchester tonight. Had a panic attack and had to cut my set short. Thankfully I've got it on good authority that it won't effect my fee and I'll still be paid in full. x https://t.co/Jg6DgaOk0c

— Lewis Calamari (@LewisCapaldi) February 3, 2019
And this is why Lewis Capaldi is my favorite person on Twitter!!! I love that the Scottish singer-songwriter always keeps his trademark sense of humor about him, even when discussing something like his mental health issues. Here's to more open, honest anxiety role models like him. P.S. Oh, hi, Nina Nesbitt!!!
I need to send you some of my aromatherapy oil !!!

— Nina Nesbitt (@ninanesbitt) February 3, 2019
JUICY J IS A CONSPIRACY THEORIST NOW
Yoo watch what you eat they puttin poison in the food cancer is killin everybody it's some bullshit in the food beware!!!!

— juicy j (@therealjuicyj) January 30, 2019
Somebody has been watching too many Shane Dawson conspiracy theory videos...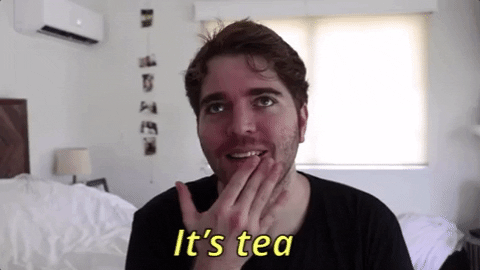 -
Why not follow We Are: The Guard on Twitter for even more 280-character highlights?!? x
Jess Grant is a frustrated writer hailing from London, England. When she isn't tasked with disentangling her thoughts from her brain and putting them on paper, Jess can generally be found listening to The Beatles, or cooking vegetarian food.