10 TWITTER MOMENTS: DOJA CAT VS. GODZILLA VS. KONG
Hi, everyone! How are you? Has lockdown got you going stir-crazy? Fear not, as it's that time of the week when we shut down our Zooms and Slacks to instead live vicariously through our favorite artists and their Twitter accounts. From Doja Cat reviewing Godzilla vs. Kong, to Mariah Carey getting the COVID-19 vaccine, to Lana Del Rey blessing us with not one, but two selfies, it's quite literally all covered this Hump Day. Without further ado, then, let's check out the latest edition of We Are: The Guard's 10 Twitter Moments in three, two, one. GO!
-
DOJA CAT VS. GODZILLA VS. KONG
this fuckin new godzilla movie sucks i feel so manipulated. No character development. It's literally a stone cold cashgrabmmmmh.

— I'm Doja (@DojaCat) April 3, 2021
Doja Cat, sweetie, if it's "character development" you're looking for, then I'm really not sure why you're watching Godzilla vs. Kong? Just wait for Space Jam: A New Legacy instead! That trailer has got me hype!
Welcome to the Space Jam!! What in the matrix hell did I get myself into?!?! @TheSpringhillCo @spacejammovie #SpaceJamMovie pic.twitter.com/24fKHPlLNW

— LeBron James (@KingJames) April 3, 2021
MEGAN THEE STALLION IS HAVING A HOT BOYFRIEND SUMMER
Hot girl summer ...but my man coming to pick me up after

— TINA SNOW (@theestallion) April 2, 2021
Okay, so this is how we're doing it now that Megan Thee Stallion has a boyfriend, huh? Jokes aside, Megan and Pardi are the cutest, most adorable couple of all time and I couldn't love them more! Plus, Pardi is a snack, people!
ALL S U M M E R !!!! https://t.co/KxiyaT5nUQ pic.twitter.com/nvFU3rvdXA

— UNDERED (@pardi) April 2, 2021
TRAVIS SCOTT AND THE MAYO-ON-FRIES DEBATE
Nah I'm not gon lie who be putting mayo on fries...?

— TRAVIS SCOTT (@trvisXX) March 31, 2021
I've said it before, and I'll say it again: Leave it to Travis Scott to ask the important questions. Seriously, though, what kind of heathen puts mayo on their fries? The same kind of heathen who puts pineapple on their pizza, I'm guessing? CURSED, I TELL YOU!
an no i don't eat mayo wit fries

— TRAVIS SCOTT (@trvisXX) March 31, 2021
MARIAH CAREY GETS THE COVID-19 VACCINE
Vaccine side effect: G6 pic.twitter.com/YcQBpgSCRH

— Mariah Carey (@MariahCarey) April 3, 2021
Forget "curing COVID-19." I'm planning on getting the vaccine as soon as possible simply so I can reach the same whistle notes as Mariah Carey. P.S. Is anyone else living for the fact Mariah wore Louis Vuitton and stiletto boots to her jab appointment? WHAT! AN! ICON!
This article is the best thing ever written. https://t.co/8PMoUU3Pfd

— Mariah Carey (@MariahCarey) April 5, 2021
LIL NAS X OWES US SOME HANES SOCKS
if call me by your name goes number 1 i'm buying all my followers a 12 pack of hanes socks

— nope (@LilNasX) March 31, 2021
As a loyal Lil Nas X follower still waiting for my copy of Phineas and Ferb, I'm not holding out much hope for my Hanes Socks. That said, I couldn't be happier for Nas topping the Billboard Hot 100 with "Montero (Call Me by Your Name)." Conservative Twitter is officially quaking!
everybody getting hanes socks

— nope (@LilNasX) April 5, 2021
MILEY CYRUS IS A ROCK STAR
A STAR IS BORN pic.twitter.com/XPb5hZy77w

— Miley Ray Cyrus (@MileyCyrus) April 4, 2021
Me walking into the club after getting the COVID-19 vaccine. In all seriousness, how incredible was Miley Cyrus during the NCAA Final Four concert on Saturday? The rock star well and truly came alive during that Queen segment!
MILEY CYRUS Performing "Don't Stop Me Now" by Queen pic.twitter.com/XdtjWdqfGS

— Miley Updates (@MileyUpdates) April 4, 2021
TAYLOR SWIFT IS STILL FEARLESS AFTER ALL OF THESE YEARS
You cracked the codes and guessed all the From The Vault titles. Here's the full track list, my friends. pic.twitter.com/lC3awlRmm2

— Taylor Swift (@taylorswift13) April 3, 2021
"Head first, Fearless." IT'S HAPPENING, SWIFIES!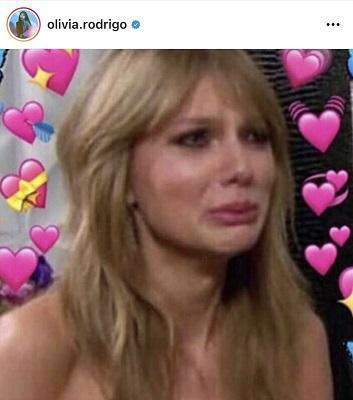 I'm counting down the minutes til we can all jump into this brave world together, filled with equal parts nostalgia and brand newness.

Head first, Fearless

— Taylor Swift (@taylorswift13) April 3, 2021
LANA DEL REY IS A SELFIE QUEEN
— Lana Del Rey (@LanaDelRey) April 2, 2021
Lana Del Rey really went from forgetting her Twitter password, to giving us not one, but two selfies in the space of a day! What did we do to deserve? P.S. Can we officially agree that Lizzie Grant basically invented socks?
— Lana Del Rey (@LanaDelRey) April 3, 2021
KEVIN ABSTRACT REVEALS BROCKHAMPTON ARE BREAKING UP
2 brockhampton albums in 2021 - these will be our last

— kevin abstract (@kevinabstract) March 31, 2021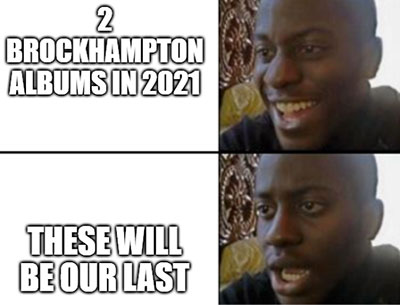 CLAUD IS HOT AND POWERFUL
instagram took this down which is all the more reason to post it here!!! trans ppl are hot and powerful. use the link below to help stop anti-trans bills in the US that are on their way to being passedhttps://t.co/5HXkyfvbsA pic.twitter.com/wL6Fp5JuvL

— Claud (@claudmp3) March 31, 2021
And this, my friends, is why Claud is my favorite human being on the planet! Just don't forget to take action against anti-trans bills if you want to be hot and powerful too! #HotAndPowerful #TransVisibility #InstagramSucks
-
Follow We Are: The Guard on Twitter for more! HAPPY HUMP DAY! x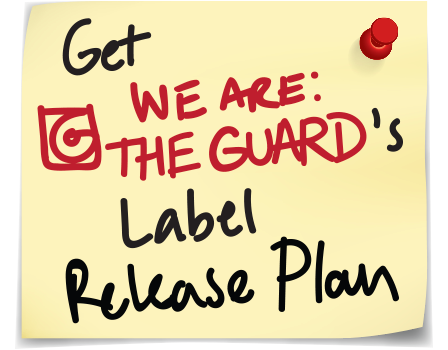 Jess Grant is a frustrated writer hailing from London, England. When she isn't tasked with disentangling her thoughts from her brain and putting them on paper, Jess can generally be found listening to The Beatles, or cooking vegetarian food.