10 TWITTER MOMENTS: KELLY CLARKSON BURNS IHEARTRADIO
What's up, party peeps?! Thanks for joining me for the latest edition of We Are: The Guard's 10 Twitter Moments! If you came here looking for some midweek entertainment to see you through the Hump Day slump, then you're in the right place! As ever, I've spent the last week scrolling through the fastest-moving social network out there in order to bring you all of the juiciest tweets from our fave bands, artists, producers, and beyond! While we wait for Friday night drinkies to roll around, then (a stiff gin and tonic for me, please), get your pop culture fix this week by checking out the following 280-character bites from Kelly Clarkson, Lady Gaga, Kanye West, and plenty of others!
-
KELLY CLARKSON BURNS IHEARTRADIO
....except for getting my songs played on your stations. I guess I'm cool enough to invite but not cool enough to play my record. #truth #check #seeyasaturday HAHAHAHAHAHA #MeaningOfLife https://t.co/WNGa0xqAyN

— Kelly Clarkson (@kelly_clarkson) September 20, 2018
KELLY CLARKSON, YOU ABSOLUTE SAVAGE! I've loved Kelly ever since she appeared on American Idol, but this tweet burning iHeartRadio for their lack of airplay has honestly made me stan her even more! Give me a station that plays "Since U Been Gone" on repeat for eternity over the Top 40 ANY DAY!
CARDI B AND OFFSET CONTINUE TO HAVE THE BEST SEX LIFE EVER
The way imma give this nikka anniversary pussy i might need to pop 2 plan Bs

— iamcardib (@iamcardib) 21 September 2018
Cardi B took a break from Twitter following the whole Nicki Minaj drama, but I'm SO glad that she's back to updating us on the stuff that really matters: her and Offset's sex life. Let's just hope that she did pop those Plan Bs, because the last thing that we need is her getting distracted by a Kulture 2. WE WANT A TOUR AND NEW MUSIC, CARDI!
BRONZE AVERY IS TWERK GOALS
mood: twerking to this beat I made pic.twitter.com/8LHBkVmUUQ

— ʙʀᴏɴᴢᴇ ᴀᴠᴇʀʏ (@bronzeavery) September 21, 2018
WORK IT, BRONZE AVERY! This booty-shaking beat is EVERYTHANG! I'm literally twerking to it as I type! Don't expect me to film it and upload it to Twitter, though, as my badonkadonk is nowhere near as cute as Bronze's!
LANA DEL REY SINGING "PETE DAVIDSON" BY ARIANA GRANDE IS GIVING ME LIFE
— Ariana Grande (@ArianaGrande) September 20, 2018
LANA DEL REY SINGING "PETE DAVIDSON" BY ARIANA GRANDE IS THE LIFE ELIXIR THAT I NEEDED! My crops are thriving, my acne has cleared, and my household chores are suddenly complete after watching this video! P.S. I see you replying, Lana!
LADY GAGA HAS SHARED AN EPIC TRAILER FOR A STAR IS BORN
Is that alright? #AStarIsBorn pic.twitter.com/aTsNiTmMXD

— Lady Gaga (@ladygaga) September 25, 2018
JUST GIVE HER THE OSCAR, ALREADY!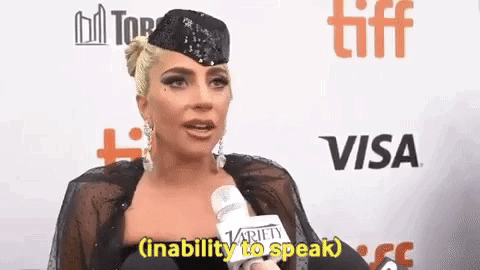 KIM PETRAS IS A REAL-LIFE HUMAN CAPTCHA
̴͎̼͓͙̤̀̈́̏̕̚s̵͇̖̖̮͍͌͛̈́̆̈́̏̒̂̒ķ̸̗̝̘̥̣̝̥̥͒͒͛i̶͈͙̯͋͊͑e̵̟͖̔̈̽̋͊̽̋͘̚s̸͚͛̔͂̏ ̶̣͍̬̲͍̳̝̄̏̅̈́͝͝g̵̢̱̝̈̃̕r̶̛̜͇̅̈́̐̾̌́o̸̙͌͐̐͑͒̈́́́̓̕ẅ̵̨̟͇̫͚͖̭͙̠́̌͝n̷̪̜͕͈͓̣̼͆̃̌̅̽͘͝͠ ̵̨͓̻̼̲͉̭̝̈͊̍̑͜͝ͅr̵̡͌͆̐͐̍̐̓e̶̛̛̹̞͐̎̽̽̒d̴̝̘͂̓͊̽́̂̌̌ͅ pic.twitter.com/9vXhbEQFc5

— KIM PETRAS (@kimpetras) 23 September 2018
Is Kim Petras okay?! She's been tweeting these obscure messages for the past week now, and I'm starting to get a little concerned that she's turned into a real-life human CAPTCHA. Next she'll be asking us to click on all of the road signs and storefronts. Then again, this could all be leading to new music from Kim, in which case, MY BODY IS READY!
LPX IS OVER WEARING CLOTHES, THANK YOU VERY MUCH
genuinely wish I could just perform in tights and underwear - it's truly my most comfortable state

— Lizzy Plapinger (@IAMLPX) 21 September 2018
THIS! I'd happily spend every waking moment in only my bra and panties if it was socially acceptable. Clothes are so just so...UGH! There's seriously nothing better than getting home after a long day at the office and stripping it all off! Even better if you do it while dancing around to LPX! JUST SAYIN'! P.S. O hai, Marina and the Diamonds!
NAME A CUTER DUO THAN MOLLY MOORE AND HER DOG
this is what I've accomplished today pic.twitter.com/1h7s1fEhOb

— Molly Moore (@MissMollyMoore) 24 September 2018
MOLLY MOORE WITH THE TWITTER CONTENT THAT WE ALL WANT AND DESERVE! A day spent snuggling in bed with a dog (and, ahem, Brandyn Burnette) is a day well spent, in my not so humble opinion <3. BRB, DYING OF CUTENESS!
KANYE WEST COULD ACTUALLY BE RIGHT ABOUT SOMETHING
Having your amount of likes on display for the world to see and judge is like showing how much money you have in the bank or having to write the size of your dick on your t shirt

— ye (@kanyewest) September 22, 2018
Let's face it, Kanye West is wrong about a lot of stuff, but this time, THIS TIME, the rapper-turned-thought leader could actually be on to something. It goes without saying that the need to clock up as many followers, retweets, and likes as possible has a detrimental effect on everybody's mental health, so here's hoping that Twitter's Jack Dorsey genuinely listens to Kanye on this one and offers us the ability to hide all of that shit. Oh, and Jack, can we also have an edit button while you're at it?!
JESSE SAINT JOHN HAS A SPECIAL ANNOUNCEMENT
10/5 pic.twitter.com/2vSg5ANW0a

— jesse saint john (@jessesaintjohn) September 25, 2018
Closing out with this tweet from We Are: The Guard's very own jesse saint john, whose next single, "WHAT DO U LIKE," is going to be released in JUST OVER ONE WEEK! Hold on to your wigs, bishes, because trust us when we say that this is going to be the queer icon's BEST! ONE! YET! Now, if you need us, we'll be over here listening to "MOVE" and "FAKE IT" on repeat right through until next Friday!
-
Don't forget to follow We Are: The Guard on Twitter for more juiciness! x
Jess Grant is a frustrated writer hailing from London, England. When she isn't tasked with disentangling her thoughts from her brain and putting them on paper, Jess can generally be found listening to The Beatles, or cooking vegetarian food.