10 TWITTER MOMENTS: LADY GAGA IS NAMING HER ALBUM AFTER ADELE?
On Saturday, Greta Thunberg took time out from triggering gigantic Twitter man-children to announce that she was pivoting to death metal.
I have moved on from this climate thing... From now on I will be doing death metal only!! https://t.co/mYqXxFuE77

— Greta Thunberg (@GretaThunberg) September 28, 2019
Just so you know, if the 16-year-old climate activist ever does make such a career move, expect to see her tweets in this column EVERY. DAMN. WEEK.
Anyways, while Greta continues to conquer the world of death metal and beyond, let's read on to discover what our other favorite musicians have been up to on social media over the last seven days in the latest edition of We Are: The Guard's 10 Twitter Moments, featuring Lady Gaga, Cher, The Weeknd, and more.
-
LADY GAGA IS NAMING HER ALBUM AFTER ADELE?
I'm calling my next album ADELE.

— Lady Gaga (@ladygaga) October 1, 2019
Okay, well, THIS Is wild! I'm assuming that Gaga means the ACTUAL Adele and not some second cousin, twice removed, à la Joanne? Or perhaps she's simply trolling us (in the deep) (end) (sorry)? Either way, I HAVE SO MANY QUESTIONS!
CHANCE THE RAPPER ISN'T A FAN OF HALLOWEEN
What if we skipped halloween and jus had thanksgiving for 2 fucking months straight huh what then.

— Chance The Rapper (@chancetherapper) September 30, 2019
DELETE THIS TWEET AT ONCE, CHANCELOR! Every self-respecting human being knows that Halloween is the greatest holiday of the year. Not to mention two whole months of my auntie's sage-and-onion stuffing would be a nightmare for my gastrointestinal tract...
Bring on the spooky season!
Ay its a ghost up there https://t.co/I913iy8xpP

— Chance The Rapper (@chancetherapper) September 30, 2019
SHAWN MENDES IS GETTING HIS SCREAM ON
October 1st.. time watch scream every single day until Halloween

— Shawn Mendes (@ShawnMendes) October 1, 2019
SEE? My boy Shawn Mendes over here gets it! For real, though, what's up with this man's unhealthy obsession with Scream?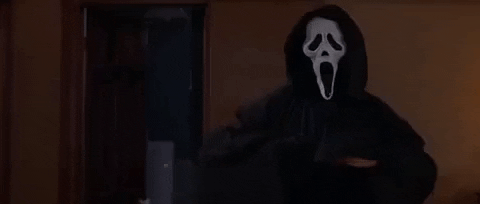 CHER TAKES TOO MANY SELFIES
I Have 22 Selfies.....What Do You Think Means pic.twitter.com/j6GnEWcduR

— Cher (@cher) September 27, 2019
QUEEN OF HOLDING DOWN THE CAMERA BUTTON TOO LONG!
P.S. OMG! Legends supporting legends!
I like it. Where u goin?

— Cyndi Lauper (@cyndilauper) September 27, 2019
MARK HOPPUS OF BLINK-182 IS A VERY MATURE MAN
In New York, trying to convince people that the C in Canal Street is silent.

— spooky jim christmas. (@markhoppus) September 27, 2019
And now for your monthly reminder that Mark Hoppus of blink-182 is a grown-ass 47-year-old man.
Never change, Mark.
"With a new album and fresh outlook, has blink-182 finally grown up?" -every subheadline on every article written about us since Dude Ranch

— spooky jim christmas. (@markhoppus) September 25, 2019
CARDI B HITS UP PARIS FASHION WEEK
PARIS FASHION WEEK, IM HERE ! pic.twitter.com/Sog9qepW5n

— iamcardib (@iamcardib) September 28, 2019
Exclusive footage of me ignoring all of my adult responsibilities to go forth and live my best life.
P.S. "Make sure a car don't hit me cause a bitch can't see" is officially Cardi's best line yet.
YUNGBLUD MEETS HIS YUNGEST FAN
i have decided to retire. this is benjamin. he is yungblud now. pic.twitter.com/RpiKDdqSm9

— YUNGBLUD (@yungblud) September 24, 2019
I'M NOT CRYING, YOU'RE CRYING! No, really, this is genuinely the cutest thing that I've ever seen and only further convinced me that YUNGBLUD ought to be the father to my future children.
LIL NAS X AND FIONA APPLE TO COLLAB?
me & fiona apple should do something together for my album

— nope (@LilNasX) September 30, 2019
PHEW! I'm so relieved that Lil Nas X and Fiona Apple's semi-beef has reached such a heartwarming conclusion! And here's me thinking that I was going to have to cancel Lil Nas X for sampling Queen Fiona without her permission! BRING ON THE COLLAB!
@LilNasX Fiona Apple sent you a message. #FionaApple #lilnasX pic.twitter.com/38mYtBOrxV

— Zelda Hallman (@zeldahallman) September 30, 2019
LIZZO V.S. DISNEY'S THE ARISTOCATS
OOOOOHHHHHHH MY GOD https://t.co/saOY2jyYHL

— |L I Z Z O| (@lizzo) September 28, 2019
I guess this remix of "Truth Hurts" and The Aristocats somewhat makes up for the fact that Lizzo wasn't cast as Ursula in the upcoming live-action remake of Disney's The Little Mermaid.
THE WEEKND PAYS TRIBUTE TO RIC OCASEK OF THE CARS
who's gonna drive you home tonight?

— The Weeknd (@theweeknd) September 25, 2019
RIP Ric Ocasek. Who else would love to hear Abel cover this song?
-
Don't forget to follow We Are: The Guard on Twitter for more! x
Jess Grant is a frustrated writer hailing from London, England. When she isn't tasked with disentangling her thoughts from her brain and putting them on paper, Jess can generally be found listening to The Beatles, or cooking vegetarian food.