10 TWITTER MOMENTS: T-PAIN HAS BEEN ACCIDENTALLY IGNORING CELEBRITIES ONLINE FOR YEARS
Hi, you guys! How's your week going so far? As for We Are: The Guard, the team and I have been as busy as ever scrolling for all of the latest, greatest tweets on Music Twitter! From T-Pain ghosting celebrities, to Miley Cyrus inviting us inside of her psychedelic pad, to Phoebe Bridgers single-handedly taking on billionaires Jeff Bezos and Elon Musk, this column quite frankly has something for everybody! Cancel your Hump Day plans, then, as it's time to check out the latest edition of We Are: The Guard's 10 Twitter Moments below *points down*.
-
T-PAIN HAS BEEN ACCIDENTALLY IGNORING CELEBRITIES ONLINE FOR YEARS
I swear!! I'm just now seeing all these messages and mentions TODAY!!!! How do I super apologize? Press conference? Town hall meeting? I'm dumb pic.twitter.com/RFhjjs5sja

— T-Pain (@TPAIN) April 29, 2021
LMAO! This is hilarious and deeply, deeply tragic in equal measure! Imagine if this means the whole world has been missing out on a "Fergalicious" or "London Bridge" remix featuring T-Pain this entire time? And the fact he still hasn't got back to Viola Davis? I'mma need you to fix that real quick, T!
CHLOE BAILEY JUST BODIED A COVER OF CARDI B'S "BE CAREFUL"
be careful with me @iamcardib pic.twitter.com/3bKdZe9Par

— Chlöe (@ChloeBailey) May 1, 2021
AND THE CATEGORY IS CHLOE BAILEY! Just a few weeks on from covering The Weeknd's "Earned It," Miss. Bailey is back and bodying it once again on this cover of Cardi B's "Be Careful." I'm not even kidding when I say I got a physical ASMR response when she hit that deep note at the end. A WHOLE FREAKING SERVE!
This is soo beautiful got me smiling from ear to ear and blushing maa hard .....You see this how I thought I sounded on the track https://t.co/0Z1GIx4Hhj

— iamcardib (@iamcardib) May 2, 2021
JOE JONAS AND SOPHIE TURNER ARE THE COOLEST MARRIED COUPLE IN HOLLYWOOD
Married as F@$K for 2 years! Love you bub pic.twitter.com/YrfUh3GjNk

— J O E J O N A S (@joejonas) May 1, 2021
Can we take a quick moment to appreciate how hella fine my adopted parents are? No, really, Joe Jonas and Sophie Turner are officially the coolest married couple in all of Hollywood and I refuse to hear otherwise! May everybody reading this find someone who looks at them like Joe looks at Sophie *sigh*!
MILEY CYRUS LIVES IN AN ELECTRIC LADYLAND
My mommy. My manager. My interior designer. My role model. My LOVE. No one I cherish more. @tishcyrus @ArchDigest pic.twitter.com/6bUHwaX8zV

— Miley Ray Cyrus (@MileyCyrus) April 29, 2021
Remember how I said I wanted to bring back MTV Cribs, simply so I could get a personal tour of Troye Sivan and Kehlani's house? Well, now you can add The Cyrus Manor to that list! This is the psychedelic electric ladyland of my dreams! When I die, I hope I reincarnate as one of those sofa cushions!
.@ArchDigest, what about me? https://t.co/NP54tnWZ85

— Hannah Montana (@hannahmontana) April 29, 2021
CHER WANTS US TO SEARCH FOR OUR INNER CHILD
Ok, GOING TO WORKOUT.
WHILE IM GONE, EVERYONE SEARCH 4 THEIR INNER CHILD.

— Cher (@cher) April 28, 2021
Me every time Cher tweets:
PARAMORE'S HAYLEY WILLIAMS IS A BILLIE EILISH STAN
i wish i'd heard billie's newest song when i was 19. powerful message for a young and brilliantly talented young person to sing about the grooming that takes place every day especially within creative industries.
and she speaks on it with grace. anyway, the song rules.

— hayley from Paramore (@yelyahwilliams) April 30, 2021
Paramore's Hayley Williams stanning over Billie Eilish? This is everything! "Your Power" is such a moving, important song and I'm loving the fact it's sparking so much dialogue and conversation across social media. Oh, and that Vogue photoshoot? THE INTERNET IS OFFICIALLY BROKEN, BILLIE!
LEGEND https://t.co/xNvNT5rKQ6

— FINNEAS (@finneas) April 30, 2021
MXMTOON IS A CRAZY PLANT LADY
buy a plant and suddenly a year later you're living in an indoor forest pic.twitter.com/SsjTTdFg9k

— maia (@mxmtoon) April 29, 2021
I'm a crazy plant lady, so this tweet from We Are: The Guard favorite mxmtoon hit all kinds of different! I'm not even kidding when I say I'm quite literally addicted to growing succulents! Can someone point me in the direction of a hotline, support group, or something? P.S. I need that Bulbasaur pot behind Maia!
KACEY MUSGRAVES TURNS SNOW CONE VENDOR
i haven't put out a new album but i have done this pic.twitter.com/T3DfSjUovR

— K A C E Y (@KaceyMusgraves) May 1, 2021
THE POWER OF SOCIAL MEDIA, PEOPLE! While I'd much prefer it if Kacey Musgraves spent her time in the studio working on KM5, I'm very much here for her finally living out her childhood dream of being a snow cone vendor. Just one question: How do I get hold of a pair of those rhinestone sunglasses?
I'm alright with a.. pic.twitter.com/dRSw7Rp1xE

— K A C E Y (@KaceyMusgraves) May 1, 2021
RYAN WOODS SHARES AN ANGELIC COVER OF FRANK OCEAN'S "GODSPEED"
godspeed by frank ocean pic.twitter.com/q9Odt5J9Xr

— king of the basement (@itsryanwoodss) May 4, 2021
Ryan Woods covering "Godspeed" by Frank Ocean? I have officially died, gone to heaven, and am chilling with the angels, everybody! I'm going to need more than 57 seconds of footage, though? Ryan, if you're reading this, please, please, please drop a full cover! THE FANS NEED THIS! THE FANS DESERVE THIS!
PHOEBE BRIDGERS HAS A MESSAGE FOR JEFF BEZOS AND ELON MUSK
stay tf away from her https://t.co/lfGHTLNajB

— traitor joe (@phoebe_bridgers) May 4, 2021
Phoebe Bridgers really said:
-
Follow We Are: The Guard on Twitter for more! x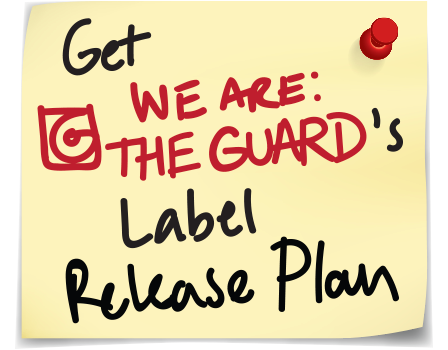 Jess Grant is a frustrated writer hailing from London, England. When she isn't tasked with disentangling her thoughts from her brain and putting them on paper, Jess can generally be found listening to The Beatles, or cooking vegetarian food.