10 TWITTER MOMENTS: WELCOME, KULTURE KIARI CEPHUS!
What's up, hipsters?! Thanks SO much for joining me for this week's edition of We Are: The Guard's Twitter Moments, or as I prefer to call the social network, Place Where Grimes' Boyfriend Says Dumb Fucking Shit Dot Com. That's right, the team and I have once again rounded up the tastiest tweets of the last seven days to feed your need for everything pop kulture (kulture?! Get it?!). So, without further ado, grab a knife 'n' fork, as it's time to dig into the following 280-character bites from Cardi B, Kanye West, Ariana Grande, Beach Fossils, Best Coast, and more!
-
WELCOME, KULTURE KIARI CEPHUS!
Kulture anything else woulda been basic ‍♀️‍♀️‍♀️Okrrrrr

— iamcardib (@iamcardib) 12 July 2018
It was only last week that I said that it felt like Cardi B had been pregnant since FOREVER, but on Tuesday, July 10, the rapper finally gave birth to a healthy baby girl named, wait for it, Kulture Kiari Cephus! Look, did you SERIOUSLY expect anything less from Cardi?! This kid was always going to be extra AF and the only people who ought to be crying over her name should be the Kardashians, OKURRR?!
XYLØ'S PAIGE DUDDY IS #BODYGOALS
GIRL$ GETAWAY. Nothing to panic about here pic.twitter.com/GefrbaCavx

— XYLØ (@xylo) 14 July 2018
Okay, can we just take a moment to appreciate what an absolute ICON Paige Duddy is?! Fresh from dropping my favorite song of the summer so far, "Don't Panic," the XYLØ frontwoman took to Twitter on Saturday to share these photos of her killing it poolside in a hot pink Playboy bikini, and they're EVERYTHING! Keep slaying me with those #bodygoals, girl!
FINNEAS LISTENS TO THE BEATLES
Sometimes I listen to The Beatles and I just wonder why I even TRY

— FINNEAS (@FinneasOConnell) 12 July 2018
Sometimes I listen to FINNEAS and I just wonder why I even TRY. Jokes aside, I'm pretty sure that every musician goes through a Beatles-induced existential crisis at some point in their career. It's almost like a rite of passage. He may be one-half of the most talented sibling duo alive, but even Billie Eilish's bro has to face facts that he'll never match the brilliance of "Octopus's Garden" ("Landmine" is a decent attempt, though).
TYSM AND FELIX SNOW ARE THE CUTEST
Felix just genuinely suggested I lick the fallen ice cream out of his beard pic.twitter.com/TBuLcWaJpe

— TYSM (@hiimtysm) 14 July 2018
OMG! I cannot with TYSM and Felix Snow <3! They're the cutest and most adorable couple EVER! Plus, you KNOW that it's true love when your boyfriend asks you to lick the leftover ice cream from his beard! Okay, so, maybe this is actually kind of gross when you really do think about it, but you can't deny that Felix does have some pretty epic facial hair!
KANYE HAS A HEADACHE
Whenever you're feeling down bored irritated or disgruntled just say… thank god I don't have a sinus headache … they feel like the episode of black mirror when the bee went into the guys ear...

— KANYE WEST (@kanyewest) July 14, 2018
I miss the old Kanye. Didn't support Trump Kanye. Say "slavery was a choice" Kanye. And maybe, JUST MAYBE, we had him back for a very brief moment on Saturday, when the rapper (okay, "recording artist") took time out from writing his "philosophy book" and being a general spokesperson for the alt-right in order to tweet something actually...kind of...funny?!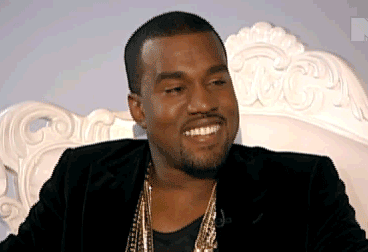 ALAYNA AND THE DOGGOS
— alayna (@alaynamusic__) 14 July 2018
alayna has the sweetest voice on the planet, but do you know what she also has?! THE SWEETEST DOGGOS! It's just six seconds long, but anyone who's ever owned a pet pooch is sure to relate to this video of the singer attempting to eat a snack while locked in perhaps the cutest face-off known to man. If only I could find someone who looks at me like these adorable hounds look at that cracker!
GOD IS A WOMAN AND HER NAME IS ARIANA GRANDE
to my fellow goddesses who work their asses off every day to "break the glass ceiling", this is for you. i respect u and am endlessly inspired by u. pls continue to fuck it up, to be yourself unapologetically & always know how celebrated u are. hope this can be ya anthem pic.twitter.com/Kh380CPV1B

— Ariana Grande (@ArianaGrande) 13 July 2018
"God is a woman" and her name is ARIANA GRANDE-BUTERA-DAVIDSON! No, really, "ICONIC" doesn't even BEGIN to describe these visuals for the latest single to be unveiled from Ariana's forthcoming album Sweetener! I mean, can we TALK about the Madonna monologue that preceded this scene?! And don't even get me STARTED on the female reinvention of Michelangelo's The Creation of Adam! *Hyperventilates*
BATTLE OF THE BEACH BANDS
Hey @WAVVES should we start fake twitter beef?

— Beach Fossils (@beachfossils) July 16, 2018
There's a significant lack of Twitter beefs at the moment, so as far as I'm concerned, THIS NEEDS TO HAPPEN! And you can drag Beach House, Surfer Blood, and Best Coast (more on them later) into it while you're at it! Please send all diss tracks to the head judge (BrianWilson@TheBeachBoys.com) by noon on Friday to be in with a chance of winning!
JONES AND THE WORLD CUP
The sex-noises coming from the pub across the street rn... #WorldCup

— JONES (@iseeJONES) July 11, 2018
England were eliminated from the FIFA World Cup in the most English of manners on Wednesday evening, and as a fellow Londoner, I can confirm that the sex noises coming out of city pubs were very real that night. It's okay, though, as I was able to drown out the moans with "Silver Screen," the cinematic latest single from JONES as featured in this recent edition of Top Chill Songs, which is a shameless plug if I've ever seen one.
CONGRATULATIONS, BETHANY COSENTINO!
8 months without alcohol today. I always feel sorta weird sharing this information with the internet but tbh I'm real proud of myself :)

— Best Coast (@BestCoast) 12 July 2018
Closing out this week with some INCREDIBLE news from Best Coast frontwoman Bethany Cosentino, who took to Twitter on Thursday to announce that she was celebrating EIGHT MONTHS of sobriety from alcohol! CONGRATULATIONS, BETHANY <3! Oh, and I see you replying there, Waxahatchee! Indie queens supporting other indie queens through their recovery?! YAS <3!
-
Follow We Are: The Guard on Twitter for more cool shit! x
Jess Grant is a frustrated writer hailing from London, England. When she isn't tasked with disentangling her thoughts from her brain and putting them on paper, Jess can generally be found listening to The Beatles, or cooking vegetarian food.