BEST CHILL MUSIC: 10 TRACKS YOU NEED IN YOUR LIFE THIS WEEK
Photo by Ming Chen
With the middle of March fast approaching, spring is for sure starting to feel like it's sprung. Earlier today, I caught sight of my first blossom tree, and as I type this, I can hear birds tweeting in every direction. I don't know about you guys, but I'm taking this as a reminder that, even when things seem dark, the light is only around the corner. Check out the latest edition of We Are: The Guard's Best Chill Music, featuring dj poolboi & Fog Lake, Tourist, Kae Tempest, and more!
-
DJ POOLBOI & FOG LAKE – WHERE ARE YOU NOW
This is crushingly beautiful. Ahead of the release of his third album, stay a little while longer, dj poolboi has shared "where are you now." A duet with Fog Lake, "where are you now" is a devastating elegy to lost love that comes paired with a gorgeous video set in Ukraine. "Big thank you to the director Konrad Tułak who shot this amazing video in Kyiv and around the Ukraine and Poland prior to this current conflict that captures the beauty of these places, people, and culture," says dj poolboi. A must-watch.
TOURIST – YOUR LOVE
Coinciding with the announcement of his fourth album, Inside Out, Tourist's Williams Phillips has shared the rhapsodic "Your Love." According to Tourist, "Your Love" is a tribute to a friend who passed away at the start of the pandemic. An exultant celebration of human connection set atop a thudding club beat, "Your Love" is among Tourist's most moving offerings to date. Tourist: "In the end, it forms the centerpiece of the album, and is the one resounding sentiment I'd love people to take away from Inside Out."
KAE TEMPEST (FEAT. LIANNE LA HAVAS) – NO PRIZES
Having recently teamed up with BROCKHAMPTON's Kevin Abstract on "More Pressure," British spoken-word auteur Kae Tempest continues to build up to the release of their fourth album, The Line Is a Curve, today with "No Prizes." Written and produced alongside Dan Carey, "No Prizes" is a reminder to keep on keeping on, with Kae's gritty-realism flow making for a compelling contrast to Lianne's angelic notes in the chorus: "I just wanna keep climbing/And I don't know why, I don't mind, don't mind."
ODESZA (FEAT. MARO) – BETTER NOW
They recently returned after a four-year hiatus with "The Last Goodbye," and this Friday, ODESZA is back with the exhilarating "Better Now." With a runtime of just over three minutes, "Better Now" hears ODESZA linking up with Portugal's MARO. "We've been big fans of MARO's and when we sent her a short handful of demos, this was the one she resonated with and we knew she was going to do something really special with it," says ODESZA of the cut, a neon-streaked ode to taking risks and living life to the fullest.
KAMAL. – NOWHERE TO HIDE
He already counts Dave and Billie Eilish among his cosigns, and this month, Kamal. is continuing his meteoric rise with "nowhere to hide.'' Coming after 2021's war outside EP, "nowhere to hide" is a downcast ballad about "trying to fill an emptiness with material things and how futile it is, but also about trying the same comforting routines to feel better, even though they never truly work." With Kamal. pouring his existential angst over a murky, liquidy swirl of guitars, "nowhere to hide" is a somber vibe.
CLN – STAY (THE KID LAROI AND JUSTIN BIEBER COVER)
The Kid LAROI and Justin Bieber's "STAY" was one of the biggest hits of last summer, but today, the song is getting a flip more fit for rainy afternoons courtesy of Australia's cln. Speaking in a press release, cln revealed his gray-scale, melancholy spin arose out of a deep respect for the original. "It's very clever and catchy, and you can tell that a lot of calculation and work has gone into every single aspect," says CLN. "I wanted to put my own slower spin on it, and a cover seemed like a great way to do that."
TEFLON SEGA – WHAT'S HER NAME
Between Ukraine, the pandemic, and climate change, it feels like the world is falling apart before our very eyes. Teflon Sega is transporting us to the Metaverse, however, on the hypnotic "What's Her Name." Coming a few weeks after Teflon launched his Discord, "What's Her Name" is a spectral chilltrap ode to the Broken Heart Gang. "Drugs n pain all the same/I just wanna forget what's her name," repeats Teflon on the captivating cut, which also hears the anime star shouting out the late, great Virgil Abloh.
ROSIE – NEXT LIFE
We Are: The Guard favorite ROSIE has never been afraid to show her feelings through her music, with the Nyack native continuing to hone her brand of sweeping emotionality on "Next Life." "This song evokes a wide range of emotions, but I hope that ultimately it sends the message: we're all just human beings, doing our best to feel our best, whether it is in this life, or in our next life," explains ROSIE in a press release. A relatable, authentic journey into self-love, "Next Life" is grandiose-pop perfection.

OLLIE – WITHOUT YOU

I think this comment from YouTube user Zain Ul Abidin puts it better than I ever could: "I was having a perfectly wonderful day, but as soon as I heard this, I don't know why, there was a rush of feeling and I realized what was missing the entire time." Canada's Ollie is delving deep into despair on his latest single, "Without You." Built around a sample of yaeow's "i don't wanna let you go," "without you" is a shiveringly inconsolable chilltrap cut that finds Ollie confronting the sense of loss that follows a breakup.


DOMINIC FIKE & ZENDAYA – ELLIOT'S SONG
First "I'm Tired," now this?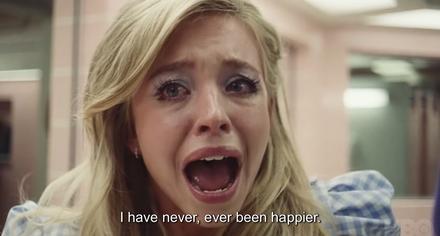 -
Follow We Are: The Guard's Weekly Chart on Spotify for more! x
Sources:
Euphoria meme
Jess Grant is a frustrated writer hailing from London, England. When she isn't tasked with disentangling her thoughts from her brain and putting them on paper, Jess can generally be found listening to The Beatles, or cooking vegetarian food.