NEW INDIE MUSIC: THE 10 BEST SONGS OF THE WEEK
Photo by Marcus Maddox
Happy Monday, you guys! Now the Coachella lineup has dropped, who else is practically counting down the days until the start of festival season? Bring on the sunstroke and overpriced bottles of water, already! Of course, another variant could be circulating in a few months, but I'm feeling confident this summer is going to be one to remember! And, boy oh boy, do we deserve it! Before all of that, however, it's time for the latest edition of We Are: The Guard's New Indie Music! Featuring Shamir, King Princess & Fousheé, Mitski, and plenty more, this column has something for everybody!
-
SHAMIR – REPRODUCTIVE
While it's no secret We Are: The Guard are huge, gigantic fans of Shamir, the Las Vegas native has exceeded all of our expectations on "Reproductive." The latest single to be unveiled from Shamir's forthcoming eighth album, Heterosexuality, after "Gay Agenda" and "Cisgender," "Reproductive" is an aching lament that sees him meditating on topics such as karma and generational curses. With guitars raining down like roman candles behind Shamir's brilliant falsetto, "Reproductive" is full of haunted soul.
KING PRINCESS & FOUSHEÉ – LITTLE BOTHER
King Princess and Fousheé? This. Is. Everything. Ahead of embarking on a tour with Kacey Musgraves and MUNA on Wednesday, King Princess heiress Mikaela Straus has unveiled "Little Bother." Written and produced alongside Zach Fogarty, "Little Bother" is a pointed chugger about "tiptoeing around someone you've lost and feeling like a pest." Featuring King Princess and Fousheé's celestial voices intertwining over angular, distorted riffs, "Little Bother" leaves its listeners soaked in adrenaline.
MITSKI – LOVE ME MORE
We've already heard "Working for the Knife," "The Only Heartbreaker," and "Heat Lightning," and today, the countdown to Mitski's highly anticipated sixth album, Laurel Hell, continues with the breath-snatching "Love Me More." According to Mitski, the song came together after she watched The Exorcist. "We thought of Mike Oldfield's Tubular Bells and experimented with floating an ostinato over the chorus," adds Mitski of the cut – a dazzlingly climatic listen about love and emotional dependence.
KAE TEMPEST (FEAT. KEVIN ABSTRACT) – MORE PRESSURE
Coinciding with the announcement of their fourth album, The Line Is a Curve – a 12-song collection that was produced by Dan Carey and executive produced by Rick Rubin – London rapper, playwright, and spoken-word act Kae Tempest has shared "More Pressure." A collaboration with BROCKHAMPTON's Kevin Abstract, "More Pressure" is a throbbing vessel about a desperate search for catharsis. "More pressure/More release/More relief," spits Kae atop synths that pulse like sonar waves.
FONTAINES D.C. – JACKIE DOWN THE LINE
Having reached indie-rock superstardom with 2020's A Hero's Death, Fontaines D.C. continues their ascent today with "Jackie Down the Line." The first single to be unveiled from the Dublin institution's forthcoming third album, Skinty Fia – an Irish term translating to "the damnation of the deer" – "Jackie Down the Line" is a darkly brooding, searching metallic hound about an evil, hateful person. "I think the song would be summed up with the word 'doom,'" Grian Chatten tells Rolling Stone.
YUMI ZOUMA – IN THE EYES OF OUR LOVE
Ahead of the release of their fourth album, Present Tense, in March, Yumi Zouma is throwing themselves into love and not looking back on the heart-quickening "In the Eyes of Our Love." The follow-up to "Mona Lisa" is described by Yumi Zouma as "a love song set against a backdrop of torture and insurrection stoked by the Nixon administration." With Christie Simpson's dreamy vox coming propelled by fast, thrilling drums, "In the Eyes of Our Love" is an ode to adoring in the face of adversity.
BROODS – LIKE A WOMAN
It's only a matter of time until we're blasting off to Space Island with Nelson's BROODS, but before then, Georgia and Caleb Nott are returning with the devastating "Like a Woman." Like "Piece of My Mind" and "Heartbreak" before it, "Like a Woman" hears Georgia attempting to process the divorce she went through just before writing and recording Space Island. Opening slow and reflective, before catapulting toward an emotionally volcanic conclusion, "Like a Woman'' is enough to make a heart burst.
BOY HARSHER (FEAT. MARIANA SALDAÑA) – MACHINA
The Runner, Boy Harsher's third album and the soundtrack to their recent short horror film of the same name, is due out on Friday. Jae Matthews and Augustus Muller have already shared "Tower" and "Give Me a Reason," and today, the Savannah duo is back with "Machina." A duet with BOAN's Mariana Saldaña, "Machina" is a palpitating piece of darkwave, with Mariana singing in a mixture of English and Spanish about a relationship between a human and a robot amid a world of smoke machines and lasers.
CHRISTIAN LEE HUTSON – RUBBERNECKERS
Following on from the announcement of his sophomore album, Quitters – a 13-song collection that was produced by Phoebe Bridgers and Conor Oberst – Los Angeles folkster Christian Lee Hutson has unveiled "Rubberneckers." Coming after "Strawberry Lemonade," "Rubberneckers" is a wry stream of consciousness that hears Christian moving into an indie-rock arena. "If you tell a lie for long enough/Then it becomes the truth," sing Christian and Phoebe – their voices rising and falling in perfect union.
BARRIE – QUARRY
In March, Barrie will be releasing her sophomore album, Barbara, but before all of that, the Winspear signee has shared the delightful "Quarry." Coming after "Dig" and "Frankie," "Quarry" hears Barrie Lindsay continuing to come to terms with the death of her father and falling in love with her now-wife, Gabby Smith. "'Quarry' is about falling in love in an isolated environment. There's a surreal quality to the experience, but also explosive joy," writes Barrie of the sweeping, glorious power ballad. Listen.
-
Follow We Are: The Guard's Weekly Chart on Spotify for plenty more! xo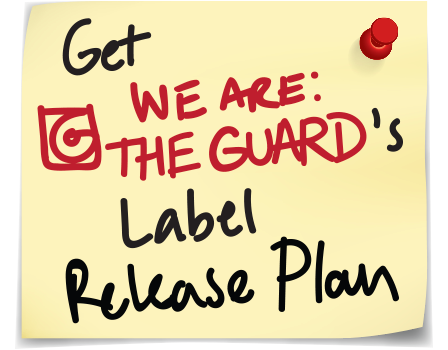 Jess Grant is a frustrated writer hailing from London, England. When she isn't tasked with disentangling her thoughts from her brain and putting them on paper, Jess can generally be found listening to The Beatles, or cooking vegetarian food.