BEST CHILL MUSIC: 10 SONGS FOR THE SUMMER AHEAD
Photo byLuke Porter onUnsplash
With the country slowly but surely opening up after over a year in lockdown, it's really starting to feel like summer is about to go from 0 to 100. If you're searching for some sounds to accompany the coming months of banging barbecues, spontaneous road trips, and cool coastal drives with friends, then look no further than the latest edition of We Are: The Guard's Best Chill Music. Featuring José González, Kamal., Wet, and many more, this playlist has a vibe for everyone!
-
JOSÉ GONZÁLEZ – HEAD ON
Ahead of the release of his fourth album Local Valley in September, José González is back this Friday with another impossibly pretty piece in the form of "Head On." The follow-up to "El Invento'' and "Visions" hears José singing in an almost militaristic style, with the Gothenburg folk artist delivering a set of instructions that reflect the tiring march of capitalistic living. The whole thing still carries with it an exceptional calm, however, with José's vocals resting on us like a pair of healing hands.
KAMAL. – WAR OUTSIDE
London musician Kamal. continues to immerse us in his melancholy, rain-speckled cinematic universe on his latest single "war outside." Featured on his recent debut EP of the same name, "war outside" hears Kamal. coming to terms with his anxiety that developed as a result of both a breakup and the COVID-19 lockdown, with his lilting accent softly pirouetting atop gray-scale guitars and very little else. "There's a war outside," laments Kamal. "I keep my windows closed and my curtains shut."
WET – ON YOUR SIDE
Just under three years on from the release of their sophomore album, the critically acclaimed Still Run, New York City dream-pop trio Wet is back this Friday with another stand-alone single in the form of "On Your Side." Written and produced alongside Frank Ocean collaborator Buddy Ross, "On Your Side" is a tribute to the all-encompassing, larger-than-life feeling of unconditional love that hears Wet frontwoman Kelly Zutrau's crystalline vocals resting atop a softly quivering wave of synths.
BETWEEN FRIENDS – OK
Los Angeles-based duo BETWEEN FRIENDS is capturing that feeling of finally getting comfortable in a relationship on "ok," the latest single to be unveiled from their recent mixtape i like when you shine!. "'ok' is about figuring it out. Throughout the mixtape, we explore the ups and downs of relationships and getting to know ourselves more and more every day. This song felt like finishing a book," says BETWEEN FRIENDS of the glitchy, modulated lullaby, which has a reassuring sense of closure about it.
BEACH FOSSILS – L.I.N.E. (KELLY LEE OWENS COVER)
It's been a minute since we last heard from Beach Fossils, but the New York City lo-fi band is making their glimmering return today with this version of "L.I.N.E." by Kelly Lee Owens. "I've always believed that a great song lends itself to being performed in any genre, so I was excited to take on the challenge of covering it in my own style," says Dustin Payseur of his decision to reimagine the cut, with the Beach Fossils vocalist surrounding the song's gentle grooves in a shimmering gold leaf.
QUICKLY, QUICKLY – EVERYTHING IS DIFFERENT (TO ME)
Coinciding with the announcement of his debut album The Long and Short Of It, due out in August, quickly, quickly's Graham Jonson has shared the reflective "Everything Is Different (To Me)." The follow-up to his previous single "Feel" hears quickly, quickly singing about being on the downward spiral. The song's hip-hop beats and folky guitars manage to keep the whole thing from completely entering the void, however, with the mediative cut sitting at the intersection of J Dilla and early Beck.
SKYLAR STECKER – YOU
We Are: The Guard favorite Skylar Stecker continues to establish herself as R&B royalty in the making with her latest single "YOU." The follow-up to "Questions" hears the Tampa act once again exploring a deeply intoxicating, majestic side to her sound. "'Cause I do it for you/Can you do it for me/With the pieces all here/Why you choose what you see?" sings Skylar to a lover with commitment issues on the song, with the 19-year-old's powerhouse vocals channeling a mixture of Kehlani and Ariana Grande.
TRIATHALON – PRESSURE (LATE NIGHT MIX)
And now for something a little different from Triathalon. Coinciding with the release of their brand new single "Pressure," the New York City three-piece has unveiled this sultry "Late Night Mix." While the original heard Triathalon entering hyperkinetic drum-and-bass territory, this alternative version offers a more subdued spin on the cut. Bringing together muted beats and a humid swirl of keys, "Pressure (Late Night Mix)" is nothing short of an essential addition to late-night summer playlists.
ANAIIS – REVERIE
It's not very often our lives go to plan, but that doesn't mean they aren't worth celebrating. Just ask anaiis, the London-based act reminding us to appreciate the little things on her latest single "reverie." "Darling, are you still ashamed/Caught up in your own web/Falling short of who you thought you would be/You could be?" asks anaiis on the cut, with tinkering pianos and flourishes of horns providing a jazzy backdrop to her effortlessly silken vocals. FFO: Tom Misch, Lianne La Havas.
SMOOTHBOI EZRA – WITHOUT ME
County Wicklow's Smoothboi Ezra struggles to let go of a lover on "Without Me," the mournful latest single to be unveiled from their recent sophomore EP Stuck. "I thought I was close to healing/Until I saw you this evening," begins "Without Me," immediately setting the melancholy tone of the cut. A song about attempting to pick up the pieces of your identity after a breakup, "Without Me" is a grief-stricken ode to moving on that completely and utterly pulls you into Smoothboi Ezra's sorrowful world.
-
Follow We Are: The Guard's Weekly Chart for many more summer vibes! x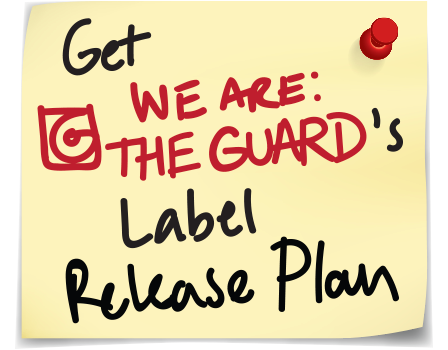 Jess Grant is a frustrated writer hailing from London, England. When she isn't tasked with disentangling her thoughts from her brain and putting them on paper, Jess can generally be found listening to The Beatles, or cooking vegetarian food.