BEST CHILL MUSIC: 10 SONGS TO GET COZY WITH THIS FALL
Photo by Naghme Kn on Unsplash
With 5 o'clock fast approaching, it's time to relax and unwind into the weekend with the latest edition of We Are: The Guard's Best Chill Music. Perhaps I'm getting old, or perhaps I've been reading too many hygge articles, but I love nothing more than to spend my fall nights snuggled up with some hot cocoa and some chill vibes. On that note, pull over a cozy, comfy blanket and enjoy the following songs from Mac Miller, Fiji Blue, Sega Bodega, and seven other favorites.
-
MAC MILLER – COLORS AND SHAPES
Coinciding with the announcement Faces is coming to streaming services in October, Mac Miller's team has shared a brand new video for the mixtape highlight "Colors and Shapes." Produced by Miller and Thundercat, "Colors and Shapes" is a somnambulant dreamscape inspired by an acid trip. Opening to the voice of psychedelics advocate Timothy Leary, before locking into Miller's hazy, lethargic flow, "Colors and Shapes" comes paired today with an official clip starring the late rapper's dog Ralphie.
FIJI BLUE – ANOTHER DAY
Just a few days on from selling out their upcoming gig at The Moroccan Lounge in Los Angeles, Fiji Blue is returning this Friday with "Another Day." The follow-up to "Only When I Look Into Your Eyes" is a quietly radiant groover about not being ready to be in a relationship. "There's no point in trying/I'm sorry you're crying/I wish I could fall in love with you another day," croon Trevor Dering and Valentin Fritz over disco-esque guitars on the cut, which channels a mixture of Chic and The Weeknd.
SEGA BODEGA – ONLY SEEING GOD WHEN I COME
Sega Bodega takes time out from producing for Shygirl, Zebra Katz, and Dorian Electra to go in search of a spiritual awakening of sorts on "Only Seeing God When I Come." Written with Donna Missal of "sex is good (but have you tried)" fame, "Only Seeing God When I Come" is a song about unattainable celestial love. "Heaven is a place you belong/I don't even know where I'm from/Only seeing God when I come," sings Bodega, his voice coming backed by glassy choral pieces and ethereal breakbeats.
ETHAN TASCH (FEAT. FELLY) – GPS
There's nothing quite as comforting as a late-night drive to soothe a troubled mind. Sometimes, however, not even a stretch of asphalt is enough to bring about peace. Unfortunately, this is the case on "GPS" by Ethan Tasch. Written while driving from Los Angeles to San Francisco, "GPS" is a quietly melancholy acoustic lament about being unable to escape the demons in the rearview mirror: "I don't wanna start crying/I don't wanna get angry/But every time we start driving/All my thoughts start racing."
AKUREI – IDK WHY THE LIGHT'S ON
He recently took time out to creatively find himself again, and today, Akurei is showcasing the results of his sabbatical in the form of the heady "idk why the light's on." "It's nice to me that it started out of a place of exploration and fun, rather than the ambition and rigor that I usually approach songwriting from," says Akurei of the song. With an unstoppable beat lending a sense of drive to Akurei's existential mediations, "idk why the light's on" couldn't make for a more breathless return.
JORDANN & MUNYA – NAOKO
JORDANN and MUNYA are taking us on a blissful flight through the clouds on their collaborative single "Naoko." According to JORDANN, "Naoko" was inspired by The Wind Rises, the anime film written and directed by Hayao Miyazaki. "This song speaks of the fierceness and courage one inherits from a far-flung significant other," explains JORDANN. With their bilingual vocal sighs coming set against a pillowy bed of cosmic dream-pop grooves, "Naoko" is pure tranquility through and through.
BEN KESSLER & LIZZY MCALPINE – I THINK I
Having teamed up in October on "False Art," Ben Kessler and Lizzy McAlpine are collaborating once again today on the devastatingly honest "I Think I." "'I Think I' is about unintentionally hurting the people closest to you. I brought the idea to Lizzy and she took off with it," explains Kessler of the song. With minimal acoustics backing Kessler and McAlpine as they trade lines about mistreating those we love, "I Think I" is a bravely relatable sad-pop confessional that demands a multitude of listens.
SHALLOU – HEARTACHES
It feels like we're so focused on The Hustle™, that we sometimes forget to stop and reflect on our past accomplishments. Shallou is doing exactly that, however, on his latest single "Heartaches." "I'm really happy to reintroduce myself to the world with all the personal growth I've achieved the last year, and my ability to synthesize my past catalogue into a fresh but familiar direction," says Shallou of the soft, soothing reverie, which was reportedly inspired by his breakthrough EP, 2018's Souls.
CAROL ADES – UNLEARN ME
Every time I listen to Carol Ades, I feel as if I'm reading through a diary of innermost thoughts. Case in point: "Unlearn Me." The follow-up to "Crying During Sex" is a crushing, devastating admission Ades wrote following a particularly painful breakup. "At the very end I wished so badly that I could erase everything that went wrong and start over as a version of myself that would have done so many things different," says the Saddle River act, with her despair ricocheting through every note.
HOMESHAKE – MINDLESS
Under the Weather, the brand new album from HOMESHAKE's Peter Sagar, was written while the Quebec singer-songwriter was dealing with "a long, unrelenting period of sadness." That said, the light is starting to appear through the cracks on the album's centerpiece "Mindless." Clocking in at almost three minutes, "Mindless" examines the impact mental health has on our relationships with those around us, with HOMESHAKE reaching for understanding over an airy, bubbly synthscape.
-
Follow We Are: The Guard on Spotify for more. xo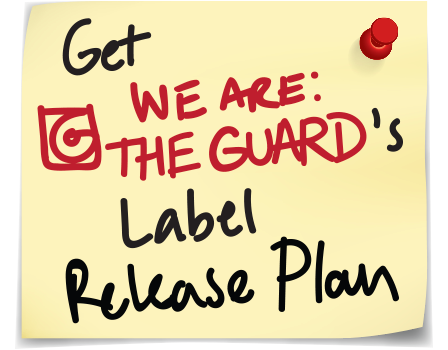 Jess Grant is a frustrated writer hailing from London, England. When she isn't tasked with disentangling her thoughts from her brain and putting them on paper, Jess can generally be found listening to The Beatles, or cooking vegetarian food.