BEST CHILL MUSIC: THE 10 SONGS YOU NEED THIS WEEK
So I recently discovered September is Self-Care Awareness Month. Of course, as far as We Are: The Guard is concerned, it should be Self-Care Awareness Month every month. It's not easy living through what feels like an around-the-clock apocalypse, so the least we can do for ourselves is look after our minds and bodies when the opportunity arises. With the weekend almost upon us, then, why not take a moment to try out some self-care this Friday with the latest edition of Best Chill Music? Featuring Rhye, Khamari, Blood Orange & 박혜진 Park Hye Jin and more, this post has something for everyone.
-
RHYE – HELPLESS
Every time I listen to Rhye, I feel like I'm being wrapped in crushed velvet. Case in point: The sensuous "Helpless." The follow-up to "Beautiful" once again hears Mike Milosh kissing the ground his wife and muse, Genevieve Medow-Jenkins, walks on, with Rhye paying tribute to his better half over a rich, ear-caressingly sultry symphony. Lush.
KHAMARI – THAT GIRL
Los Angeles artist Khamari continues to make a name for himself in the R&B world with "That Girl." The follow-up to "The Heat" is a smooth, sensuous ode to that moment when your world is tipped on its head by a beautiful paramour, with an emotive jazz guitar making for a perfect accompaniment to Khamari's powerhouse croon. Gorgeous.
BLOOD ORANGE & 박혜진 PARK HYE JIN – CALL ME (FREESTYLE)
We Are: The Guard favorites Blood Orange and 박혜진 Park Hye Jin come together for the beatific "CALL ME (Freestyle)." It's a nocturnal voyage through the late-night, rain-speckled streets of New York City, with Blood Orange's existential musings and 박혜진 Park Hye Jin's club mantras bringing to life both sides of the modern metropolis.
NAÏKA – HEAD IN THE CLOUDS (TEAMARRR REMIX)
Naïka's ode to self-love "Head in the Clouds" gets a captivating revision courtesy of TeaMarrr. "I've been a huge fan of TeaMarrr, her music and artistry. We're also both Haitian and I've always wanted to collab with her," writes Naïka of the blissed-out remake, which hears TeaMarrr bringing just the right amount of hype to her guest verse.
FIJI BLUE – WAVES
Having recently won us over with "I Should've Told You," Fiji Blue return to do it all over again with "Waves." "If I gave you the ocean, you'd complain about the waves," sigh the Los Angeles indie-chill two-piece over crisp, tight drums and cascading acoustic guitars on the song, a dreamy, melancholy lament to a lover who quite simply can't be satisfied.
THE KNOCKS & MUNA – BODIES (TYCHO REMIX)
"Bodies," the end-of-summer anthem from The Knocks and MUNA, gets an otherworldly lift courtesy of San Francisco's Tycho. Listen as Scott Hansen – who released Simulcast earlier this year – takes the suburban dreamscape of "Bodies" and sends it into an ethereal spin, all the while clubby beats help to keep one foot on the dance floor.
TASH SULTANA – BEYOND THE PINE
Tash Sultana is grounding themselves in love on their latest single "Beyond the Pine." "'Beyond The Pine' is about finding solace in nature and realizing the depth of your relationship when you find your one," writes the nonbinary artist of the intoxicatingly soulful, guitar-laden swirl, which manages to groove while remaining entirely transfixing.
BENJI LEWIS – EVERYTHING'S ALRIGHT
The world is in chaos, but Benji Lewis is here to remind us it'll all be okay in the end on the comforting "Everything's Alright." Written alongside We Are: The Guard favorite Golden Vessel, "Everything's Alright" is a finger-snapping piece of chill tranquility, with the Australian act's voice surrounding us like a reassuring hug in these times of despair.
MICHELLE (FEAT. ARLO PARKS) – SUNRISE
Summer is almost over, but New York City's MICHELLE are seeing it out in joyous style with this brand new version of "SUNRISE" featuring Arlo Parks. The British songwriter and poet sounds like she was quite frankly made for this warm, delightful ditty, with her additional verse about healing wounds bringing a whole different meaning to the music.
JHENÉ AIKO – SPEAK
HAPPY SELF-CARE AWARENESS MONTH!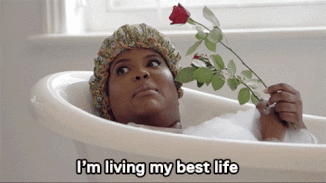 -
Why not follow We Are: The Guard's Weekly Chart for more? x
Photo by Priscilla Du Preez on Unsplash
Jess Grant is a frustrated writer hailing from London, England. When she isn't tasked with disentangling her thoughts from her brain and putting them on paper, Jess can generally be found listening to The Beatles, or cooking vegetarian food.