BEST CHILL SONGS: THE 10 CHILLEST VIBES OF THE WEEK
Photo by Leith Ross
Happy Friday, everybody! Can you believe it's almost Thanksgiving? I hope you have your eating pants at the ready. Bring on the mashed potato, I say! Oh, and don't worry, I'll be back here on Black Friday with another dose of chill vibes if the family political chat gets a little too heated. Meanwhile, it's time for this week's edition of We Are: The Guard's Best Chill Songs. Check out the following chill bops from Leith Ross, DESTIN CONRAD, deem spencer, and plenty more!
-
LEITH ROSS – ORLANDO
Canada's Leith Ross builds on the success of their TikTok viral smash hit "We'll Never Have Sex" with the quietly devastating "Orlando." Leith: "'Orlando' is about the slow and subtle realization that somebody doesn't love you back in the way you wish they would. When a relationship feels like you are trying to hold on to a heavy object, but it's slippery." As soft as a secret whispered to the night sky, "Orlando" can be summed up in one line: "It's not your fault, I just think I was in love."
DESTIN CONRAD – ON 10
Just over a year on from dropping his debut EP, COLORWAY, DESTIN CONRAD is back with a new project, SATIN, and a new single to boot: "ON 10." Coming alongside a video directed by DESTIN, Mia Andre, and Gabe Phoenix, "ON 10" is a softly muted, pulsating house bop that sounds like everything Drake hoped to be on Honestly, Nevermind. "I wanna see you on 10 tonight, do you feel a way?/Beat you to the punch, I wanna see you on 10," sings DESTIN, his voice draping against the beat like pearls.
DEEM SPENCER – TO HAVE IT ALL
Hailing from New York City, deem spencer makes introspective, thought-provoking rap music for deep thinkers everywhere. Case in point: "To have it all," a low-key vibe that hears deem reassessing his relationship with fame and success. "I was questioning why become famous at a time like this? Why become another rise and fall story?" explains deem. "A lot of times when you come from nothing you can be consumed by desire. I want people to think about what they do have and recognize the value in it."
KHAMARI – TELL ME
Khamari is once again translating his pain into deliciously smooth, old-school R&B on "Tell Me." Written alongside Kyle Lux, "Tell Me" is described by Khamari as being "about that feeling of insecurity you get in a relationship while watching it deteriorate from the inside." "Dealing with the vacuum of doubt and confusion that bad communication leaves, but not acting on it because you're hopeful it'll work itself out," adds Khamri of the cut, which drips with a D'Angelo-esque soul and sexuality.
AMBAR LUCID – MS. MOON
Ahead of the release of her sophomore album, Estrella, in 2023, Ambar Lucid is sharing the intoxicating bilingual bop "Ms. Moon." In a press release, Ambar reveals she wrote "Ms. Moon" after pulling the satellite from her deck of tarot cards. "This song is basically about me looking up at the moon and being like 'I need you, please give me some words of encouragement and love' and then sharing that nurturing, comforting energy with those around me," continues Ambar of the sultry psychedelic rune.
MICHAEL BRUNER & RONIN – ONE FOR TROUBLE
Majestic Casual does it once again, everybody. Just seven days on from bringing us ooi's "Coquette," the YouTube channel-turned-record label is returning with more sultry neo-soul vibes in the form of this teaser of Michael Bruner and Ronin's collaborative EP, One for Trouble. Described by Majestic Casual as "a journey through the ups and downs of love, relationships, and life," One for Trouble EP is a collection of six sensuous bops for late-night loving and listening sessions. 10/10.
BROMPTON & EMILIA ALI – ANYMORE
Earlier this year, brompton and Emilia Ali shifted the ground beneath our feet with the detonative "Empty," and this Friday, the two artists are coming together once again for "Anymore." Lifted from the forthcoming Emotional Monster EP, "Anymore" takes the form of a more conversational acoustic affair. "We aimed to encapsulate the feeling of leaving a relationship that didn't blow up first but even so still hurts," explains the pair of the ballad, the audio equivalent of a restorative breath.
NAJI – I'LL MAKE IT BETTER
He's played drums for everybody from JID, to Kenny Beats, to Freddie Gibbs, but Naji is taking his own rightful place in the spotlight with the captivating "I'll make it better." Clocking in at 75 seconds, this twinkling lo-fi ballad makes up for its lack of runtime in vibes, with Naji bringing to life a spellbinding metropolis replete with neon signs and rain-dappled streets: "If I'm just too mum to say it/If it's just too obligated/It's not all so complicated/Oh, I'll make it better." Tune in. Drop out.
SIMON JOHN – WHERE YOU ARE
There isn't a whole lot I can tell you about Simon John, but it really doesn't matter. While he's already proven his singing chops through covers of the likes of Frank Ocean and Dominic Fike, the Los Angeles producer and multi-instrumentalist is letting his songwriting talents do the talking on "Where You Are." Written alongside Mackenzie Morris, "Where You Are" is an early morning devotional, with Simon's airy vocal harmony stacks breaking through the dust and cracks like sunlight.
FLOATING POINTS – SOMEONE CLOSE
Floating Points is back, baby.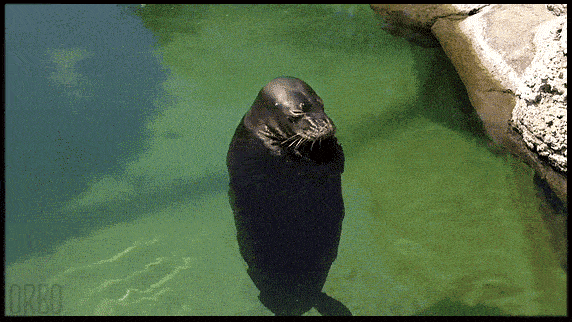 -
Follow We Are: The Guard's Weekly Chart for plenty more! xo
Sources:
Floating Seal Lion GIF
Jess Grant is a frustrated writer hailing from London, England. When she isn't tasked with disentangling her thoughts from her brain and putting them on paper, Jess can generally be found listening to The Beatles, or cooking vegetarian food.