TOP CHILL SONGS: THE 10 BEST VIBES OF THE WEEK
Photo by Golden Vessel
While there's still technically a month or so to go until summer, it's most definitely starting to feel like the season of road trips, pool parties, and iced vanilla lattes is officially upon us. On that note, if you're looking to make a start on a summer mixtape this weekend, then I'm pleased to tell you you're in the right place. Just don't forget to give us a follow on Spotify before checking out the latest edition of We Are: The Guard's Top Chill Songs, featuring Golden Vessel, Ravyn Lenae, Wet, and seven other favorites.
-
GOLDEN VESSEL – SPINNING
There's something deeply, deeply comforting about the music of Golden Vessel's Maxwell Byrne, with the Australian singer-songwriter and producer once again taking us in his embrace on "spinning." Coming after the rei so la and Abraham Tilbury-featuring "eee" and the Mallrat and Emerson Leif-featuring "pockets full of rocks," "spinning" finds Maxwell meditating on our place in the universe over a soft, serene beat courtesy of The Nicholas: "If we're a blip/I'm okay/We'll stay the same/Not losing your aim."
RAVYN LENAE – XTASY
Ravyn Lenae has been dropping smooth banger after smooth banger of late, and today, the 23-year-old is back with another one in the form of "Xtasy." The fourth single to be taken from her recent debut album, Hypnos – following "Skin Tight," "Light Me Up," and "M.I.A." – "Xtasy" is a hypnotically bouncing bop that was produced by Kaytranada. "Throw your hands high, don't think too much/Put 'em in the sky and feel that rush," sings Ravyn, with her voice making for an enthralling foil to Kaytranada's fluid grooves.
WET – TELL ME WHY
Back in April, Wet emotionally annihilated us with "Where Did the Day Go," and today, the New York City outfit is once again taking our hearts in their clutches with "Tell Me Why." The latest single to be taken from Wet's forthcoming EP, Pink Room – a seven-song set that follows on from 2021's Letter Blue – "Tell Me Why" is a sparsely intimate lo-fi lullaby about finding acceptance in collapse: "And if you want to say goodbye/I can do it anytime/I'm not beggin' you not to leave/It was another side of me."
ΣTELLA & REDINHO – THE TRUTH IS
Ahead of making her debut on Sub Pop with Up and Away, Greek singer-songwriter Σtella is returning today with "The Truth Is." Coming after "Charmed," "The Truth Is" is an alluring swoon of a listen that hears Σtella exploring the uncontrollable forces of love through a vintage-pop lens. "The truth is/That I feel alright/But still I miss you/Every night," croons Σtella on the cut, with her full-bodied vocals coming immersed in an intoxicating blend of fifties rockabilly and traditional folk music.
MILOE – ELASTIC
It's been two years since Miloe arrived on the scene with "Winona," but the Congolese-American artist is continuing to bring the sunshine on his glowing latest single, "elastic." The follow-up to "where u are" – an ode to the immigrant experience that came accompanied by a touching video that showed Miloe reuniting with his father – "elastic" is pure vibes. Written about the search for space in a relationship, "elastic" is a radiant acoustic reverie that deserves a place in every summer mixtape.
KELZ – MY FRIEND
Orange County's kelz finds release in letting go on her dream-inducing latest single, "My Friend." Featured on her recent debut album, 5am and I Can't Sleep, "My Friend" is a gentle late-night nocturne that kelz describes as being about "mourning the lost friendships and relationships as time passes." "Over time, I realized it's also a note to myself as I was becoming someone new," adds kelz of the cut, which starts out as a tender acoustic ballad before transforming into something more trance-esque in nature.
AI BENDR – FEARFUL
Los Angeles upstart Ai Bendr is helping a lover to break down their emotional barriers on her exquisite latest single, "Fearful." "It's easy for our trust issues to become our perspective of life, but I believe it's important to build your gates up in a way that light can still pass through," explains Ai on Instagram. "There is still a lot of sweetness here that you have yet to feel." With her lush, soulful vocals swirling like polleny tufts atop intricate acoustics, "Fearful" is very much an ode to being human.
OKAYWILL – TOMORROW
Earlier this year, okaywill made his debut on We Are: The Guard with the Beatles-esque "All My Love." Back then, I described him as one of the more "camera-shy" artists I'd ever covered. Just over three months later, the South Carolina musician is as mysterious as ever, but it really doesn't matter listening to "Tomorrow." A carefree, easygoing groove that channels the earliest works of MGMT and Foster the People, "Tomorrow" is a song that has all of the potential and anticipation of a summer romance.
BROMPTON & EMILIA ALI – EMPTY
Coinciding with the announcement of their collaborative EP, Emotional Monster, Boston's brompton and Emilia Ali are sharing the detonative "Empty." Written during COVID-19, "Empty" hears brompton and Emilia uniting their electronic and acoustic touchpoints to deliver a genre-blending epic that could shift the ground beneath us. "Just as I think I'm empty/And I've felt everything/You send me a text/And the flooding begins," sings Emilia, with her heart erupting like a hand grenade moments later.
NOEVDV (FEAT. MIDWXST) – SKY
Columbia's midwxst takes time out from promoting his critically acclaimed recent EP, better luck next time, to appear on noevdv's "sky." Produced alongside says6x, "sky" is a dark chilltrap vibe that hears noevdv giving midwxst's Edgar Nathaniel Sarratt III the perfect amount of time and space to deliver his blend of emo-infused bars and haunting falsetto vocals. Written in response to an ex attempting to come back into midwxst's life, "sky" is an inky bop for broken souls and lonely hearts everywhere.
-
Follow We Are: The Guard's Weekly Chart on Spotify for more. xo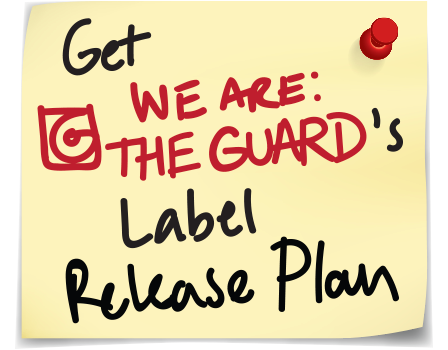 Jess Grant is a frustrated writer hailing from London, England. When she isn't tasked with disentangling her thoughts from her brain and putting them on paper, Jess can generally be found listening to The Beatles, or cooking vegetarian food.