BEST OF COACHELLA: SMALL PRINT EDITION - FRIDAY
We've been publishing these "Best of Coachella: Small Print" articles for five years now, which means that not only that is it Coachella's 20th Anniversary, but also our 5th writing these lists for you. THAT IS SOME LEGACY SHIT. We've made some major claims-- most of which we stand by-- but each year we've ended up being completely surprised by a different batch of artists than we thought we would be. So who knows anything? Not us, but we try. A couple of our predictions even graduated from small-print to a larger one this year. Let's give props to the artists moving on up this year.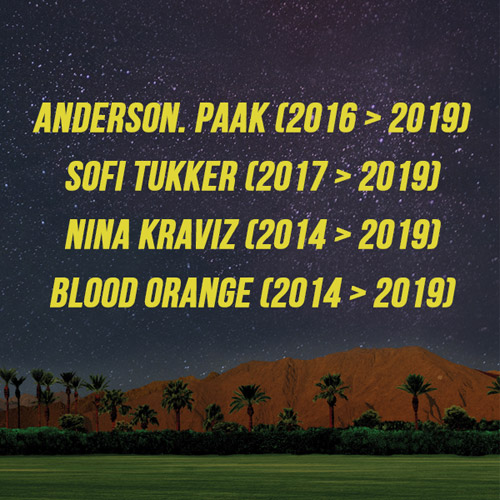 That being said, some artists will always seem to stay in 8pt font. We will continue to stand by those artists but have decided, in favor of featuring new artists, to not focus on them. Please go back and read our selects from past years for Nora En Pure (2017 & 2016), Anna Lunoe (2015) and SOPHIE (2016) and The Interrupters (2017). 
Let's get it. Make sure to check out our Saturday & Sunday posts as well. 
CHRIS LAKE x WALKER & ROYCE
The truth is that the Dirtybird booty-house sound is 1000% my kind of shit. It seems like no two acts are doing it better in 2019 than Chris Lake and Walker & Royce. I've put them together because they have a song together and its dope and I want to highlight them both and I've only given myself ten picks. These two will light the Sahara tent on fire on Friday (and will likely go one into the other).  THE BOOTIES WILL BE SHAKING, I guarantee it.
JAUZ
If you've come to Coachella to rave, then my money is firmly on Jauz as the can't miss set of the weekend. His bass house tunes hit about as hard as anything ever has (or at least since bro-step was invented or Metallica's And Justice For All dropped on record store shelves). I'm sort of appalled to see him in the small print, but that's okay. Maybe this is that next level up he needs to really break on through to the other side.
CHARLOTTE GAINSBOURG
Her live set up is bonkers and she's one of music's last royalty acts for the festival to grab onto. Seriously, watch that video about five or six more times to really let it settle as to how much this is going to tear the grass right off the fields. The French singer/actress has the voice of an angel (and the acting talent of an academy-award winner, has she? I don't know). Her new album Rest features collaborations with Sir Paul McCartney, SebastiAn and Daft Punk's Guy-Manuel de Homem-Christo-- three acts who have all changed the face of Coachella in their wake. I expect Gainsbourg to do the same.
TIERRA WHACK
Tierra Whack can handle any kind of flow you'd ever possibly want. From hype beast to mumble queen, this badass is a star in the making. Her music is very theatrical, with boatloads of lines so hilarious I'm still laughing about them having listened a week and a half ago.  Not to be pigeonholed, Whack also flips it over to other tunes that are deadly serious. After watching Whack World, her collaboration with Mathieu Léger and Thibaut Duverneix of Montréal-based Gentilhomme I can't wait to see what she brings to the live stage at Coachella.
POLO & PAN
As we say goodbye to Tropical House we must welcome in a new genre in its wake: Tropical Tech House. Polo & Pan's major tunes all seem to have samples from places you'd want to visit on vacation: 1940's Italian vocal quartets, as well as Brazilian Bahia bands and guitar songwriters. This is world music house at its finest. I really hope it starts a movement. PLUS, they're name has POLO right there in it so it's like how dare you miss this synchronicity.
THE FRIGHTS
ANTHEMIC. Like the middle ground between indie rock and pop punk. This will be the perfect accompanying act to The 1975 being just about the biggest thing in the world without actually headlining the festival. And they're on the same day! See this one before they're in the 1975's placement this time two years from now. Consider this one our official guess for no longer small font by the next time they're on the poster. LOCK IT IN.
YVES TUMOR
THIS IS LIKE IF HEALTH MET ANIMAL COLLECTIVE. And then were like "hey, you're cool, wanna start a supergroup?" and then the response is exactly like in Step Brothers: "DID WE JUST BECOME BEST FRIENDS?!"  This is the single most Coachella act on a mildly-un-prototypically-Coachella lineup. Treasure the weird here for sure. Plus, they'll probably be hanging out with WARP labelmates Aphex Twin if he's not so enigmatic he doesn't leave his trailer. This is without a doubt my greatest personal find upon digging into this lineup if that matters anything to you. (it should).
CALYPSO ROSE
Oh yeah, this is can't miss without a doubt. Coachella always brings the heat with world music, but this feels like something really really special. Like once in a lifetime chance to see (at least amongst the circles I run in). Calypso Rose has been making music for 55 years and has accumulated over 800 songs. I'm sure this will be way too early in some tent, but this is the kind of thing that you take the first shuttle, or escape the oppressive campsite heat for.  Don't care about the rest of the world and the music make? Well, my friend, then this is going to be a very disappointing Coachella for you. Me and all my homies will be at this one.
HURRAY FOR THE RIFF RAFF
Indie country vibes. Once upon a time, this was just called indie rock, but the times have changed. Hurray for the Riff Raff might belong on the Stagecoach lineup almost as much if not more than the Coachella one. They'll be a perfect match for Kacey Musgravers looking for some early sounds that run along the same line.
ROSS FROM FRIENDS
Lo-Fi House is that new newness. The genre that's going to break wide open in 2019. It even has its own "This is Lo-fi House" playlist on Spotify (and Ross From Friends is literally the poster boy). You sleeping? Do you want to be the one left in the dust when you're friends are talking about lo-fi and you've got no clue what the hell they're talking about. Ross From Friends has got more white noise than a busted cable box. This is too chill, no swill, quite ill.
Enjoy this playlist curated especially for you. Ten jams for you to do all your Coachella prep ahead of time. YAY!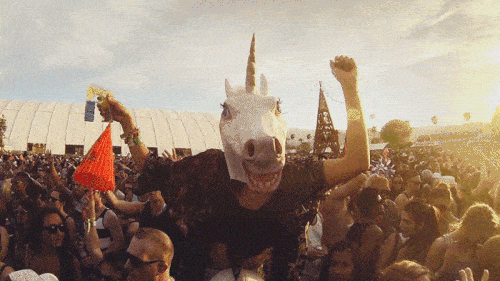 From deep within the murky depths of the Los Angeles River emerged a creature: 50% raver, 50% comedian, 10% Robotcop. Kurt Kroeber doesn't own a dog, operates Soundbleed (the world's only dance party comedy talk show rave), and is down to party with you. Come up some time and say "Hey dude!" But definitely make sure to casually drop the secret Illuminati password.