THE BEST INDIE POP SONGS TO KICKSTART YOUR WEEK
by Olivia Flattery
3/18/22
Image by Yan Min on Unsplash CC0
Hi there and welcome to another segment of Best Indie Pop Songs of the week! This week I'm feeling particularly lucky and upbeat (thanks to the Irish genes I got from my dad) because it's St. Patrick's Day! Although I'm far from my Irish home this year, I've actually quite been enjoying the American St. Paddy's traditions. Despite the festivities, it's still a work week (or maybe you're on Spring break?) so I've got some great new releases for you to discover just below!
PHOEBE BRIDGERS - "CHINESE SATELLITE (LIVE FROM SOUND CITY)"
Phoebe Bridgers… what more should I say?? The singer-songwriter recently released an acoustic version of her song "Chinese Satellite" from her 2020 album Punisher. I feel like there are so many different observations you could make on a Phoebe Bridgers song depending on your mood or who you're thinking of. This acoustic version of "Chinese Satellite" is something I didn't know I desperately needed. Anyone want to start a petition with me to get Phoebe to record the whole of Punisher acoustically and release it as a special? Anyways, Phoebe will also be going on tour this April and she'll be visiting many cities in North America and Europe - get your tickets while you still can!
HALEY BLAIS - "COOLEST FUCKING BITCH IN TOWN"
I only just discovered Haley Blais on my Spotify Release Radar playlist with this song "Coolest fucking bitch in town." Where do I even begin… I LOVE this song. I honestly can't believe I hadn't heard of Haley before, but she's most definitely just gained a new fan and I urge you all to go check out this song and the rest of her music. "Coolest fucking bitch in town" doesn't really have a strict lyrical form so to me, it feels like I'm reading a poem that wasn't planned. It was just written as if it came from a stream of consciousness and someone wrote all their thoughts down. I love this type of songwriting and I should also mention that Haley is the only credited songwriter on "Coolest fucking bitch in town," as well as some of her other popular songs.
NOAH REID - "EVERYDAY"
Noah Reid has recently come out with a new song called 'Everyday' that seems quite reminiscent of the pandemic lockdown days with lines like "and there's no one in the streets on a Friday night, I hope that everybody's getting by alright" and "I'm hungry for connection but I don't wanna talk, I'd rather stand with you and burn a cardboard box" in the chorus. Also, I should mention that if you think Noah Reid sounds familiar you probably already know him from the hit show Schitt's Creek or from his cover of Joni Mitchell's "A Case of You" that he performed as a tribute for Schitt's Creek co-star Catherine O'Hara when she received the Governor General's Performing Arts Award in 2021.
FATHER JOHN MISTY - "GOODBYE MR. BLUE"
"Goodbye Mr. Blue" is the latest single from Father John Misty's upcoming album Chlöe and The Next 20th Century due to be released April 8th. "Goodbye Mr. Blue" starts with a beautiful acoustic guitar before the classic Father John Misty orchestral instruments make an appearance. Though this time they're softly complementing the guitar as opposed to driving the song forward. It almost has an old 70's folk vibe to it, which I'm loving - you can really just close your eyes and listen to this one. For me, this song seems to be about the breakdown of a relationship which makes the instrumentation sound even more melancholy. Can't wait for the new record!
FLORENCE + THE MACHINE - "MY LOVE"
In "My Love" we're seeing Florence +The Machine move slightly away from the Indie Pop sound of her other single "King" (which was featured in our New Indie Music post a few weeks ago, check it out here). "My Love" features a more prominent synth sound and is more dance-y. However, it still has that anthemic feel Florence is known for. The days are getting longer and we're slowly moving towards the summer - I can definitely see "My Love" being one of those songs that defines summer 2022, especially now that festivals and live shows are coming back!
ANNA BATES - "LAST MAN ON EARTH"
I'm absolutely loving this song! "Last Man on Earth" starts with an acoustic guitar, but then really builds up and Anna Bates' voice sounds stunning. The lyrics are very apocalyptic and imagine a world where the singer is the last person on Earth and what she would do with that. The music video stays very true to the lyrics as you see Anna walk through an empty desert and literally talk to mannequins. I'll be adding "Last Man on Earth" to all my playlists!
TOM ROSENTHAL - "TRAIN ENTHUSIAST ENTHUSIAST"
Singer-songwriter Tom Rosenthal is back with another single! "Train Enthusiast Enthusiast" is more lighthearted than his other recent single "You Will Marry The Wrong Person" which I talked about here. "Train Enthusiast Enthusiast" is actually about TikTok sensation (and honorary British national treasure) Francis Bourgeois, whose account consists of him showcasing his deep passion for trains. It's honestly just a really lovely song and if you've kept up with Francis on TikTok it's a really fun and entertaining song too. Tom mentioned on his Twitter that he hopes "Train Enthusiast Enthusiast" brings 'a few moments of something positive,' as Francis Bourgeois is 'a human who radiates goodness from every corner of their being.' I hope you enjoy it too!
REX ORANGE COUNTY- "THE SHADE"
Yes, I know, I'm writing about Rex Orange Country yet again… but this song is really good so you should go and listen to it! "The Shade" to me is about the natural breakdown of a relationship and slowly heading towards a split. The lyrics are pleading for the other person to stay, and telling them that they 'love to be stuck by their side.' "You were holding out your hands, hoping I'd be there to hold too/I went out to Amsterdam just so I could give you some space" it seems like there was miscommunication, and the singer wanted to end things and then regretted it, as so often happens in relationships. "The Shade" is part of Rex Orange County's new album WHO CARES? streaming now!
SIGRID - "IT GETS DARK"
We're leaning more towards pop with Sigrid's brand new song "It Gets Dark." The lyrics talk about going to space, but I believe they're a metaphor for leaving home as in the chorus we hear the main theme with the lyrics "I've never been this far away from home, and all alone/It gets dark yeah it gets dark." "It Gets Dark" is the first single from Sigrid's highly anticipated new album How To Let Go out May 6th.
That's all I have for you today, I hope you enjoy your week and enjoy St. Patrick's if it means anything to you! I also hope you enjoy these songs and are moved to add some to your playlists. See you next week!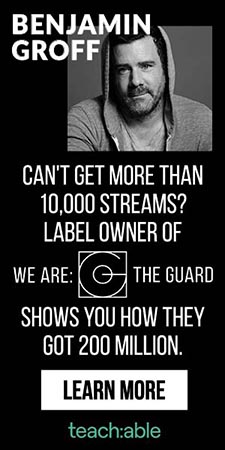 Olivia Flattery is a music business geek originally from London, UK, but just graduated from Berklee in Boston. She is also a singer-songwriter and one day hopes to work in the realm of film and TV as a Music Supervisor to combine her love of songs as well as her love of visual media. Olivia also enjoys collaborating with others on various music projects and is working on sharpening her production skills to open more doors for creativity.