NEW INDIE MUSIC: 10 BOPS FOR THE WEEK AHEAD
Photo by Jade Sadler
It's been one hell of a week, and, honestly? I'm exhausted. You're exhausted. We're all exhausted. It's during times like this that we realize music and its accompanying drama really isn't the most important thing in life, but it certainly helps to distract us from the scary headlines. With another week of no doubt dark news bulletins ahead of us, then, it's time to busy ourselves with the latest edition of We Are: The Guard's New Indie Music, starring Boyish, Florence + the Machine, Deb Never, and seven other favorites…
-
BOYISH – CONGRATULATIONS
Coinciding with the announcement of their forthcoming EP, My Friend Mica, Boyish is continuing to immerse us in their h-ey cinematic universe on "Congratulations." "'Congratulations' is about falling for someone who you are close to," says Boyish. "It's the moment when you cross the line between friends and something more and the fear that once you cross that line there's no going back." A vibrant glitterworld of teenage heartache and melancholy, "Congratulations" is for sad dreamers everywhere.
FLORENCE + THE MACHINE – KING
It's been four years since Florence + the Machine dropped her fourth album, High as Hope. The world has changed a whole lot since then, of course, but Florence Welch is sounding as commanding as ever on her brand new single, "King." Written and produced alongside Jack Antonoff, "King" is a sparse, brooding, magisterial rumination on the difficulties of balancing a career and womanhood, with Florence reaching down to the lowest parts of her voice as she sings: "I am no mother, I am no bride, I am King."
DEB NEVER – CRUTCHES
Back in September, Deb Never dropped one of our favorite projects of 2021, Where Have All the Flowers Gone? EP, and today, the Los Angeles singer is back with the dizzying "Crutches." "I wrote this song two years ago when I felt like my life was moving really fast but I was still mentally and physically in a shitty place," Deb reveals of the cut, which jolts the system like an epinephrine shot. "'Crutches' is a metaphor for my anxieties and all the debilitating things that hold me back from feeling free."
TORO Y MOI – THE LOOP
Just a few weeks on from dropping our Bop of the Week, "Postman," Toro y Moi is back today with another easygoing groove in the form of "In the Loop." The latest single to be taken from his forthcoming seventh album, Mahal, "In the Loop'' is a loose, laid-back jam about the struggles of keeping up with digital fads. "East Coast friends, fill me in/I know you get the early scoop/Online trends that border cringe/Start to feel overused," sings Chaz Bear, sounding entirely content in his Luddite leanings.
KID BLOOM – DOES IT FEEL REAL
Kid Bloom's Lennon Kloser takes time out from touring with Bad Suns this Monday to unveil his latest single, "Does It Feel Real." Produced alongside Luke Niccoli, "Does It Feel Real" is a groovy ode to those early days of a crush, when you're attempting to figure out the feelings of another person. "Does it feel real I'm asking/I wanna hear your blessing," sings Kid Bloom on the cut, with thudding basslines underpinning Lennon as he channels the rhapsodic cool of Around the World in a Day era Prince.
SEB – F**K IT, I'M THE MAN
Los Angeles act SEB has no time for haters on his slow-cruising latest single, "f**k it, i'm the man." The follow-up to "god of the sunsets" is an ode to feeling yourself, even when those closest to you aren't, with SEB revealing he wrote the song after deciding to cut contact with his unsupportive family. "In the chorus, I'm trying to be exuberant and confident, but that's only to mask the pain I'm feeling in the verses," adds SEB, with the "seaside_demo" singer taking his sadness and making it glisten.
SASAMI – MAKE IT RIGHT
We Are: The Guard favorite SASAMI once again proves she's the gnarliest rock star in town on her brand new single, "Make It Right." Following on from "The Greatest," "Say It," and "Call Me Home," "Make It Right" is a sassy stomper that Sasami Ashworth explains in a press release was inspired by a mixture of Fleetwood Mac and British art collective Crass. "She's a desperation bop about not being communicated with. I love a fuzzy riff. Need more guitar riffs in 2022," adds SASAMI. We couldn't agree more.
JENSEN MCRAE – HAPPY GIRL
She recently celebrated the one-year anniversary of her Phoebe Bridgers parody song, "Immune," and today, Jensen McRae is making her thoughtful return with "Happy Girl." Featured on her forthcoming debut album, Are You Happy Now?, "Happy Girl" channels Duran Duran or Crowded House at their sublime balladic best, with melancholy chords surrounding Jensen as her pure vocal delves deep: "These days, not sure where the bruise is/Everywhere hurts/Say, 'Chin up, sad girl'/The truth is it could be worse."
JEAN DAWSON – PORN ACTING*
He recently teamed up with Mac DeMarco on "MENTHOL*," and this Monday, Jean Dawson continues to build up to the release of his sophomore album, CHAOS NOW*, with the electric "PORN ACTING*." According to Jean, "PORN ACTING*" is a comment on the fact that a large majority of us are simply winging our way through life. "We are all the same, we are all bags of flesh, tryna prove that we're not as bad as we know we are," he adds, with Jean injecting "PORN ACTING*" with his typically high-voltage aura.
PETER MCPOLAND – COME AROUND
Ahead of embarking on a tour across the United States in April, Peter McPoland is unveiling "Come Around." While his previous single, "String Lights," found Peter soaking in melancholy that "everything ends," "Come Around" hears him embracing life in a kind of hedonistic glory. Bringing together poppy riffs and unstoppable drums, "Come Around" is an ode to transformative love that hears Peter declaring in the joyous bridge: "All I really know/There's something to live for/Baby, that's you."
-
Follow We Are: The Guard on Spotify for more. Much love… xo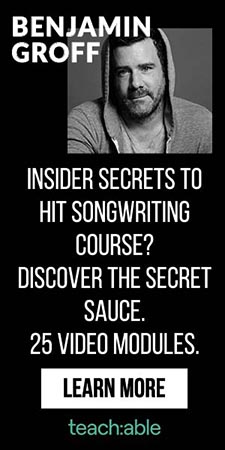 Jess Grant is a frustrated writer hailing from London, England. When she isn't tasked with disentangling her thoughts from her brain and putting them on paper, Jess can generally be found listening to The Beatles, or cooking vegetarian food.