THE 10 BEST INDIE SONGS TO START THE WEEK
Michael Afonso on Unsplash
It's that awkward time of the year when I have to act like I know what happened at the Grammy Awards, even though it's early Sunday evening as I write this (deadlines, people, deadlines), and the damn ceremony still hasn't aired. Look, there's just one question I need answering: Did Phoebe Bridgers win anything? Or, to put it another way: Has Elton John hit anybody yet? Anyways, let's push the Grammy drama aside for a moment, as it's time for the latest edition of We Are: The Guard's Best Indie Songs. Featuring Tkay Maidza, Jorja Smith, spill tab, and seven other favorites, this column has something for everyone!
this headline deserves a grammy https://t.co/kBGb7SUFBj

— traitor joe (@phoebe_bridgers) March 12, 2021
-
TKAY MAIDZA – WHERE IS MY MIND? (PIXIES COVER)
We Are: The Guard favorite Tkay Maidza is cranking up the attitude and then some on this reinvention of "Where Is My Mind?" Recorded as part of 4AD's Bills & Aches & Blues – a covers compilation released to coincide with the legendary label's 40th anniversary – it's a head-bopping spin on the Surfer Rosa classic that hears Tkay employing big synths and even bigger distortion for a Pixies cover like no other. 10/10.
JORJA SMITH – ADDICTED
Jorja Smith goes indie and it's quite literally everything on her latest single "Addicted." "The hardest thing/You are not addicted to me/I'm the only thing you should need/You should be addicted to me," sings the British soulster on the Compass-produced track, which hears rock-leaning drums and distorted guitar wails bringing a sense of propulsion and edge to Jorja's sultry jazzy tones. Love, love, love it.
SPILL TAB – PISTOLWHIP
Los Angeles bedroom-pop auteur spill tab is packed full of electronic fury on her latest single "PISTOLWHIP." According to spill tab, "PISTOLWHIP" was written from the perspective of "someone who's just finding out they're being cheated on," with the track moving from a place of relative quiet to a place of overt catharsis as represented in the form of chaotic, distorted rages against the machines. "Badass" doesn't cover it.
BOYISH – WHATSHISNAME
Having recently clocked up over 100,000 streams on "Superstar" – one of We Are: The Guard's favorite tracks of the year so far – Boyish return this Monday with another morose banger in the form of "whatshisname." The song finds the New York City outfit standing and watching as the world collapses around them and feeling completely helpless to stop it ("Is this hell or the 21st century?"), with a groovy bassline lending a touch of pep to lead singer India Shore's languid shoegazing.
BÜLOW – FIRST PLACE
If there's one thing lockdown has shown us, it's who our true companions are. Just ask bülow, the German alt-pop savant who has no time fake friends on "First Place." "It's about somebody who wants your attention but isn't very genuine. Since we weren't friends, why do you care today?" explains the 21-year-old of the track, which hears bülow getting caught amid a swirl of muddy grunge guitars.
THE BLOSSOM – SHAPESHIFTER
They recently went through a bout of the quarantine blues, but The Blossom is back and sounding more alive than ever on "SHAPESHIFTER." "I can be anything, no matter who's around/The fire burning at my feet ain't burning me out/I can be they, I can be so gay/I can be anywhere any kind of way," triumphantly declares Lily Lizotte on the track – an ode to defying convention and embracing vulnerability that nothing short of thrashes.
TWIN SHADOW – JOHNNY & JONNIE
Summer is fast approaching, and Twin Shadow's George Lewis Jr. is here for it on his latest single "Johnny & Jonnie." Coming three years on from the release of the indie artist's fourth album Caer, it's an islandic, tropical, escapist dream of a listen about eloping with a lover to a far better life: "This city too violent/Let's get to New Orleans/Get me to the quarter/Texas in our way."
SKULLCRUSHER – STORM IN SUMMER
Following on from the release of "Song for Nick Drake," a gorgeous ode to revelation in sound, Skullcrusher returns this Monday with "Storm in Summer." The latest single to be unveiled from the Secretly Canadian signee's forthcoming EP of the same name is a lush dive into what it means to be vulnerable, with Helen Ballentine spreading her wings and taking flight into the unknown amid a sweeping swirl of guitars. Beautiful.
SHUNGUDZO – THERE'S ONLY SO MUCH A SOUL CAN TAKE
Ahead of the release of her debut album I am not a mother, but I have children – due out June 18th – Shungudzo has shared "There's only so much a soul can take." It's a resolutely funky ode to protecting your spirit in a world that seems intent on sucking the lifeblood out of us, with Shungudzo reminding us of the importance of setting healthy boundaries against a backdrop of intrepid grooves.
PIZZAGIRL – CAR FRESHENER AFTERSHAVE
Coinciding with the announcement of his sophomore album Softcore Mourn – due out July 16th – pizzagirl's Liam Brown returns this Monday with the glorious "car freshener aftershave." Opening to a dose of chiptune brilliance, before descending into more chugging indie territory, "car freshener aftershave" finds pizzagirl in the midst of a particularly ugly breakup, with his witty melancholy filing nicely alongside the likes of Phoenix and fellow Brits The Wombats.
-
Until next time, follow We Are: The Guard's Weekly Chart on Spotify for more! x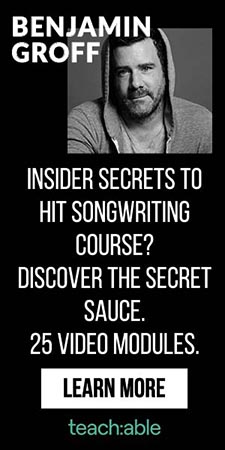 Jess Grant is a frustrated writer hailing from London, England. When she isn't tasked with disentangling her thoughts from her brain and putting them on paper, Jess can generally be found listening to The Beatles, or cooking vegetarian food.