THE 10 BEST INDIE SONGS YOU NEED IN YOUR EARS THIS WEEK
Photo by Brooke Cagle on Unsplash
With the long weekend slowly but surely drawing to a close, we hope you're feeling adequately refreshed and full of good food! Before we rejoin the grind of the working week, we're keeping the positive vibes flowing a little longer here at We Are: The Guard with the latest edition of Best Indie Songs! Just don't forget to send us some of your leftover potato salad in return for curating the following tracks from The Brazen Youth, Magdalena Bay, Big Red Machine, and more!
-
THE BRAZEN YOUTH – HOMETOWN
It's no secret we're huge fans of The Brazen Youth here at We Are: The Guard. Nic Lussier, Micah Rubin, and Charles Dahlke have nevertheless managed to completely blow us away with their latest single. As the title suggests, "Hometown" is a song swept with nostalgia as the trio sings about the people and places that made them who they are today. Pairing intimate, deeply personal lyrics with universal, folky anthemics, The Brazen Youth once again succeeds in delivering a small-town sound with big ambition.
MAGDALENA BAY – CHAERI
Just a few weeks on from teaming up with We Are: The Guard regular Jordana on the killer "Push Me Away," Magdalena Bay is back in a big way this Monday with "Chaeri." "'Chaeri' muses on mental health, friendship, loneliness, and control. It's about the walls we put up and the walls we should tear down for the sake of authentic connection," says the Los Angeles duo of the cut – a foreboding club banger that builds to monolithic proportions as it submerges listeners in a tsunami of strobe lights.
BIG RED MACHINE (FEAT. TAYLOR SWIFT) – RENEGADE
Having worked with them on folklore and evermore, Taylor Swift is once again reuniting with Big Red Machine's Aaron Dessner and Justin Vernon on "Renegade." Featured on BRM's forthcoming album How Long Do You Think It's Gonna Last?, "Renegade" is a breathlessly percussive ode to a couple blighted by mental-health issues. "Is it insensitive for me to say 'Get your shit together so I can love you?'" questions Taylor on the cut, with Justin providing company in the form of distant backing vocals.
LUMP – WE CANNOT RESIST
LUMP – the duo comprising of folk songwriter Laura Marling and Tunng founder Mike Lindsay – is making their debut on We Are: The Guard this Monday with "We Cannot Resist." Taken from Laura and Mike's forthcoming album Animals, "We Cannot Resist" is a big, chunky pop song, albeit bent, twisted, and contorted so as to fit into LUMP's creepy cinematic universe. "We cannot resist/We cannot resist," whispers Laura over funky riffs on the cut, which resembles a kind of groovy cult mantra.
ST. VINCENT – SAD BUT TRUE (METALLICA COVER)
This is filthy! In celebration of the 30th anniversary of Metallica's legendary The Black Album, St. Vincent has shared her version of "Sad but True." Lifted from The Metallica Blacklist – which will see over 50 artists offering up unique spins on the 12 tracks that make up the 1991 classic – Annie Clark's take on "Sad but True" quite frankly rocks. Pairing dirty, monstrous riffs with St. Vincent's cybernetic vocals, this cover couldn't serve as a more badass tribute to James Hetfield and company.
JUNIOR MESA – PARANOIA DREAMS
He recently reckoned with his epilepsy diagnosis and the impact this had on his mental health on the retro "Listen Close," and this Monday, We Are: The Guard regular Junior Mesa continues to come to terms with his anxiety battles on "Paranoia Dreams." Inspired by his experiences with panic attacks from the age of 17, "Paranoia Dreams" hear carnival-esque instrumentation backing Junior as he descends into a Vertigo-like, psychedelic nightmare sequence. Cirque du Freak EP is out on August 13th!
SLOW PULP – IOWA
Coinciding with the announcement of a 28-date North American tour for November and December, Slow Pulp has shared a brand new track in the form of "Iowa." Featured on the forthcoming 7" Deleted Scenes, "Iowa'' is in fact a reimagination of "Idaho" from the Chicago band's 2020 critically acclaimed album Moveys. Slow-paced and spindly, "Iowa" makes for a dreamlike companion piece to "Idaho," with the gentler surroundings allowing the lyrics to wash up against listeners like never before.
GIRLPUPPY – AS MUCH AS I CAN
After being laid off due to COVID-19, Becca Harvey has only gone from strength to strength with her pandemic side-project girlpuppy. Case in point: "As Much as I Can." Taken from her forthcoming EP Swan – which was produced by Phoebe Bridgers collaborator Marshall Vore –  "As Much as I Can" is an iridescent piece of jangle-pop about leading with love and kindness, even toward those friends and family who morally differ from us: "Two months, same sun/Different childhoods/Fake news, QAnon."
MODEST MOUSE – JAPANESE TREES
It's been six years in the making, but finally, Modest Mouse is back with their seventh album The Golden Casket. Fans seeking the raw, rollicking power of Issac Brock and company of old are sure to not be disappointed by the penultimate track on the record, "Japanese Trees." Sounding like Good News for People Who Love Bad News era MM as accented by some of Issac's most bitingly acerbic lyrics to date, "Japanese Trees" is a tightly wound moment of clarity from these Portland indie-rock icons.
MATILDA MANN – BLOOM
London songwriter Matilda Mann is sounding like a breath of fresh, crisp summer air on her latest single "Bloom." "'Bloom' is about meeting someone too soon. Sometimes you need a little more time, to figure out what you want and how to be alone, so that you don't give too much of yourself away to someone else," says Matilda of the track. Lifted from her forthcoming EP Sonder, "Bloom" is a lightly chugging piece of indie-pop sweetness that reminds us of the importance of being patient with life.
-
Follow We Are: The Guard's Weekly Chart on Spotify for more! xo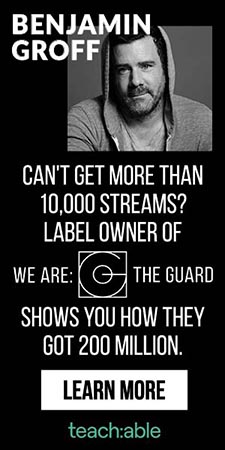 Jess Grant is a frustrated writer hailing from London, England. When she isn't tasked with disentangling her thoughts from her brain and putting them on paper, Jess can generally be found listening to The Beatles, or cooking vegetarian food.