HAPPY SUMMER: THE 10 BEST INDIE SONGS OF THE WEEK
Photo by Looie Kang on Unsplash
Summer is here! Lorde is back! Life is good! Even though it's Monday morning, I'm tripping on a whole bunch of positive vibes right now, and hopefully, you are too! While we're on a high note, then, let's crack on with the latest edition of We Are: The Guard's Best Indie Songs, featuring Pom Pom Squad, Clairo, Deb Never, and seven other faves!
-
LORDE – SOLAR POWER
Praise the Lorde! It's been four long, long years in the making, but finally, Ella Marija Lani Yelich-O'Connor is back and bringing summer with her on "Solar Power." Produced by Jack Antonoff and featuring guest vocals from Phoebe Bridgers and Clairo, "Solar Power" is a rhapsodic baggy ode to white-sand beaches and turquoise oceans. Sounding like a modern-day equivalent of "Loaded" and "Freedom! 90," "Solar Power" couldn't serve as a more ecstatic return for this New Zealand pop royalty.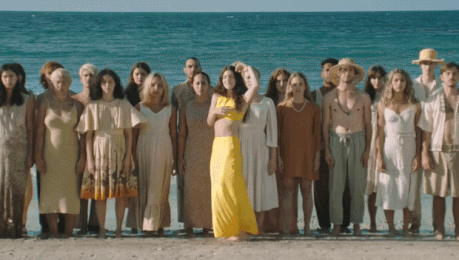 POM POM SQUAD – CRYING
I believe in Pom Pom Squad superiority! Ahead of the release of Death of a Cheerleader, Mia Berrin and company return today with "Crying." It's a dark, grungy swirl that hears Mia singing about her depression, albeit with her tongue firmly wedged in her cheek: "The character of this song is basically my ego. The part of myself who doesn't learn, makes the same mistakes constantly, is flaky, can't admit she's wrong, is self-pitying, and who wraps it all up in a bow the color of self-deprecation."
CLAIRO – BLOUSE
Coinciding with the announcement of Sling, the follow-up to 2019's critically acclaimed Immunity, Clairo has shared the gorgeous "Blouse." The song, which was produced by Jack Antonoff and features backing vocals from the aforementioned Lorde, is a warm, pastoral folk ballad that sounds incredibly similar to Clairo's hero Joni Mitchell. With images of domestic bliss coming contrasted with images of bodily betrayal, "Blouse" is a stunning step forward for Clairo, both as a songwriter and a storyteller.
DEB NEVER – DISASSOCIATE
We Are: The Guard favorite Deb Never is exploring some of the darkest corners of her mind on her latest single "Disassociate." Featured on the Los Angeles singer-songwriter's forthcoming EP Where Have All the Flowers Gone?, "Disassociate" is a ballad about wanting to numb yourself from the pain of life. Opening soft, gentle, and fluttery, before the chorus enters to take the song into more anthemically strummed territory, "Disassociate" is another shadowy slice of pop complexity from Miss. Never.
BLEACHERS – HOW DARE YOU WANT MORE
It's Jack Antonoff Season, baby! The former Fun. artist takes time out from producing for Lorde and Clairo to share "How Dare You Want More" from the forthcoming Bleachers album Take the Sadness Out of Saturday Night. It's a wildly electric listen that hears the New Jersey native tapping into his love for everything heartland, with bombastic saxophones backing Jack as he sings about the guilt of wanting more from life: "How dare you want more?/Preacher, preacher's callin' from the floor."
LUCY DACUS – BRANDO
Lucy Dacus keeps on getting better and better! Following on from the release of Thumbs," "Hot & Heavy," and "VBS," the countdown to Home Video continues this Monday morning with the release of "Brando." It's another joyously storied number from this Virginia native that focuses on a high-school friendship born from a mutual love of pop culture. With its references to movie stars and cinema classics through the ages, "Brando" is a glorious narrative that doubles up as a chugging indie delight.
JUNIOR MESA – LISTEN CLOSE
Music is addictive, but for Junior Mesa, it can be a really dangerous habit. An epilepsy sufferer, Junior says he was inspired to write "Listen Close" about the risky effects music can have on his condition. "I would make music 'til the world around me would spin, my hands would go numb, and I couldn't breathe, all caused by the anxiety that I would have a seizure, but for some reason I couldn't stop,'' reveals Junior, whose delirious, jagged sound makes for nothing short of infectious consuming.
OVERCOATS (FEAT. MIDDLE KIDS) – USED TO BE SCARED OF THE DARK
There's something so healing about the music of Overcoats. Case in point: "Used To Be Scared of the Dark." The title song from their recent EP of the same name hears the New York duo teaming up with Hannah Joy of Middle Kids to deliver a comforting ode to thriving after a breakup. "The song is, at its core, a folk ballad that feels true to the ages, a tale of growing away from someone and singing your strength until it becomes real," says Overcoats, whose vocals softly entwine with sisterly ease.
MADI DIAZ – WOMAN IN MY HEART
Madi Diaz brings to life the burning pain of a breakup on "Woman in My Heart." According to Madi, the song and much of her forthcoming album History of a Feeling was written after her former partner revealed they were transitioning. "This song came out in a sort of waking dream while I was actively learning how to part with someone," says Madi, with the ANTI- signee dealing with the topic with tender respect, while still acknowledging her searing sense of loss.
RITT MOMNEY – ESCALATOR
Just a few weeks on from collaborating with We Are: The Guard favorite Claud on "Set the Table," Ritt Momney is back today with the Jim-E Stack-produced "Escalator." Opening to a scratchy synth that reminds me of "Genesis" by Grimes, "Escalator" soon unspools into something surreal, experimental, and fascinating. With lyrics that deal with a mixture of depression, dissociation, and disconnection, "Escalator" is a nervy groover that couldn't be further from the days of "Put Your Records On."
-
Follow We Are: The Guard's Weekly Chart! xo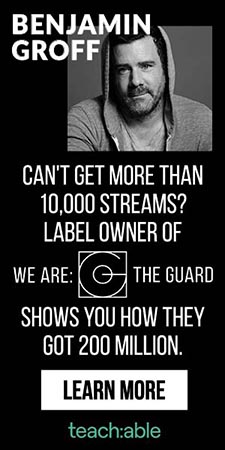 Jess Grant is a frustrated writer hailing from London, England. When she isn't tasked with disentangling her thoughts from her brain and putting them on paper, Jess can generally be found listening to The Beatles, or cooking vegetarian food.