THE 10 BEST INDIE SONGS YOU NEED TO HEAR THIS WEEK
The awards season is in full swing, but forget the movies, as we only care about the best indie songs here on We Are: The Guard! I'm not even overreacting when I say this is my favorite column I've written in a very long while. Oh, and can I also take a moment to point out the fact that the girl power is real in today's playlist? Before we waste any more time, then, let's crack on with this week's edition of We Are: The Guard's Best Indie Songs featuring *rips open envelope* Jordana & Magdalena Bay, Pom Pom Squad, CHVRCHES, and seven other favorites!
-
JORDANA & MAGDALENA BAY – PUSH ME AWAY
This! Is! Everything! It's no secret we love, love, love Jordana here at We Are: The Guard, but the guitar queen has nothing short of outdone herself with her latest single "Push Me Away. "'Push Me Away' is a song written about one of my past friendships. It was an extremely strenuous friendship with a major push-pull dynamic," explains Jordana of the Magdalena Bay-featuring cut, which hears fuzz-caked basslines rubbing up against Rhodes keys for a cathartic rush of blood to the head. Yeah!
POM POM SQUAD – HEAD CHEERLEADER
I believe in Pom Pom Squad superiority! Following on from the release of "Lux" last month, the New York outfit return this Monday with the Tegan and Sera-assisted "Head Cheerleader." The latest single to be unveiled from Pom Pom Squad's forthcoming album Death of a Cheerleader is a coming-of-age high-school anthem that references everything from scary cheerleaders to heart-shaped lockets, with Mia Berrin delivering an empowering message about embracing your skin and all of its flaws between denotative walls of distortion. Gigantic!
CHVRCHES – HE SAID SHE SAID
CHVRCHES is back! I repeat! CHVRCHES is back! Just under three years on from the release of their third album Love Is Dead, the Scottish synthmasters return this Monday with "He Said She Said." Written about the crippling expectations women often find themselves under from men and society as a whole ("He said 'You need to be fеd'/'But keep an eye on your waistline'"), "He Said She Said" is a thumping stadium banger that hears Lauren Mayberry screaming her frustration into the electronic-pop void.
ROSIE TUCKER – BARBARA ANN
It's only been one week since I featured "Habanero," but We Are: The Guard favorite Rosie Tucker is already back in our ears today with the delightful "Barbara Ann." According to Rosie, "Barbara Ann" was inspired by their grandmother, who lived and worked on a farm in Illinois. "Barbara Ann, don't fuck around/With a Louisville Slugger under/Your side of the bed," belts the Epitaph signee in the soaringly, gloriously distorted chorus, with the song powerfully painting a picture of Rosie's rural upbringing and the strong women who raised them.
WOLF ALICE – SMILE
Having returned earlier this year with the lush, tender piano ballad "The Last Man on Earth," Wolf Alice is back to the noisy selves on the purgative "Smile."Lifted from the British outfit's forthcoming third album Blue Weekend, "Smile" is a song about refusing to bend to the expectations of others, with Ellie Roswell sing-rapping pure venom in the verses ("I ain't ashamed in the fact that I'm sensitive/I believe that it is the perfect adjective") before giving herself over to the cathartic release of a chorus.
BACHELOR, JAY SOM & PALEHOUND – SICK OF SPIRALING
Bachelor keeps on getting better and better! Following on from the release of the groove-laced "Anything At All" and the Pixies-influenced "Stay In the Car," Jay Som's Melina Mae Duterte and Palehound's Ellen Kempner are embracing a more country-tinged twang on "Sick of Spiraling." Built around honeyed guitar riffs and a dusty drumbeat courtesy of none other than Big Thief sticksman James Krivchenia, "Sick of Spiraling" is a classic ode to a life on the road that hears Melina and Ellen channeling easy riders such as Willie Nelson and Crosby, Stills & Nash.
DEB NEVER – SORRY
Deb Never is the definition of badass! Just a few weeks on from sharing "Someone Else," the Los Angeles artist continues to build up to a larger project this Monday with the nonchalant "Sorry." Produced by Luke Wild and Michael Percy, it's an icy anthem about refusing to apologize or shrink yourself for another person, with a glacial hip-hop beat backing Deb as she sings disaffectedly: "Fucked up, blacked out drunk at another party/Big shit rock star, but I think you're boring/Now I'm gone, moved on, yeah, I'm never sorry/I'm never sorry." Badass, as I said!
STEVEDREEZ – 1-800-HITMYLINE
Just in time for the arrival of summer, Virginia's Stevedreez has shared the hot, humid "1-800-HITMYLINE." With its blend of disco-esque guitars and tropical-flavored beats, "1-800-HITMYLINE" immediately announces itself as the kind of song that deserves pride of place on any heat-wave playlist. Finish the whole thing off with a falsetto vocal that smooth operators like Still Woozy or Toro y Moi would be proud to call their own, and "1-800-HITMYLINE" is a sexy, sultry essential for the dog days of May.
PIZZAGIRL – BULLET TRAIN
With a name like pizzagirl, what's not to love? The British musician continues his meteoric ascent to indie superstardom today with "bullet train." The follow-up to "car fresher aftershave" is another electrifying breakup anthem from the artist also known as Liam Brown. "I sound really bitter on this, and for good reason I'd say," reveals pizzagirl of the cut, which hears a playful stomp of chiptune synthesizers chugging beneath the Liverpudlian as he sings about a relationship out of control.
LIGHTMAN JARVIS ECSTATIC BAND, YVES JARVIS & ROMY LIGHTMAN – ELASTIC BAND
It's time to get groovy, people! Coinciding with the announcement of Banned, an album recorded together under the name Lightman Jarvis Ecstatic Band, Yves Jarvis and Romy Lightman have shared the scratchy, careening "Elastic Band." With its blend of organic instrumentation and psychedelic, counterculture attitude, "Elastic Band" feels like a first-class ticket to the summer of love, with Yves and Romy adopting the roles of a pair of quarreling lovers over undoubtedly the funkiest bassline I've heard this April.
-
Why not follow We Are: The Guard's Weekly Chart for more music? xox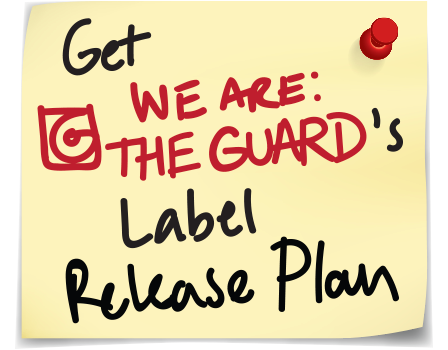 Jess Grant is a frustrated writer hailing from London, England. When she isn't tasked with disentangling her thoughts from her brain and putting them on paper, Jess can generally be found listening to The Beatles, or cooking vegetarian food.