BEST INDIE SONGS: 10 SPOOKILY GOOD TRACKS
Photo by Alice Backham
HAPPY HALLOWEEN, FELLOW INDIE GIRLS!
I hate when indie girls do Halloween what do you mean you're caroline polachek

— Ana (@coolpilled) September 17, 2022
i hate when indie girls do halloween like what do you mean you're phoebe bridgers in a skeleton costume pic.twitter.com/TUpRZr9GPa

— phoebe daily (@sourcebridgers) October 5, 2022
I hate when indie girls do halloween what do you mean you're 2012 sky ferreira?

— omanko (@skyferrori) October 12, 2022
I hate when indie girls do Halloween what do you mean you're Crash (2022), the fifth studio album by English singer-songwriter @charli_xcx pic.twitter.com/IzFMHg9f1n

— mars (@drainimpala) October 29, 2022
I hate when indie girls do Halloween what do you mean you're Katie from the @whereisMUNA Silk Chiffon music video pic.twitter.com/kS9B0eK0Xn

— Lauren Sauer (@laurenmsauer) October 30, 2022
Check out the latest edition of We Are: The Guard's Best Indie Songs, featuring Rachel Chinouriri, girlpuppy, Daisy the Great, and more!
-
RACHEL CHINOURIRI – I'M NOT PERFECT (BUT I'M TRYING)
Having spent much of the summer on the road with Sam Fender, Rachel Chinouriri is making her return to the radio with the sparklingly unstoppable "I'm Not Perfect (But I'm Trying)." "I was reflecting on the self-doubt I have sometimes but also the desire to always jump straight into things," explains Rachel. "It's the realization and acceptance of being perfectly imperfect." With driving bass and drums hurtling Rachel toward the glittering chorus, "I'm Not Perfect" is for sure our Bop of the Week™.
GIRLPUPPY – PERMANENT STATE
While she announces she "hates writing songs" on "Permanent State," girlpuppy's Becca Harvey is reminding us why we all keep coming back for more on the closing cut from her recent debut album, When I'm Alone. Produced alongside Sam Acchione and Slow Pulp's Henry Stoehr, "Permanent State" is a big, emotional, John Hughes-indebted coming-of-age anthem that follows girlpuppy on her journey to self-contentment: "I can't stop looking/For some kind of Permanent state/I always feel like I have to change."
DAISY THE GREAT – TIME MACHINE
They've been playing it live for a few months now, and today, Daisy the Great is finally letting us hear the official studio version of "Time Machine." Featured on their new album, All You Need Is Time, "Time Machine" is a "Space Oddity''-esque anthem replete with orchestral flourish and metaphysical awe, with the duo delivering their impassioned dispatch from the end of everything: "Baby, we could build a time machine/And put it in my old car/Fill it up with dirty water/We could try a little harder."
MONTELL FISH – EXSCAPE
It was only three months ago Montell Fish dropped his debut album, JAMIE, but the Pittsburgh act is already returning with "Exscape." Lifted from his new EP, Her Love Still Haunts Me Like a Ghost, "Exscape" is a crunchy, distorted headbang that hears Montell finally bringing the rage and tension that's skulked in the background of his music to the forefront. Montell: "Each project is a different emotion of when you lose someone, whether that be in a relationship or an actual death." Crank. It. Up.
UNKNOWN MORTAL ORCHESTRA – I KILLED CAPTAIN COOK
Following a three-year absence, Unknown Mortal Orchestra returned in 2021 with two highly funky tracks: "Weekend Run'' and "That Life." Now, the psych rockers are back with something a little more on the ethereal side. According to UMO's Ruban Nielson, "I Killed Captain Cook'' is about the death of English colonizer James Cook. Cook was killed after attempting to kidnap a Hawaiian chief, with Ruban specifically dedicating the spectral ballad to his mom – a legendary hula dancer and native Hawaiian.
BLACK HIBISCUS – BASQUIAT
Meet Black Hibiscus, the Nigerian singer-songwriter making his funky, impactful debut on We Are: The Guard with "Basquiat." The latest single from his forthcoming EP, The End of the World, is a reverb-dipped groove that hears Black Hibiscus placing his shattering falsetto front and center. "'Basquiat' encapsulates what I strive to achieve as an artist; an element of catchiness that can be listened to casually and a stronger thematic and sonic depth," adds Black Hibiscus. FFO: Prince, Tame Impala.
TEENAGE PRIEST – VICTORY LAP
He recently made his debut on We Are: The Guard with "Buena Park," and today, Teenage Priest's Taylor Van Ginkel is back with "Victory Lap." Opening to "Be My Baby"-esque drums, before wavey, rippling soft-rock guitars enter to set the mood, "Victory Lap" hears Taylor building on the ocean-drive vibe of "Buena Park." It isn't all sun and sea breeze, though, with the lyrics throwing a shade of melancholy along the Pacific Coast Highway: "I'll take my victory lap now/Get my flowers while I can."
JACKIE HAYES – AUGUST
Jackie Hayes is Punk with a capital P. Following 2021's There's Always Going To Be Something EP, Jackie continues to establish herself as an alt act to watch on "August" from her recent debut album, Over & Over. Far from a cover of the Taylor Swift song of the same name, "August" is all attitude and chewing gum, with wailing guitars backing Jackie as she snarls to a disinterested lover: "And I'm barely coming down/Feel likе a bore to be around/No, I have nothing to say/Did you just now figurе out?"
NEIL FRANCES & DREAMCASTMOE – SHE'S JUST THE TYPE OF GIRL
Los Angeles-based duo NEIL FRANCES started the year by releasing their debut album, There is no Neil Frances, and today, Marc Gilfry and Jordan Feller are bookending 2022 with the funky "She's Just the Type of Girl." Featuring Washington, D.C.'s dreamcastmoe, "She's Just the Type of Girl' is a pulsating 80s fantasy that hears Marc, Jordan, and dreamcastmoe laying the soul 'n' synths on thick: "She's just the type of girl/And I can't blow it (don't blow it)/I want to love ya till the day I die."
BENNY SINGS – THE ONLY ONE
Earlier this year, Benny Sings dropped Santa Barbara – a covers EP that saw him taking on everyone from Drake to Bruce Springsteen. Fast forward a few months, and the Dutchman is back on his originals grind with "The Only One." According to Benny, it's "about a man who's losing touch with reality, obsessing (yet again) over a woman." "I sing differently than I normally do, but I couldn't help getting sweet and smooth again in the chorus," adds Benny of the cut – a sparkly blast of heartland-pop.
-
Follow We Are: The Guard on Spotify for more! x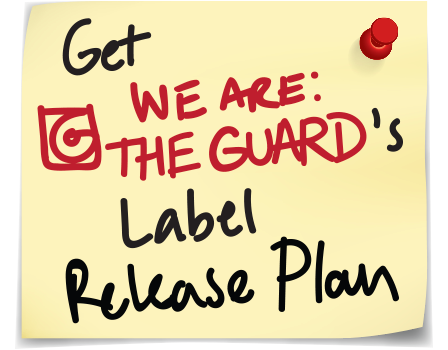 Jess Grant is a frustrated writer hailing from London, England. When she isn't tasked with disentangling her thoughts from her brain and putting them on paper, Jess can generally be found listening to The Beatles, or cooking vegetarian food.