TOP INDIE SONGS: THE 10 BEST BANGERS OF THE WEEK
Photo by Arctic Monkeys
New Arctic Monkeys? New Gorillaz? New The 1975? The Millenial Indie Kids really won this long weekend, huh? Haha! And don't even get me started on the seven other bangers featured in this week's column! Before you dig into the potato salad and end up in a carb coma this Labor Day, then, scroll through the latest edition of We Are: The Guard's Top Indie Songs below *points down*!
-
ARCTIC MONKEYS – THERE'D BETTER BE A MIRRORBALL
Over four years on from Tranquility Base Hotel & Casino, Arctic Monkeys is slowly beginning their voyage back to Earth on "There'd Better Be a Mirrorball." The first single to be lifted from their forthcoming album, The Car, "There'd Better Be a Mirrorball" is a luxurious, sumptuous helping of John Barry-indebted cinematic grandeur that hears Alex Turner on top lyrical form: "So do you wanna walk me to the car?/I'm sure to have a heavy heart/So can we please be absolutely sure/That there's a mirrorball for me?"
FAZERDAZE – BREAK!
She recently unveiled the Pixies-indebted guitar blowout "Come Apart," and today, Fazerdaze's Amelia Murray is back with the title track from her forthcoming Break! EP. Speaking in a press release, Amelia says Break! EP is inspired by the freedom of falling apart. "It's everything I wasn't allowing myself to feel over the past few years; angry, disappointed, cynical, exhausted, and over it," Amelia adds, with the New Zealand musician mainlining this catharsis directly into our veins by way of the chugging "Break!"
GORILLAZ (FEAT. TAME IMPALA & BOOTIE BROWN) – NEW GOLD
A few days on from debuting it live at All Points East Festival, Gorillaz is unveiling their new collaboration with Tame Impala and Bootie Brown, "New Gold." Featured on Cracker Island, Gorillaz's forthcoming album and the follow-up to 2020's Song Machine, Season One: Strange Timez, "New Gold" is a groovy disco-funk wonderland that opens to Tame Impala's Kevin Parker kaleidoscopic voice. The song only builds on its optical illusion from there on out, with "New Gold ' making for a perfect end-of-summer bop.
LIVING HOUR – MIDDLE NAME
They recently crossed over into our Chill column with "Miss Miss Miss," and today, Winnipeg's Living Hour is returning to more familiar territory with "Middle Name." Produced by Jay Som, "Middle Name" is a muddy grunge swirl about confronting the self: "'Middle Name' is about getting stuck with yourself forever, like an assigned middle name or DNA. Some of it's already built in, but mostly you'll be walking around as you, doing dishes, meeting people, untangling what it means, being busy being busy."
THE 1975 – I'M IN LOVE WITH YOU
If there's one thing you can rely on, it's The 1975 to deliver the most shimmeringly sentimental pop song you've ever heard, with the Dirty Hit signees outdoing themselves on their latest single, "I'm in Love With You." Coming after "Part of the Band'' and "Happiness," "I'm in Love With You" is an unapologetically mawkish devotional that may or may not be about FKA twigs, with Matt Healy and co offering up perhaps their most glimmering hook to date: "I'm in love with you, I- I- I- I- I-." P.S. Phoebe Bridgers forever.
FRANKIE COSMOS – AFTERSHOOK
New York City's Frankie Cosmos continues the countdown to their forthcoming album, Inner World Peace, by sharing the sweetly off-kilter "Aftershook." "'Aftershook' is about processing the past and grappling with maintaining a balanced ratio of emotional awareness and hopefulness," Frankie Cosmos star Greta Kline says in a statement. A delightfully out-of-whack listen that hears Frankie Cosmos playing with time and pacing, "Aftershook" feels less like falling down the rabbit hole, and more like melting through it.
JACKIE HAYES – WISH IT WAS
We Are: The Guard has been loving the scuzzy, apathetic bangers of Jackie Hayes for some time now, with the Chicago musician continuing to make like a grunge prom queen on "Wish It Was." According to Jackie, "Wish It Was" is about the "feeling of wanting to hide and not be perceived yet still wanting to create and show that to the world." Produced by Billy Lemos and featured on her forthcoming album, Over & Over, "Wish It Was" is a distorted dose of ennui that evokes Courtney Love for the TikTok age.
BLAKE ROSE – MAGAZINE
Australia's Blake Rose tackles the topic of addiction with astonishing compassion on his latest single, "Magazine." "'Magazine' is about my sister who has been suffering with drug addiction for a long time," Blake says. "Luckily she made it through the other side and is doing really well but I learned that my parents put a lot of blame on themselves for how her life played out." With Blake's voice teeming with tenderness, "Magazine" is a thoughtful indie-rock anthem that makes for nothing short of essential listening.
DAISY THE GREAT – ALUMINUM
Daisy the Great recently offered up a balm for broken hearts everywhere with "Easy," and this Monday, the New York City two-piece is once again fixing us from the inside out with "Aluminum." According to Daisy the Great, "Aluminum" was one of the final songs they wrote for their forthcoming album, All You Need Is Time. "It's the feeling of time moving forward and taking a version of you with it that you don't feel connected to," Daisy the Great adds in a statement of the cut, a joyfully mellifluous piece of pastel-pop.
TEENAGE PRIEST – BUENA PARK
Introducing Teenage Priest, the Orange County singer-songwriter tapping into the self-destructive tendencies that exist in all of us on "Buena Park." Produced by Teenage Priest and mixed by the GRAMMY Award-nominated Tiago D'Errico, "Buena Park" is an intoxicating shoegaze ode to slamming the breaks and not looking back. "I'm gonna crash my car/On the 91 to Buena Park/You know that life's so hard/Maybe easier if I restart," Teenage Priest sings, with his potent voice cutting through the heat haze.
-
Why not follow We Are: The Guard's Weekly Chart on Spotify for more? x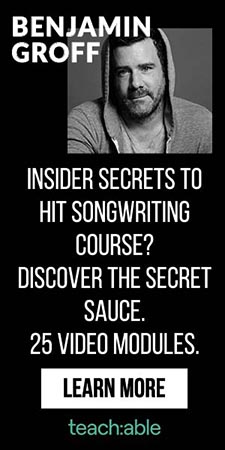 Jess Grant is a frustrated writer hailing from London, England. When she isn't tasked with disentangling her thoughts from her brain and putting them on paper, Jess can generally be found listening to The Beatles, or cooking vegetarian food.