NEW INDIE MUSIC: THE 10 SONGS YOU HAVE TO HEAR THIS WEEK
Photo by Albert Vincent Wu on Unsplash
Between Planet Her and CALL ME IF YOU GET LOST, it's been a bumper few days for new music! That includes the indie sphere, with Faye Webster, Pom Pom Squad, and Lucy Dacus among the artists dropping must-hear albums. Add to that new EPs from beabadoobee and Jensen McRae, plus a whole load of singles 'n' loosies, and I'm sure you'll agree this latest edition of We Are: The Guard's New Indie Music goes the hell off!
-
BEABADOOBEE – COLOGNE
Just a few months on from sharing her glorious quarantine anthem "Last Day on Earth," Filipino-British pocket-rocket beabadoobee is continuing to showcase her artistic growth this Monday on her latest single "Cologne." Featured on Our Extended Play – a four-song collection written while in lockdown with The 1975's Matty Healy and George Daniel – "Cologne" is all about the complicated relationship between sex and self-validation, with this coming reflected in the track's knotty, almost mathy production.
FAYE WEBSTER – A DREAM WITH A BASEBALL PLAYER
Faye Webster continues to mix comedy and tragedy on the swooning latest single to be unveiled from her fourth album I Know I'm Funny haha. "How did I fall in love with someone/I don't know?" asks Faye on the horn-swept "A Dream With a Baseball Player," which she wrote after developing a crush on Atlanta Braves player Ronald Acuña Jr. Equal parts sad, sardonic, and self-deprecating, "A Dream With a Baseball Player" is another multifaceted dip into this Secret Canadian signee's discography.
POM POM SQUAD – DRUNK VOICEMAIL
When it comes to Pom Pom Squad's debut album Death of a Cheerleader, it doesn't get much better than "Drunk Voicemail." Clocking in at three and a half minutes, "Drunk Voicemail" crystallizes everything we love about this Mia Berrin-fronted outfit. A tale of nostalgic heartache pelted by lashings of teenage angst, "Drunk Voicemail" is a distorted rager that hears Mia sighing in the chorus: "Wanna tell you that I hate you, but I don't know how/When the truth is that I love you more than anyone else."
LUCY DACUS – FIRST TIME
There's nothing quite like Lucy Dacus backed by a good ol' dose of distortion. Case in point: "First Time." Featured on her fantastic third album Home Video, "First Time" is a breathless listen that hears Lucy telling a tale of sexual awakenings over fuzzy guitars and pummeling drums. "It's about discovery: your body and your emotional capacity and how you're never going to feel it that way you did the first time again," says Lucy, with the track practically vibrating with youthful frisson.
WALLICE – NOTHING SCARES ME
Wallice follows up the release of her brilliant debut EP Off the Rails with "Nothing Scares Me." Recorded as part of Spotify's Fresh Finds Independent Artist Program, "Nothing Scares Me" is a high-speed chase through Wallice's mental anguish, with the Los Angeles act detailing her attempts to feel something. Anything. "I've tried dance and I've tried drugs/Got kicked out of country clubs," Wallice sings in the neon swirl of a chorus. "But it all feels so momentary/Tried it all but nothing scares me."
UNKNOWN MORTAL ORCHESTRA – WEEKEND RUN
Having recently teamed up with the likes of Aminé, Gorillaz, and Free Nationals, Unknown Mortal Orchestra is returning the focus to their own music with "Weekend Run." Opening to a cascade of twangy guitars, before locking into a more sunny lo-fi disco groove, "Weekend Run" is sure to help you sail through the working week. "I truly work to make music that will set someone's day right," divulges Unknown Mortal Orchestra's frontman Ruben Nielson. "I think that shines through on 'Weekend Run.'"
BRISTON MARONEY (FEAT. MANCHESTER ORCHESTRA) – BOTTLE ROCKET
Coinciding with the announcement of his North American and European tour dates, Briston Maroney has shared a new version of "Bottle Rocket" featuring Manchester Orchestra, who helped Briston to write the Sunflower original. As much as we love the crunchy album version, it's clear Manchester Orchestra brings something quite stunning to "Bottle Rocket," with their rustic, resonant vocalizations combined with the acoustic production lending a gorgeous organicity to the cut.
JENSEN MCRAE – ADAM'S RIBS
Following on from making her viral breakthrough with "Immune," Jensen McRae reveals she's more than a Phoebe Bridgers parody artist on "Adam's Ribs." The string-swept closing cut from her EP Who Hurt You? hears Jensen surging toward a kind of emotional crescendo as she sings about breaking up with a lover to whom she feels physically bound. Bringing together literary-like lyricism and gut-wrenching, crushing vocal prowess, "Adam's Ribs" is nothing short of a modern folk masterpiece.
JADE BIRD – NOW IS THE TIME
It's no secret Jade Bird has the voice of a jumbo-jet engine, but the British rock-and-roller is exploring a softer side to her sound on "Now Is the Time." The latest single to be taken from her forthcoming second album Different Kinds of Light is a delightful, joyous song written for a lover in the midst of a depression. Inspired by Bee Gees and their triple-tracking vocal technique, "Now Is the Time" is an acoustic cup of sunshine that reveals a melodic finesse and nuance to Jade's retro rasp.
HELADO NEGRO – GEMINI AND LEO
This is complete, utter bliss. Helado Negro is swept up in a summer love on "Gemini and Leo." The first single to be unveiled from his forthcoming seventh album Far In is an easy-going groover about the gravitational pull between the two astrological signs. "Gemini and Leo/Dancing on the floor all night," repeats Roberto Carlos Lange in the chorus, with a funky bassline sending feel-good vibrations through the cut as the Florida native's winking vocals move and pirouette with ecstatic ease.
-
Until next Monday, follow We Are: The Guard's Weekly Chart on Spotify for lots more! x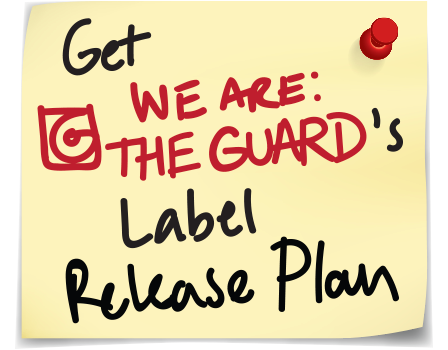 Jess Grant is a frustrated writer hailing from London, England. When she isn't tasked with disentangling her thoughts from her brain and putting them on paper, Jess can generally be found listening to The Beatles, or cooking vegetarian food.