NEW INDIE MUSIC: 10 SONGS TO BRIGHTEN YOUR PANDEMIC PLAYLISTS
Hi, everyone! How are you? How's your February going? I'm not sure about you guys, but I'm really kind of over winter. Okay, so it's not like I'm expecting a summer full of fun and festivals, but at least there's *some* hope on the horizon. In the meantime, if you feel like you need a pick-me-up to get you through the next few days and weeks of cold and darkness, then look no further than the latest edition of We Are: The Guard's New Indie Music. Featuring Claud, Briston Maroney, Gordi & Alex Lahey, and more, this mix is guaranteed to brighten any pandemic playlist!
-
CLAUD – GUARD DOWN
We Are: The Guard favorite Claud is putting up walls on "Guard Down." Featured on their recent album Super Monster – out now on Phoebe Bridgers' Saddest Factory – it's a glistening chugger about finding out someone you like is seeing someone else and acting like you don't care about it, with Claud's emotionality showing through the cracks.
BRISTON MARONEY – IT'S STILL COOL IF YOU DON'T
This goes the hell off! Coinciding with the announcement of Sunflower, Briston Maroney has shared the eruptive "It's Still Cool if You Don't." "I've got a feelin' but it's still cool if you don't/But it's still cool if you don't," belts Britson on the distortion-caked cut, which nods to that awkward moment when you're trying to work out if someone likes you back.
GORDI & ALEX LAHEY – DINO'S
Gordi and Alex Lahey are taking us to Nashville's dive bar Dino's on their latest single. "The eccentricity of Dino's makes it a place where it feels like anything could happen and anyone could walk through the door," write the IRL couple of the dizzying cut, which shivers with that feeling of being at the center of the universe and open to a thrilling fate.
CHERRY GLAZERR – BIG BANG
Having recently taken us down a "Rabbit Hole," Cherry Glazerr return today with a "Big Bang." As the song title suggests, it's a detonative anthem about heartache, with eerie, ominous synthesizers and military-like percussion backing Clementine Creevy as she strives for a kind of liberating, cathartic euphoria from the deepest depths of her despair.
IOGI – YOU\ME\EVERYONE
Introducing iogi, the Israeli singer-songwriter introducing us to his interstellar sound on "You\Me\Everyone." "I got the basic groove of the song and the guitar riff, and I felt like writing whatever comes to my mind at the moment," reveals iogi of the cut – an ode to freedom of expression and creativity that doubles up as a psychedelic summertime bop.
MEN I TRUST – TIDES
Canada's Men I Trust are getting cosmic on their latest single "Tides." The follow-up to 2019's Oncle Jazz is a liquidy piece of space-funk – the kind that Thundercat and Mac DeMarco would be proud to call their own – with the whole thing coming topped off by Emmanuelle Proulx, whose frothy lyrics allude to some form of doomsday-like prophecy.
KATY KIRBY – PORTALS
"I'm an alternate universe in Target lingerie." And so begins "Portals," the latest single to be unveiled from Katy Kirby's forthcoming Cool Dry Place. The follow-up to "Juniper" is a muted piano ballad as cloaked with strings, with Katy's resounding voice taking center stage as she sings about finding new portals into herself through interacting with others.
OLIVER TREE – OUT OF ORDINARY
Oliver Tree embraces his inner oddball on "Out of Ordinary." Lifted from the forthcoming bonus edition of Ugly Is Beautiful – due out later this year – "Out of Ordinary" is a low-key, wonky weirdo anthem that hears the Santa Cruz native singing about his detachment from people around him as he declares in the chorus: "I am out of ordinary."
TOLEDO – SUNDAY FUNDAY
It doesn't get much more gorgeous than this. New York City duo TOLEDO touch on the heavy topic of alcoholism on "Sunday Funday." Written about supporting and comforting a loved one through a family member's addiction, it's an intense, stunning take on the struggles of alcohol dependency, with TOLEDO navigating the cut with poise and grace.
BRENT FAIYAZ (FEAT. PURR) – CIRCLES
He recently collaborated with Tyler, the Creator, and today, Brent Faiyaz returns with "CIRCLES." Clocking in at just under four minutes, "CIRCLES" is unlike anything Brent has put out before, with a music-box-like motif providing a backdrop to his modulated musings, before New York City's Purr enter to take the cut to its theatrical, elatory finale.
-
Follow We Are: The Guard's Weekly Chart for more indie goodness! xo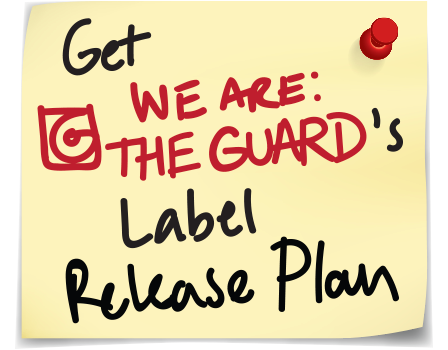 Jess Grant is a frustrated writer hailing from London, England. When she isn't tasked with disentangling her thoughts from her brain and putting them on paper, Jess can generally be found listening to The Beatles, or cooking vegetarian food.