NEW INDIE MUSIC: 10 SONGS WE'RE DIGGING THIS WEEK
Now that August is almost over, it's got me thinking: What's been YOUR song of the summer? For me, it's out of HAIM's "Gasoline" and basically everything written and recorded by Phoebe Bridgers – although I'd be lying if I said "WAP" hasn't already overtaken both of those in terms of numerical plays. Anyways, feel free to let me know your answer over at Twitter, and I'll solemnly swear to not laugh if it's the entire Hamilton soundtrack. Check out this week's edition of We Are: The Guard's New Indie Music, featuring Father John Misty, Arlo Parks, Angel Olsen, and more.
-
FATHER JOHN MISTY – TO S.
It's been a relatively silent few years for Father John Misty, but the songwriting reverend returns at long last today with the sweeping "To S." Released alongside sister single "To R.," it's a quiet acoustic ballad that hears J. Tillman serenading a friend seemingly weighed down by depression, with the whole thing coming mantled in beautifully weepy string arrangements.
ARLO PARKS – HURT
Arlo Parks offers solace from grief on her latest single "Hurt." "'Hurt' surrounds the possibility of healing from pain and the temporary nature of suffering. It is supposed to uplift and comfort those going through hard times," writes the deeply empathetic poet of the song – which follows on from her recent cover of Radiohead's "Creep" – with lightly scatting drums backing Arlo as she sings her tender words of reassurance.
ANGEL OLSEN – WAVING, SMILING
Angel Olsen emerges from the other side of heartache on the soul-searing "Waving, Smiling." "I'm waving, smiling/At love forever, alive and dying/The sun is shining," coos the St. Louis native on the song – which follows on from the equally gutting "Whole New Mess" – with Angel's haunting vibrato steadily bending toward the light over a spartan fingerpicked guitar.
JACOB COLLIER – SLEEPING ON MY DREAMS
Breaking up has never sounded so joyous as it does on Jacob Collier's "Sleeping on My Dreams." Featured on the British jazz master's recent album Djesse Vol. 3, "Sleeping on My Dreams" is described by Jacob as a "declaration (and celebration) of independence," with conversational verses giving way to a rapturous, danceable chorus that hears Jacob really getting into his groove without his ex by his side.
GAYNGS – APPEAYL 2 U
It's been almost 10 years, but Gayngs – the 80s-indebted collective cofounded by POLIÇA's Ryan Olsen and Bon Iver's Justin Vernon – finally return to our ears today with "Appeayl 2 U." Coming in two parts – "Appeayl 2 U pt. 1" and "Appeayl 2 U pt. 2" – it's a sumptuously spacey slice of 10cc-like soft-rock, with the saxophone-laden piece striking that signature balance between schmaltz and sentimentality.
HOLLY HUMBERSTONE – VANILLA
Holly Humberstone just keeps on getting better and better. It's only been a week since we featured "Drop Dead," but the British act is already back in our column today with "Vanilla." Written about the realization you don't need to be in a relationship to feel a sense of worth, "Vanilla" is a distorted, shoegazey rhapsody that hears Holly continuing to deftly chronicle The Art of Coming of Age.
WHITNEY – A.M. AM (DAMIEN JURADO COVER)
Every time I listen to Whitney, it's like they're blanketing me in kind of dusty, mountainous warmth. It's a feeling that's better experienced than described, with the Americana outfit doubling down on the glow on this cover of Damien Jurado's "A.M. AM" – a song best listened to while barreling down a desert road, the late-summer wind in your hair. Candid is out now.
THE NEIGHBOURHOOD – DEVIL'S ADVOCATE
The Neighbourhood continue to build up to the release of Chip Chrome & The Mono-Tones by sharing the groovy "Devil's Advocate." "It's about getting back to being a simple man rather than trying to chase a designer brand," say the Newbury Park band of the follow-up to "Cherry Flavoured," with frontman Jesse Rutherford strutting like rock-and-roll's greatest outlaw over Wild West riffs and funky basslines.
DAN CROLL – SURREAL
British musician Dan Croll is seeing summer out in coruscating style with his latest single "Surreal." The Grand Plan standout finds the 30-year-old reflecting on his recent decision to relocate from his native Liverpool to Los Angeles, with Dan celebrating the success of the move by way of dappling, Beatles-esque melodies that seem to come so very naturally to this former student of Paul McCartney's LIPA.
BRIGHT EYES – PAN AND BROOM
Bright Eyes frontman Conor Oberst laments a life over too soon on "Pan and Broom." Featured on the Omaha, Nebraska band's recent album Down in the Weeds, Where the World Once Was, it's a eulogy to the days, weeks, months, and years dissipating before your very eyes, with a "Hotline Bling"-esque beat – no, really – supporting Conor as he quivers: "And I sweep up my dreams/With a pan and a broom."
-
Follow We Are: The Guard's Weekly Chart on Spotify for more. xo
Photo by Joshua Rawson-Harris on Unsplash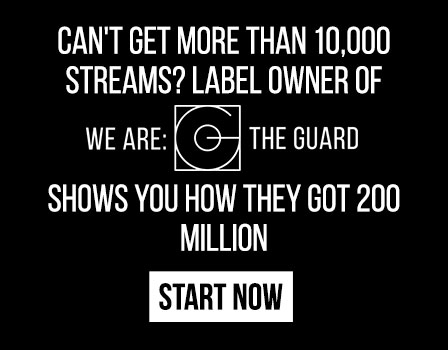 Jess Grant is a frustrated writer hailing from London, England. When she isn't tasked with disentangling her thoughts from her brain and putting them on paper, Jess can generally be found listening to The Beatles, or cooking vegetarian food.