NEW INDIE MUSIC: THE 10 BEST BANGERS OF THE WEEK
Photo by Clay Banks on Unsplash
With summer officially coming to an end on Wednesday, it's time to get ready for the fall release schedule. It's always a busy season for the music industry, and if the following column is anything to go by, it's going to be a packed few days, weeks, and months ahead in terms of bangers. Before any more time goes to waste, then, check out the latest edition of We Are: The Guard's New Indie Music, featuring Dijon, Snail Mail, Metronomy & Biig Piig, and seven other favorites.
-
DIJON – MANY TIMES
Listening to Dijon is like listening to music for the first time, with the Los Angeles act taking songs apart and sticking them back together again in fascinating shapes. Case in point: "Many Times." Written and produced with Andrew Sarlo and Mk.gee, "Many Times" is a frantic cut that hears Dijon arguing with a lover over sputtering beats. "What's it gonna take for you to listen?" rages Dijon at one point, delivering an indie banger with the sweaty energy of improvisational jazz. Riveting.
SNAIL MAIL – VALENTINE
Just over three years on from the release of Lush, Snail Mail's Lindsey Jordan is making her thrilling return today with "Valentine." The first single to be unveiled from her forthcoming album of the same name – due out November 5 via Matador – describes an ex moving on with someone else. "So why'd you wanna erase me, darling valentine?" asks Jordan, her voice cracking with intent as she throws herself into the crash of guitars. "You'll always know where to find me when you change your mind." Electric.
METRONOMY & BIIG PIIG – 405
Metronomy and Biig Piig are coming together this Monday for the totally luxurious "405." Featured on Metronomy's Posse, Volume. 1 EP – a five-song collection that also includes duets with Pinty, spill tab, Sorry, Brian Nasty, and Folly Group – "405" is a nostalgia-swept piece of synth-pop about looking for love in all of the wrong directions. "How'd I miss the sweetest gaze/All those times you looked my way?" coos Biig Piig at one point, her sumptuous voice melancholically driving into the sunset.
JAMES BLAKE – FAMOUS LAST WORDS
James Blake continues to build up to the release of Friends That Break Your Heart – due out October 8 via Republic and Polydor – by sharing the majestic "Famous Last Words." Produced by Blake, Dominic Maker, and Blake's partner, English actor Jameela Jamil, "Famous Last Words" starts out sparse and squelchy, before sweeping up into something more opulent. "I can't believe I'm still talkin' about you, that feeling/I should have lost it, I should have lost it by now," croons Blake. Listen.
MAGDALENA BAY – YOU LOSE!
Following on from the release of "Chaeri" and "Secrets (Your Fire)," Magdalena Bay is back and sounding bigger than ever on "You Lose!" "'You Lose!' is about trying to be a musician and feeling like time for success is always running out. It's definitely melodramatic, describing ourselves as aging and nearing death, but sometimes it really feels that way," says the Los Angeles act. With Mica Tenenbaum's fae ethereality meeting a wall of distorted scuzz, "You Lose!" is Magdalena Bay at their quiet-loud best.
THE WAR ON DRUGS (FEAT. LUCIUS) – I DON'T LIVE HERE ANYMORE
Ahead of the release of I Don't Live Here Anymore – due out October 29 via Atlantic – The War on Drugs is making their lucent return today with the Lucius-featuring title song. While "Living Proof" showcased a quieter side to The War on Drugs, "I Don't Live Here Anymore" finds Adam Granduciel reembracing the 80s-tinged anthemics, with scintillant streams of guitar backing him as he croons: "I guess my memories run wild/Like when we went to see Bob Dylan/We danced to 'Desolation Row.'"
ST. VINCENT – THE NOWHERE INN
On Friday, The Nowhere Inn – a fictional documentary directed by Bill Benz and starring St. Vincent, Carrie Brownstein, and Dakota Johnson – arrived in theaters and on streaming services, and to celebrate, Annie Clark has shared the haunting theme song. "Here at The Nowhere Inn/Where nothing and no one wins/Where our last days are spent/Wasted on song and sin," sings St. Vincent with Old Hollywood finesse on the cinematic cut, which eventually immerses listeners in Twin Peaks-indebted surrealism.
BARRIE – DIG
Having made her name with her soft, sophisticated dream-pop, New York City outfit Barrie is showcasing a more unrestrained side to her sound on her latest single "Dig." Written last year while Barrie Lindsay was dealing with a mixture of intense love and grief after marrying her partner and losing a parent in close succession, "Dig" is a collision course in catharsis that hears Barrie announcing in the irrepressible chorus: "I can't get enough of you/Where did you come from?" FFO: Tune-Yards, CHAI.
MICHELLE – SYNCOPATE
With Cuffing Season fast approaching, MICHELLE is making their return to our column this Monday with the sparkling ode to connection "SYNCOPATE." "The song at its core is about desire. Communicating your desire can feel vulnerable, so we wanted to have some fun with that and show our funky and seductive side. It really feels like we're hitting the street for the first time by putting this song out into the world," says MICHELLE of "SYNCOPATE," which grooves and glitters like a discotheque HAIM.
CARWASH – FRIENDSHIP
We Are: The Guard favorite Garrett Seamans takes time out from making music as Postcard Boy to present his brand new project carwash. Featured on his recent debut EP soap water, "Friendship" is an ascendant ode to unbreakable bonds. "I collapsed in your arms/At your apartment/Westlawn, in the dark/Head throbbing again/Said all my problems/Are valid and that/You care for me," sings Seamans with diaristic intimacy, with a thick pulse of distortion propelling "Friendship" into the firmament.
-
Check out We Are: The Guard's Weekly Chart on Spotify for more. xo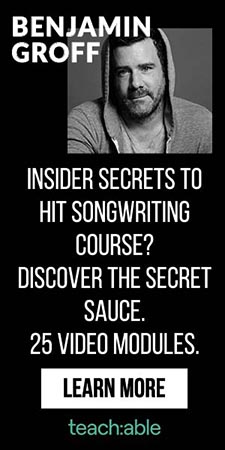 Jess Grant is a frustrated writer hailing from London, England. When she isn't tasked with disentangling her thoughts from her brain and putting them on paper, Jess can generally be found listening to The Beatles, or cooking vegetarian food.