SUNDAY: TOP 10 SMALL PRINT COACHELLA 2018 ACTS
Okay so the Weeknd was at Coachella in 2012 and hell ... even headlined Coachella 2015 (if not on the poster, definitely in the timeslots. Check it).
As every other festival lineup comes in it's pretty obvious that Eminem's booking agent just said yes to all of them. Coachella, Boston Calling, Governer's Ball already. Sure. What else did he say yes to? Bonnaroo? Outside Lands? Austin City Limits? Sasquatch? Brian's birthday party? Probably.
And sure there's Beyonce, Queen B, Bey, Sasha Fierce. But wasn't she supposed to play last year or something?
I guess what I'm asking is what makes Coachella so goddamn special anymore? Is it because they're the longest running consecutive major music festival (non rave)? Or is it just because the up and coming Hollywood elite like being photographed doing lines of cocaine off each other? Or is it something else?
Is it that in an culture overrun with festivals (seriously, there are more music festivals than movie theatres nowadays. You can't see that movie about having sex with a fish anywhere but you could trip over nineteen music festivals trying to find a screening) they manage to stand out in a different way.
Coachella put their money where their mouth is, if their mouth is major headliners that are kind of whack and then second and third and fourth tier artists that are cooler than your walk-in freezer. Coachella regularly books some of the coolest acts you and I and your friend Rick who knows EVERYTHING about music have never heard of. (That's a compliment, Coachella).
And these artists are in a font so small it barely registers with your eyeballs. Sure they also get rad exclusives like Jamiroquai, Jean-Michel Jarre, Soulwax and Chic w/ Nile Rodgers but it's all about the underground. So underground it's like the underground has an underground. There's gonna be a new tent this year, underground. You wanna the best Coachella possible? Get hip to all this shit. Then it's gonna be a real party.
Thus, we present our Best of the "Small Print" Coachella Artists playing Sunday! And don't forget to check our Small Print Friday and Small Print Saturday posts as well. Let's get started.
ALL OF THE TECHNO
Motor City Drum Ensemble + Chris Liebing + Joseph Capriati
Oh Sunday, Sunday, Sunday. What glorious Techno. I'm going to group these three together because otherwise this list will just be techno and you don't want to, do you? Motor City Drum Ensemble is named after Detroit, the town where techno was invented but instead he's just one German dude making funky soulful delightfully light-hearted techno that's going to bring a smile on your face as you delve deep into the techno dance floor. You've got to go deep for techno. No wallflower bullshit. Chris Liebing is a bit of a techno legend, been playing since the nineties and is more relevant than ever. He's got the minimal side covered while Joseph Capriati, one of techno's most in-demand names, has got the deep dark. What we've got here is a holy trinity of exciting techno acts and it's ALL on Sunday. Screw the heat, this Sunday we wear black.
JACOB BANKS
I legitimately don't know if this is a good thing or a bad thing but Jacob Banks is going to be the next Ed Sheeran. British, deep emotional lyrics that even dips into user friendly drum & bass for a moment (see Ed Sheeran + Rudimental). He's bound to have everybody swooning and he's decidedly more handsome than that weird ginger. Tell me I'm not alone on this people. I need your support in these trying times.
BARCLAY CRENSHAW
Dirtybird head-honcho Claude Vonstroke turns his back on house music (jk) and starts to make some STRANGE bass music hip-hop instead. Is there anything he can't do? Not blow your mind clean out of your bucket cap when you see how weird and strange his sets get. He can't do that. He can't not blow your mind. By the way, his real name is Barclay Crenshaw and Claude VonStroke is the pseudonym. Put that in your pipe and smoke it. I mean weed IS legal in California now.
LION BABE
We here at We Are: The Guard have been on the Lion Babe steez for years. Nice to see Coachella catching up to our level of cool finally. It's like come on, seriously give us a call sometime we've got tips. lol. Oh, what does this sound like? Female led vibey soul. One of the best songs of the past five years. Just listen.
GIRAFFAGE
Giraffage has got all the feels, man. His future bass funkiness is riddled with emotions and real-as-fuck-ness. I could say that he's well on his way to becoming the next Porter Robinson, but that would be a slight because he's amazing in his own right and I don't need to compare him to anything to make him worth your time. He already has been this whole time. Now if he could just have some sort of COACHELLA SIZED BREAK, HUH?
TALABOMAN
I was going to resist writing about Talaboman and pushing my musical agenda any further but this whole undercard is basically dance music so why not just embrace it. Though this spacey ethereal, meditative house might just be the most exciting dance music on the bill. John Talbot and Axel Boman team up to make some absolute, goddamn magic that you're not gonna wanna miss. Team-ups like this tend to not be around forever so as they say at the hot dog vendor "get em while they're hot."
CUCO
Cuco appears on first listen to be lullaby boy-band hip-hop with hints of Spanish language thrown in for good measure that somehow turns it all around to something a lot cooler than its parts. With a twitter handle like @Icryduringsex and a Vice Article entitled "Cuco is LA's New Romantic, and He's Only 18" there's a lot to take in here. Is this Cuco the real deal? How about you go and check it out and report back. That's what Coachella is all about, isn't it? Finding that new sound?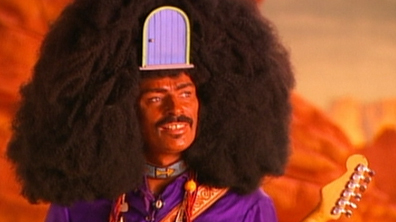 OMAR-S
More Techno? Sorry.
No, I'm not. I TOLD YOU Sunday was stacked with it.
Omar-S is different and worth mentioning because he mixes the sounds of minimal techno with Motown. The Detroit native's brand of funky house and techno is often backed by soulful singing and if not, the Motown comes through on the beat instead. This might just be the Detroitest Detroit that ever Detroited.  Uhh okay yeah this got hints of techno Stevie Wonder and I have to wonder why anybody would miss this.
SNAIL MAIL
There is tons of vibey female driven punk/indie rock on this lineup this year and I think that's the best thing ever in this current horribly sexist climate we live in. Go punk rock girls tell the world what's up. Snail Mail are rad as hell and their slowcore, suburban energy completely matches the vibe the festival has been curating since Day One. Pavement anyone?
THE DELIRIANS
One of my favorite parts of Coachella is how reliably they book 90's SoCal punk and ska acts. While The Delirians aren't necessarily from the 90's they ARE a throwback (to second wave ska). The Kings of East LA Ska and Rocksteady are about to branch out into a whole new world out there in the desert.
So, now that you have our complete list of the top small print acts of Coachella, we know you can handle all this, but do you think Coachella can handle them?
From deep within the murky depths of the Los Angeles River emerged a creature: 50% raver, 50% comedian, 10% Robotcop. Kurt Kroeber doesn't own a dog, operates Soundbleed (the world's only dance party comedy talk show rave), and is down to party with you. Come up some time and say "Hey dude!" But definitely make sure to casually drop the secret Illuminati password.