TGIF: 10 TOP CHILL SONGS TO SEE YOU INTO THE WEEKEND
Photo by Jessica Felicio on Unsplash
Did you know music is scientifically proven to help us relax? According to research, music not only regulates our moods and increases our clarity during the day, but it also allows us to unwind and get to sleep at night. Basically, listening to music is one of the best things we can do for our mental health, particularly during these chaotic, tumultuous times. On that note, why not come and find your calm this Friday with the latest edition of We Are: The Guard's Top Chill Songs? Featuring Emotional Oranges, Fiji Blue, DWY, and seven other favorites, this column has something for everyone!
-
EMOTIONAL ORANGES (FEAT. BIIG PIIG) – BODY & SOUL
They recently teamed up with Channel Tres on "All That" and Chiiild on "Bonafide," and this Friday, Emotional Oranges continue to deliver on the collaborative front with "Body & Soul." It's a sultry, buttery groove featuring pop savant Biig Piig, with both artists trading lines about getting down and dirty in front of a fireplace over sensual guitar licks.
FIJI BLUE – IT TAKES TWO
There's no one doing it quite like Fiji Blue! Consisting of Valentin Fritz and Trevor Dering, the rising duo and merchants of so-called "sad-boy chill-house" are getting us ready for the spring and summer months ahead with their latest single "It Takes Two" – a tranquil cruise down the Pacific Coast Highway that's packed full of longing for a lover.
DWY – SUMMERS OVER
We Are: The Guard favorite DWY continues to tell his coming-of-age story on the gorgeous "Summers Over." Featured on his recent mixtape 8-Bit Memories, "Summers Over" is a song about growing up and growing apart, with DWY's poetic, evocative nods to sunsets and faded denim jackets coming rendered through beautiful vocal acrobatics.
EMMIT FENN – COLORS
Spring is blossoming all around us, but Emmit Fenn is unable to see it on his latest single "Colors." "Every feeling trying to bloom/From pink to red to ocean blue/Lost to winter again," sings Emmit on the follow-up to "Until We Leave the Ground" – a fragile, vulnerable acoustic cut that compares a breakup to a tunnel of total, complete darkness.
CAUTIOUS CLAY – ROOTS
Cautious Clay comes to terms with the fact his relationship has reached its natural conclusion on "Roots." Clocking in at three minutes, "Roots" is a song about having enough of "going through the motions," with Joshua Karpeh's croon soaring to the skies as he confesses: "So you gotta trust it in the process/Cuz nothing lasts forever anyway!"
FIELD MEDIC (FEAT. SAMIA) – BUNDLE OF HYACINTHS
Having recently teamed up with Sister James on "Questions," Samia returns to our ears once again this Friday on a brand new version of Field Medic's "Bundle of Hyacinths." It's a lovely, delicately woven folk tapestry that originally featured on Field Medic's Floral Prince, with Samia's voice shining even further sunlight on this tribute to revelatory love.
SURIEL HESS – SICK OF YOU
Suriel Hess delivers an anthem for lockdown lovers everywhere with "Sick of You." "Spending a lot of time with my girlfriend Jill during quarantine gave us the chance to really get to know all of each other's details. This song is about not getting sick of those details," Suriel tells us of the soft, tender listen, which officially melted my heart to mush!
TWO LANES (FEAT. KWESI) – ANOTHER TIME
And now for some much-needed, long-deserved healing courtesy of TWO LANES and Kwesi. "'Another Time' is about looking to the future," explains Kwesi of the piece, which hears TWO LANES interpolating classical flourishes such as piano alongside more electronic leanings for a hymn that brought me to a place of utter, complete inner peace.
BEN CHANDLER – LET YOU GO
This song hit different! Ben Chandler is learning to prioritize himself on his latest single "Let You Go." Lifted from his recent EP Transitions, "Let You Go" is an ode to cutting ties from a toxic relationship, with Ben – who's previously produced for the likes of Dominic Fike and Nate Traveller – exhibiting his emotive maturity atop a bed of smooth neo-soul.
TEFLON SEGA – GOOSEBUMPS (TRAVIS SCOTT COVER)
Dim the lights, as Teflon Sega is setting the mood and then some on this cover of "goosebumps" by Travis Scott. Listen as the anime character and R&B crooner – who we recently profiled as part of our Featured Find series – puts a breathy, shivering trap spin on the Birds in the Trap Sing McKnight cut, turning it into a sexy bedroom essential.
-
Follow We Are: The Guard's Weekly Chart on Spotify for more! x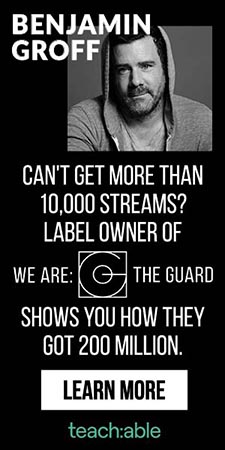 Jess Grant is a frustrated writer hailing from London, England. When she isn't tasked with disentangling her thoughts from her brain and putting them on paper, Jess can generally be found listening to The Beatles, or cooking vegetarian food.