RELAX TO THIS WEEK'S TOP CHILL MUSIC
I'm not going to lie – this heat wave has kind of ruined my cozy fall plans. I'd hoped to start digging out my scented candles and cable-knit sweaters this weekend, but right now? I still feel like I'm in the middle of July! It's all good, though, as it's time to bring down the temperature with the latest dose of We Are: The Guard's Top Chill Music. Just grab a Pumpkin Iced Latte and embrace the comfies with the following songs from Adrianne Lenker, Actress, Model Man, and more.
-
ADRIANNE LENKER – ANYTHING
Ahead of the release of songs and instrumentals – two albums which were recorded in a cabin in Massachusetts during quarantine – Adrianne Lenker has shared "anything." It's an endlessly lush, pretty piece, with a sweeping of steel backing the Big Thief singer as she calls to mind a multitude of half-memories, like faded polaroids of a former lover.
ACTRESS (FEAT. SAMPHA) – WALKING FLAMES
This is gorgeousity made flesh. Coinciding with the announcement of his album Karma & Desire – "a romantic tragedy set between the heavens and the underworld" – Actress has shared "Walking Flames." It's a warm, womblike listen, with clubby beats and florid, Four Tet-style orchestral flourishes coming caught in Sampha's sing-speaking embrace.
PROSPA – ECSTASY (OVER & OVER) (MODEL MAN REMIX)
Model Man are lighting up the dopamine circuits with this stunning remix of Prospa's "Ecstasy (Over & Over)." Listen as the British duo take the original – which has clocked up millions of plays since May – and give it their own tranquil, blissful spin, with Model Man's pianos lending a gorgeous neoclassical quality to this modern-day rave anthem.
ANJIMILE – IN YOUR EYES
Anjimile continues to build up to the release of his album Giver Taker by sharing the ravishing "In Your Eyes." Like "Maker" before it, the song hears the Massachusetts musician documenting the transgender journey with lucid detail, with Anjimile singing about coming to terms with his own identity in a bigoted society over creaking acoustics.
SZA (FEAT. TY DOLLA $IGN) – HIT DIFFERENT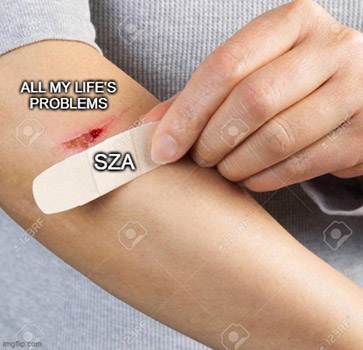 XYLØ – LEFTY
XYLØ's Paige Duddy recently wrote on her Instagram that her next song would "make us cry," and she certainly wasn't lying. I'm not even ashamed to admit I was moved to tears by "LEFTY" – a ballad about the recent loss of Paige's grandfather that hears the Los Angeles act processing her grief over a production that glows soft like a sky lantern.
FORD. – THE COLOR OF NOTHING
The world is an apocalyptic, dystopian hellscape, but ford. is taking us to a different plane entirely on "The Color of Nothing." Featured on his forthcoming album of the same name, it's a serene, harmonious percussion piece that'll leave you at utter peace with your surroundings, with ford. revealing the song has been two years in the making.
EMMA RENA – ROXANNE
Emma Rena is reminding us how it feels to be lovestruck on the ethereal "Roxanne." "Roxanne/I like the way you go on/Roxanne/I think about the things you do, I think of you," coos Emma on the dreamy-soft reverie – which clocks in at just over two minutes – with the rising artist's unique, almost childlike voice capturing our hearts. Otherworldly.
HOUSE OF FEELINGS (FEAT. SHAMIR) – BLACK AND BLUE
We Are: The Guard regular Shamir takes time out from working on his self-titled album to collaborate with House of Feelings on the aching "Black and Blue." The song hears Shamir singing about breaking free from a toxic relationship, with gloomy synths forming as the "On My Own" auteur delivers one of his most thoughtful, longing toplines to date.
ARAMA – SEEDS
Enter into the hypnotic soul world of Arama. Having worked with everyone from Miley Cyrus to Lil Wayne (not to mention formed one half of We Are: The Guard's very own Daughters of Noise!), Arama is stepping out onto the dance floor alone with "Seeds" – a soft, sultry disco ode to resilience that captivates from the very first note to the very last.
-
Follow We Are: The Guard's Weekly Chart on Spotify for more. xo
Jess Grant is a frustrated writer hailing from London, England. When she isn't tasked with disentangling her thoughts from her brain and putting them on paper, Jess can generally be found listening to The Beatles, or cooking vegetarian food.