TOP CHILL MUSIC: 10 SONGS FOR THE HALLOWEEN WEEKEND
Photo by sombr
The countdown to Halloween is officially on, and I'm not sure about you guys, but I'm ridiculously excited to spend the next couple of days binging on cheap candy and bad horror movies. The definition of a perfect weekend, much? Before then, however, it's time for the latest edition of We Are: The Guard's Top Chill Music. Don't forget to save us some Reese's in return for bringing you the following chill vibes from sombr, Cavetown, Nosaj Thing, and plenty of others!
-
SOMBR – WILLOW
Back in June, sombr made his breakthrough with "caroline." A few months and millions of Spotify streams later, the TikTok sensation is continuing to build on his fanbase with the searing ballad "willow." Written and produced by sombr, "willow" is a passionate plea to an increasingly distant lover. "Don't go, don't wanna be alone/My Willow/Don't know how to let you go/My Willow," sings sombr, with his voice moving with Jeff Buckley-esque dexterity and intensity over strokes of acoustics.
CAVETOWN – FROG
Cavetown's Robin Skinner is an English singer-songwriter who makes deeply cute bedroom-pop with big emotional impact, with the 23-year-old offering up perhaps his sweetest offering to date in the form of "frog." According to Robin, "frog" was inspired by a meme he sent to his then-crush. "One day I showed her a frog meme that said 'GF stands for girl-frog and BF stands for boy-frog' and I said 'that's us!'" adds Robin, with his voice swirling like majestic vapor over an enchanted forest of acoustics.
NOSAJ THING (FEAT. TORO Y MOI) – CONDITION
He's already teamed up with Julianna Barwick, HYUKOH, and Pink Siifu, and this Friday, Nosaj Thing is collaborating with Toro y Moi's Chaz Bear on "Condition." Lifted from his brand new album, Continua, "Condition" is a smeary, sublime trance dream that hears Chaz singing about the impact his artistic drive has on his ability to love: "Runnin' towards the light, it's tunnel vision/Got me losin' sight, I'm on a mission/Had you by my side, and now you listen/Lost my appetite, it's my condition."
ADAM MELCHOR (FEAT. FLEET FOXES) – LET ME KNOW WHEN
It's not every day you get a cosign from Fleet Foxes icon Robin Pecknold, but then again, Adam Melchor is far from every day. The New Jersey singer-songwriter continues to establish himself as one of the brightest rising stars in the folk and indie scene on the softly devastating "Let Me Know When." Written about a relationship on the brink of collapse, "Let Me Know When" hears Adam's warmly intricate melodies cushioned by Robin's signature vocal harmonies. Here Goes Nothing! is out now.
TOMMY LEFROY – JERICHO BEACH
Ahead of hitting the road with Samia in 2023, Tommy Lefroy's Wynter Bethel and Tessa Mouzourakis are sharing the stunning, evocative "Jericho Beach." Tommy Lefroy: "This is a song about growing up, a portrait of formative moments for us, and we hope it might soundtrack some of yours." Written about the turmoil of coming of age during unprecedented times, "Jericho Beach" is a beautiful piece of indie-folk balladry that holds nostalgia close to its chest, before letting it go in the cathartic climax.
KERRI – WHAT IT IS
Meet kerri, the Canadian producer and singer-songwriter making his debut on We Are: The Guard with "what it is." Clocking in at over four minutes, "what it is" forms the pinnacle of kerri's recent EP, glow. "glow is the culmination of my journey, blending personal vulnerabilities and the lessons I've learned from some bittersweet experiences," explains kerri. With haunted soul vocals meeting a mosaic-like lo-fi R&B production, "what it is" is a ghostly transmission from the shadows of the night.
GREEK – BEST
While his artist name and song titles couldn't be more Google-unfriendly, greek's Michael Davie is most definitely going to break the Internet with "best." Produced alongside Max Vossberg and featured on his recent debut album, EXTC, "best" is pure soul deliverance, with Michael pulling from the deepest depths of his viscera as he croons atop heaven-sent fingerpicked guitars: "And my best/It goes to you/Baby/Won't you cry sometimes/Baby/Won't you cry?" FFO: Omar Apollo, Frank Ocean.
1TBSP – JOAN
Just a few months on from dropping everythingeverydayeverything, Golden Vessel's Maxwell Byrne is shifting his attention back to his house project, 1tbsp, with "Joan." Maxwell: "I made 'Joan' when I was over in Vienna in March. I threw a party there in a villa a few days later and I was able to finish a version of this song to play out, which I did before the police shut it down." With Brazil's Lulina presiding over floaty mellotrons and four-on-the-floor beats, "Joan" conjures pure club rapture.
VELVETEARS & ELI FILOSOV [ P H I L O ] – TRUSTFALL
Every once in a while, a song comes along that takes us by complete surprise. Case in point: "trustfall." While this is their first time appearing on We Are: The Guard, VELVETEARS & eli filosov [ p h i l o ] have very much won us over with this cut from their recent EP sleepover. With raw, unflinching lyrics about depression framed by pretty guitars, "trustfall" is a true hidden gem: "I trust fall into good news/And I always hit the ground/At least the bad things in my life/Know how to stick around."
HRISHIKESH HIRWAY – STILL DREAMING
Hrishikesh Hirway takes time out from hosting his hugely popular podcast Song Exploder to share "Still Dreaming." The follow-up to March's Rooms I Used To Call My Own EP is a beautifully earnest ode to overcoming his depression and rediscovering his love for songwriting, with Hrishikesh specifically paying tribute to his collaborator, New Jersey's Jenny Owen Youngs. Hrishikesh: "Writing with Jenny opened a door to a new way of making music for me, and I'm overwhelmed with gratitude."
-
Follow We Are: The Guard on Spotify for plenty more music! xo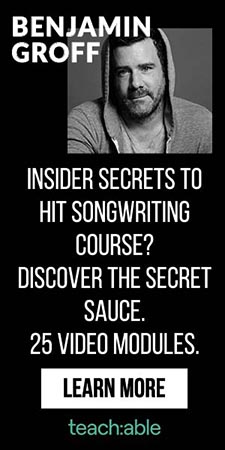 Jess Grant is a frustrated writer hailing from London, England. When she isn't tasked with disentangling her thoughts from her brain and putting them on paper, Jess can generally be found listening to The Beatles, or cooking vegetarian food.