TOP CHILL SONGS: THE 10 VIBES YOU NEED TO HEAR THIS WEEK
Photo by Kelela
Is it me, or does it feel like fall has *finally* arrived? The nights are drawing in, my ugly sweaters are back in heavy rotation, and chunky vegetable soup has returned to the menu. It's also around this time of the year that my playlists begin to shift from summer bangers to more autumnal vibes. On that note, with the weekend almost here, why not get ready for fall with the latest edition of We Are: The Guard's Top Chill Songs featuring Kelela, Nosaj Thing, Gold Panda, and beyond?
-
KELELA – WASHED AWAY
It's been five years since she dropped her fantastic debut album, Take Me Apart, but Washington, D.C.'s Kelela is finally making her return this Friday with "Washed Away." An airy, soul-soothing number that hears Kelela's voice sounding positively untethered from Planet Earth, "Washed Away" is a song about finding healing from within. Kelela:  "I specifically want to speak to marginalized Black folk and highlight the work we do to find renewal in a world that's built to make us feel inadequate."
NOSAJ THING (FEAT. HYUKOH) – WE ARE (우리는)
Ahead of the release of his first album in five years, Continua – a 12-song collection featuring Julianna Barwick, Toro y Moi,  Pink Siifu,  Panda Bear, Eyedress, and more – Nosaj Thing's Jason Chung is sharing the bilingual banger "We Are (우리는)." A collaboration with South Korean indie band HYUKOH, "We Are (우리는)" is a rapturous piece of dance music that hears Jason invoking a kind of holy state, with his minimalistically constructed beats serving as the altar of our dreams. Sublime.
GOLD PANDA – THE CORNER
Following six years of radio silence, Gold Panda is returning at long last this Friday with "The Corner." Featured on his forthcoming album, The Work, "The Corner" is an emotionally swelling piece of dance-meets-hip-hop tranquility that samples Dean Friedman's "Lydia." Gold Panda: "I tried to make it into a beat for some rappers, but I could never get it right. When making this album, I found the sample again. I had a new way of recording, so starting from scratch, it all came together."
KATE BOLLINGER – RUNNING
Just a few months on from the release of Look at It in the Light EP, Kate Bollinger is back today with the steeply intimate, candlelit "Running." "It's a song about a failing relationship, a new time in my life, deep insecurity and anxiety, and wanting to be really known and loved by someone," Kate writes in a statement. Recorded alongside Sam Evian at Flying Cloud Recording Studios in New York's Catskill Mountains, "Running" is a divine transmission straight from the heart. Tune in. Drop out.
FONTERAY – SUNSHINE
While summer is fading in the rearview mirror here in the Northern Hemisphere, Australia's Fonteray is celebrating the arrival of the warmer months in his home country on "Sunshine." Channeling Jungle, Toro y Moi, Washed Out, and more, "Sunshine is a sultry piece of archipelago-pop "about a relationship that didn't work out but can still be reflected upon fondly." With disco beats stroking the skin like a balmy island breeze, "Sunshine" is certain to fulfill your daily allowance of Vitamin D.
CAL IN RED – CAN I CALL YOU TONIGHT? / QUARTERBACK (DAYGLOW / WALLOWS COVER)
Having recently kicked off our column with "With Your Hands" – a song I compared to "Tame Impala circa Currents if imbued with more soft-boy feels" – Grand Rapids two-piece Cal In Red is back today with "Can I Call You Tonight? / Quarterback." A two-for-one cover of the Dayglow and Wallows songs of the same name, "Can I Call You Tonight? / Quarterback" is a cleverly constructed piece of music that hears Connor and Kendall Wright imbuing both songs with an end-of-summer sparkle.
J EMBER – READ MINE
Canada's j ember is tapping into his inner Mellon Collie and the Infinite Sadness on "Read Mine." Written and produced alongside Duncan Hood – perhaps best known for his work with Charlotte Day Wilson – "Read Mine'' is a gracefully eviscerating ballad that j reveals was inspired by 90s indie-rockers including The Smashing Pumpkins, The Verve, and Oasis. "The guitar line in the last chorus f's me up," j adds on Instagram of the cut, which slowly wrenches at the organs one by one.
REMY – DIFFERENT THINGS
He recently spoke to We Are: The Guard about his interest in exploring genres outside of emo and pop-punk, with New York City singer-songwriter remy continuing to showcase his range as an artist on the equal parts sad and cathartic "different things." Coming to us via Hopeless Records, "different things" is about dealing with the sudden and unexpected dissolution of a long-term relationship, with remy singing against a garage beat that sounds like it was programmed for crying in the club.
PUBLIC LIBRARY COMMUTE – NO ONE LIKE YOU
New York City's Public Library Commute has found love in a hopeless place on his latest single, "No One Like You." Speaking on TikTok, Conrad Hsiang describes the follow-up to the Mills duet "Mile High" as a "coming-of-age movie," with his bittersweet voice telling a tale of teenage romance straight out of a John Hughes blockbuster: "You got something I can't afford to lose/I'm running over, under sky blue/You pull me closer and meet my view/My view, oh/There's no one like you." *Dreamy sigh*
N.O11 & REDVEIL – NIGHT
No thoughts. Just vibes from the mysterious N.O11.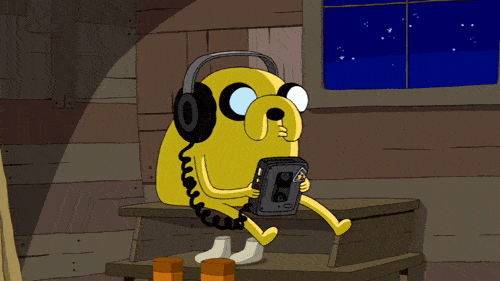 -
Why not follow We Are: The Guard's Weekly Chart for more music? x
Sources:
Adventure Time GIF
Jess Grant is a frustrated writer hailing from London, England. When she isn't tasked with disentangling her thoughts from her brain and putting them on paper, Jess can generally be found listening to The Beatles, or cooking vegetarian food.