BEST CHILL MUSIC: 10 SONGS TO WELCOME SEPTEMBER
Photo by Teo Halm
Happy Pumpkin Spice Month, everybody! September is finally here, and I'm not even kidding when I say as soon as I've finished writing this column, I'm getting my boyfriend to drive me to my local Starbucks to order my first Pumpkin Cream Cold Brew of the year. Look, I'm basic and proud, okay? Before I leave to get my caffeine fix, though, it's time for the latest edition of We Are: The Guard's Best Chill Music. Just don't forget to follow us on Spotify after checking out the following songs from Arima Ederra, Babehoven, Anna of the North, and lots more!
-
ARIMA EDERRA – PORTALS
Following four years of radio silence, Arima Ederra is finally back this Friday with the lush, dreamy "Portals." "'Portals' is a message about longing to be longed for," says Arima. "How humility guided me through a portal back to myself after heartache. It's about confronting why the absence of love seems to be the only time we realize we're out of time to say how we earnestly feel." With her sweetly soulful vocals hanging like a full moon in the night sky over electric guitar strums, "Portals" is impactful in its sincerity.
BABEHOVEN – I'M ON YOUR TEAM
Coinciding with the announcement of Light Moving Time, Babehoven has shared the patiently pretty "I'm on Your Team." "'I'm on Your Team' is about finding a way through the thickest of life's hard moments," says Babehoven of the cut, which has a grand emotionality about it similar to all-American greats like Dolly Parton and Roy Orbinson. "It encapsulates a feeling that someone is out there thinking of you and holding your well-being in their heart, a feeling of innate kindness, care, and community support."
ANNA OF THE NORTH – BIRD SING
Norwegian musician Anna of the North is trying and failing to hold on to that early morning bliss on her latest single, "Bird Sing." Coming after her recent collaboration with Gus Dapperton, "Meteorite," and "Dandelion," "Bird Sing" is as lovely and gentle as those first rays of sun on the bedroom ceiling, before the crushing reality of the day hits. "'Bird Sing' is inspired by those few seconds when you wake up from your sleep, everything feels good, until you remember that it's not," adds the dream-pop artist. Sigh.
NOSAJ THING (FEAT. JULIANNA BARWICK) – BLUE HOUR
It's been five years in the making, but finally, Nosaj Thing's Jason Chung is returning this Friday with the soothing "Blue Hour." Featured on his impending album and the follow-up to 2017's Parallels, Continua, "Blue Hour" is a tranquil listen starring Jason's former collaborator Julianna Barwick. With Julianna's calming vocals coming set against a backdrop of trip-hop beats, "Blue Hour" is the kind of song that feels like it turns time to slow motion, allowing wounds to heal and stitch themselves together again.
KATIE GREGSON-MACLEOD – COMPLEX (DEMO)
Just a few weeks on from going viral on TikTok with the song, and catching the attention of Maisie Peters, Gracie Abrams, King Princess, and more while she was as it, Katie Gregson-MacLeod is finally unveiling an official version of "complex (demo)." A candid, sorrowful piece of balladry that was originally inspired by "Savior Complex" by Phoebe Bridgers, "complex (demo)" still hits as hard as the first time we heard it: "But I'm wearing his boxers/I'm being a good wife/We won't be together/But maybe the next life."
DWY – PULL UP
We Are: The Guard regular DWY continues to prove R&B is far from "dead" on "Pull Up." Coming after "Solid Gold" and "Badu Feels," "Pull Up" is a sultry, melancholy late-night booty call that hears DWY making full use of his range to express his inner demons. "Sometimes the devil on your shoulder wins and puts the angel in a headlock," explains DWY. "It's about sending that text at 1:39 a.m. when you know she's moved on, but just gotta know. The intersection of vulnerability and ego are in a standoff."
NOAH DAVIS – THINKING OF HER
Los Angeles superstar-in-the-making Noah Davis continues to document the queer love experience like no other on his heartbreaking latest single, "Thinking of Her." Speaking on TikTok, Noah reveals "Thinking of Her" was written after he found himself caught in a love triangle. "He was in love with her, and I was his experiment," explains Noah. A painfully honest ballad that'll undoubtedly resonate with other members of the queer community, "Thinking of Her" is the kind of song that crashes through the chest.
LAUFEY – BEAUTIFUL STRANGER
Laufey continues to meditate on the enigmatic, inscrutable nature of love on "Beautiful Stranger." The latest single to be unveiled from Everything I Know About Love after "Falling Behind," "Beautiful Stranger" hears Laufey describing a brief encounter like something out of a movie, with her soft voice coming carried atop gentle notes of bossa nova: "Beautiful stranger, sitting right there/Looked up at me and my dark curly hair/Looked back for a second, didn't want to be rude/I tend to fall in love on the tube."
CROOKED COLOURS – HOLIDAY
While it's drawing to a conclusion around these parts, summer is still to come in the Southern Hemisphere. Australia's Crooked Colours is very much getting in the mood for the dog days ahead of them on "Holiday." Featured on their imminent album, Tomorrows, as written during the peak of the COVID-10 lockdown, "Holiday" is a tropical-flavored cocktail of synthy escapism that goes to the head once the chorus hits: "So take me away/I need a holiday/Take me away/You make the silence fade away." Ah.
WILD PINK & JULIEN BAKER – HOLD MY HAND
Ahead of the release of ILYSM, an album that was written after frontman John Ross was diagnosed with cancer, New York City's Wild Pink is sharing the beautifully sweet "Hold My Hand." Set against a backdrop of brushed percussion, "Hold My Hand" is a touching ode that John wrote after a member of his medical team held his hand before a surgical procedure. John: "It sounds kind of arbitrary, and like it shouldn't have been as impactful as it was, but I felt very comforted and wanted to capture that loving feeling in the song."
-
Don't forget to follow We Are: The Guard on Spotify for lots more! x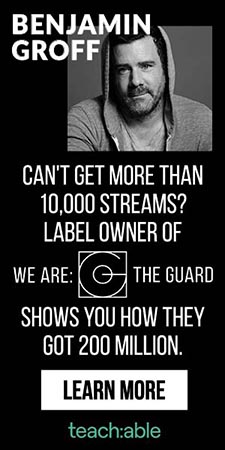 Jess Grant is a frustrated writer hailing from London, England. When she isn't tasked with disentangling her thoughts from her brain and putting them on paper, Jess can generally be found listening to The Beatles, or cooking vegetarian food.