TOP CHILL MUSIC: 10 SONGS FOR SOUP SEASON
Photo by Maude Frédérique Lavoie on Unsplash
Happy November, everyone! It's getting cold out there! Isn't it brilliant to finally have an excuse to stay indoors and do absolutely nothing? Haha! Jokes aside, I love to spend this time of the year under a blanket with a tasty soup and a playlist of chill vibes! It won't be long until the holiday season is in full swing, but before all of that, I plan on using these next couple of weeks to relax, unwind, and eat lots of minestrone! Check out the latest edition of We Are: The Guard's Top Chill Music, featuring Tasha, Omar Apollo, serpentwithfeet, and plenty of others!
-
TASHA – BED SONG 1
Chicago's Tasha is letting her skin brush up against a lover's one last time on the devastatingly spectral "Bed Song 1." "It is a song about love ending, and wanting to linger in the imagining of it at its best, its warmest, and its most tender, while you try to let it go," says Tasha of the feathery cut, which loiters in the liminal space between bliss and despair. "It's about reminiscing before the end has even come, relinquishing your heart so as to keep the sadness away just a little longer."
OMAR APOLLO (FEAT. KALI UCHIS) – BAD LIFE
Omar Apollo is tired of giving his all and getting nothing in return on "Bad Life." A duet with Latin sensation Kali Uchis, "Bad Life" is a lush, melodramatic R&B dispatch from a jilted lover. "It's a song about being resentful toward somebody," says Omar. "Wanting them to have 'bad life' with whoever they're with now." Featuring Omar and Kali's voices stretching to the stars over bossa-nova-tinged guitars, "Bad Life" is best listened to while staring out of a rain-dappled window.
SERPENTWITHFEET – FELLOWSHIP (REMIX FEAT. AMBRÉ & ALEX ISLEY)
Having blessed our ears with the celestial "Fellowship," serpentwithfeet's Josiah Wise is unveiling a brand new remix today featuring Ambré and Alex Isley. Featured on his recent EP DEACON's Grove, this remix hears the three artists soaking in the radiant glow of unbreakable friendship. "My friends, my friends, I'm thankful for the love I share with my friends," sigh Josiah, Ambré, and Alex in the chorus, their vocal harmonies dappling like a sunset against an ocean of lush, tropical beats.
BENEE – DOESN'T MATTER
Just under a year on from dropping her debut album Hey u x – which not only featured the TikTok viral hit "Supalonely," but also collaborations with Grimes, Lily Allen, and Kenny Beats – BENEE is making her starkly personal return today with "Doesn't Matter." It's a fluttering, jangly, moony study of Stella Rose Bennett's mental health and her recent diagnosis with obsessive-compulsive disorder. "Although my fears are real/The things I fear are not," BENEE sings at one point. Gorgeous.
PORTAIR – LOST IN THE DARK
While the title may suggest otherwise, Portair is finally letting the light in on "Lost in the Dark." Lifted from his upcoming EP The Ice That Breaks, "Lost in the Dark '' finds Portisair breaking free from the cult-like teachings of his youth. "This song is about questioning your existence and coming to the realization that you no longer understand what you've been indoctrinated to believe," says Portair of the cut, with his powerful, emotional voice shattering the glass to let the sun pour over him.
MICHELLE – MESS U MADE
Featured Find MICHELLE is delivering pure cathartic soul on "MESS U MADE." The latest single to be taken from their forthcoming sophomore album AFTER DINNER WE TALK DREAMS after "SYNCOPATE," the song is perhaps the New York City collective's most classic cut to date. With Jamee Lockard, Sofia D'Angelo, Emma Lee, and Layla Ku sharing vocal duties, "MESS U MADE '' sounds like the work of some true powerhouse divas, with the four singers beautifully belting out about cutting ties with toxic lovers.
DASTE. – LIGHT ON
Australian trio daste. is taking us on a quietly revelatory journey of self-discovery on their latest single "light on." Featured on their recent debut album dusk&dawn, "light on'' is a John Mayer-indebted nocturne about two lovers gently going their separate ways. "'light on' is pretty much about knowing when to call it," says daste. of the cut, which sways from side to side like a slow dance beneath the stars. "Accepting when it's time to move on and get over what's hurting you or keeping you down."
AMA LOU – TRUST NOBODY
It's been a minute since the music blogosphere has heard from Ama Lou, but the Los Angeles act is making her silken, polished return today with "Trust Nobody." The follow-up to 2019's Ama, who? is a glossy R&B ballad that hears Ama rising above poisonous friendships. "You see I say when I bleed, but you don't care 'bout my health, oh no/This ain't the sh*t that I need when I plan to move stealth/See why I don't trust nobody?" croons Ama atop a smooth production courtesy of Shlohmo and D33J.
CHE ECRU – CANDY
Just in time for Cuffing Season, Los Angeles rapper Che Ecru is sharing an erotic bedroom anthem in the form of "CANDY." The closing song on the recent deluxe edition of Til Death, "CANDY" is a song of a seduction that follows on from Che's recent collaboration with Baby Keem on The Melodic Blue. With his melodic vocal curling like cigar smoke over throbbing sub-bass, "CANDY" is a deeply sultry cut that I recommend listening to with the lights down low: "Hope it tastes good/Hope it tastes like candy."
FACESOUL – LOVE
Concluding this Friday with a meditative hymn courtesy of Somali singer-songwriter FACESOUL. With 5 o'clock fast approaching, "Love" is a perfectly spiritual segue into the weekend. Featured on FACESOUL's recent debut EP YSRA, "Love" embraces listeners from the off, with the backing vocal harmonies stacking up on top of each other like a beautifully divine wall of sound. FACESOUL, meanwhile, presides over "Love" like a guru, with the whole thing making for a transcendental mantra.
-
Follow We Are: The Guard's Weekly Chart for plenty more! xo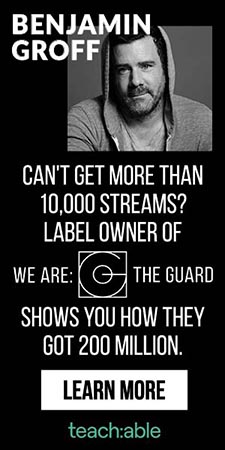 Jess Grant is a frustrated writer hailing from London, England. When she isn't tasked with disentangling her thoughts from her brain and putting them on paper, Jess can generally be found listening to The Beatles, or cooking vegetarian food.