TOP CHILL MUSIC: 10 SONGS WE'RE UNWINDING TO THIS WEEK
Photo by Saint Joshua
While Thanksgiving is over, let's be honest, the madness is only really beginning! Between Black Friday, Cyber Monday, and the countdown to Christmas, something tells me things are about to get kind of chaotic around these parts. Before all of that, however, it's time to relax and unwind with the latest edition of We Are: The Guard's Top Chill Music. Featuring Saint Joshua, Angelo De Augustine, Joesef, and seven other favorites, this column has a vibration for everybody!
-
SAINT JOSHUA – TRIP.
We've been huge fans of Saint Joshua ever since he arrived on the blogosphere with "I Like," with the British singer-songwriter continuing to caress our ears with his electronic-tinged soul vibrations on "Trip." Lifted from the recent EP3, "Trip." finds Joshua exploring sensuality through an honest, vulnerable lens. "Creating this EP allowed me to tap into emotions I display rarely because I'm ice-cold," adds Joshua, with the soothing "Trip." channeling equal parts D'Angelo and Disclosure.
ANGELO DE AUGUSTINE – 27
It's been three years since he teamed up with Sufjan Stevens on A Beginner's Mind, but Angelo De Augustine is finally back today with "27." Coming to us via Sufjan's record label, Asthmatic Kitty, "27" finds Angelo in a steeply reflective mood, with the Thousand Oaks act sounding nothing short of in awe as he contemplates life, love, and death. "Oh, my heart is beating fast and not the last/All wrapped up in the future and the past," sings Angelo, his breathy coo festooned with Christmas lights.
JOESEF – JUST COME HOME WITH ME TONIGHT
Ahead of the release of his debut album, Permanent Damage, in January, Scotland's Joesef is sharing the starkly soulful "Just Come Home With Me Tonight." According to Joesef, he wrote "Just Come Home With Me Tonight" after bumping into his ex at a party. "The change between us was so palpable and that little light in his eyes that he carried for me wasn't there anymore," notes Joesef of the cut, which makes use of a gut-wrenchingly intimate scratch vocal he recorded in his bedroom in Glasgow.
ALEX SIEGEL – BICYCLE
There's nothing quite like spending an afternoon cycling through the city, exploring and getting lost in equal measure, with Santa Monica's Alex Siegel capturing the joys of two wheels on the ethereal "Bicycle." Featured on his recent debut album, Courage, a 10-song collection described by Alex as "a refuge," "Bicycle" is a softly psychedelic dreamscape as seen through the lens of a cyclist cool girl: "On a bicycle/She lifts up her wings/As if she could fly away/Somewhere across the world."
BAERD – FALL IN LOVE FOREVER
He'll be opening for Ariel Posen at The Basement East in December, but before then, Baerd's Isaiah Beard is returning with the radiant "Fall in Love Forever." Clocking in at three and a half minutes, "Fall in Love Forever" starts out like a hushed meditation, with strokes of acoustic backing Isaiah's arching twang. As the song progresses, however, the production begins to swell in size, with strings sending "Fall in Love Forever" into the sky like a sunrise as Isaiah croons of an eternal love. Glowing.
FANA HUES – FLOAT
Fana Hues has had an incredibly busy, successful year, but the Pasadena singer-songwriter is showing no sign of slowing down with the release of the divine "float." Lifted from the deluxe edition of flora + fana, "float" hears the 27-year-old continuing to weave a universe full of sultry, intense emotionality, with Fana sounding nothing short of luscious as she tends to her abandoned heart. "Stuck between/Your eyes and my pride/But I don't wanna know/So I'mma just float," sings Fana. Heaven.
TAILS (FEAT. BENJI LEWIS) – IS THAT OK?
Benji Lewis takes time out from delivering deeply emotional soul ballads to try his hand at something a little more danceable on "is that ok?" "I had been listening to some of Tails' music a fair bit around that time and was really liking the vibe and emotion it brought with it. I remember the first demo sounding really cool and being so ready for it to come out ever since," says Benji. A warm, heady club anthem that floods the bloodstream with oxytocin, "is that ok?" is a "Bop" with a capital "B."
FORREST NOLAN – A SONG FROM YESTERDAY
Just over seven months on from making his debut on We Are: The Guard with the equally clever and lovely "Second Base," San Francisco's Forrest Nolan is returning with "a song from yesterday." According to Forrest, "a song from yesterday" is dedicated to "anyone else that's tried to make new friends." With a relatable narrative about being overwhelmed by social anxiety at a party rendered through Forrest's sweetly tender melodies, "a song from yesterday" is pure acoustic brilliance.
CAL IN RED – REPLAY (LOUNGE)
Cal in Red makes synth-pop music that glows from the inside out, with Connor and Kendall Wright once again brightening up the gloom with "Replay (Lounge)." Described by Cal in Red as "a tale of camaraderie that's all dressed up to dance," "Replay (Lounge)" is a John Hughes-esque neon fantasy that carries with it a touch of melancholy as they sing of long-lost lovers and friends: "'Cause when I think of you/And what we mean/It takes me back/To the scene/I press replay it hits me like a dream."
CIGARETTES AFTER SEX – PISTOL
The saying goes, "If it ain't broke, don't fix it," with El Paso's Cigarettes After Sex very much subscribing to that view on their latest single, "Pistol." Following 2019's Cry, "Pistol" continues to deliver on the woozy, lovelorn style of dream-pop we've come to expect from Cigarettes After Sex, with Greg Gonzalez's voice dappling like the moon against the ocean as he ruminates on a breakup: "You've been on my mind/And I'll wastе my time/Till you lift me off the floor/And love me again."
-
Follow We Are: The Guard on Spotify for more! xox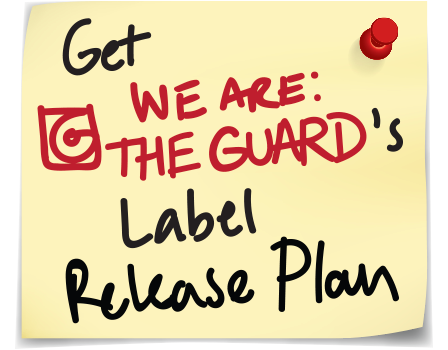 Jess Grant is a frustrated writer hailing from London, England. When she isn't tasked with disentangling her thoughts from her brain and putting them on paper, Jess can generally be found listening to The Beatles, or cooking vegetarian food.