THE 10 BEST CHILL SONGS FOR THE WEEKEND
Ekaterina Krusanova on Unsplash
"Sun, sun, sun, here it comes!" I'm not sure about you guys, but I'm loving this spring weather! And what better way to compliment the blooming daisies and afternoon sunshine than with a fresh set of chill music? With the countdown to the weekend officially on, then, let's get going with the latest edition of We Are: The Guard's Best Chill Songs! Featuring slenderbodies, Holly Humberstone, Adam Melchor, and plenty of others, this playlist has something for everyone!
-
SLENDERBODIES – HEARTBEAT
California's slenderbodies are easing our tensions and helping us to let loose this Friday with their latest single "heartbeat." Having recently teamed up with Tim Atlas on "focus" and Crooked Colours on "superpowerful," it's great to hear Ben Barsochinni and Aram "Max" Vehuni going "back to basics" of sorts with their most recent offering. Bringing together their sultry, breathy whispers and electric guitars that slither like snakes in tall grass, "heartbeat" is sure to help you decompress ahead of the weekend. Who needs a masseuse?
HOLLY HUMBERSTONE – HAUNTED HOUSE
The consistently incredible Holly Humberstone returns this April with "Haunted House." Fans of the British singer-songwriter will know her childhood home has long played an important role in both her music and identity, with Holly paying her most direct tribute to her former fortress on this gorgeously chilling piano ballad. "They say this house is haunted/But all these ghosts I've grown with," begins the track – which barely progresses beyond a cappella form as Holly tragically bids farewell to the specters she was born and raised among.
ELIO – @ELIO.IRL (ADAM MELCHOR REMIX)
Having recently tapped Charli XCX for a reworking of "CHARGER," Online It Girl ELIO enlists another We Are: The Guard favorite, Adam Melchor, for this heavenly spin on "@elio.irl." "When ELIO sent this to me it was one of the most inspired moments I had all quarantine. Truly was blown away about everything," reveals Adam of the song – which originally featured on ELIO's EP Can You Hear Me Now? – with Adam transforming the track from a slow-cruising synth groove into a prismatic, folky dream sequence. Divine.
FORREST NOLAN – SECOND BASE
There's no shortage of tracks about heartache, but California's Forrest Nolan is doing the seemingly impossible and bringing an entirely unique perspective to the topic on "Second Base." According to Forrest, his latest single is "about making it to second base with your feelings after a breakup." Built around nimble electric guitars, chiming xylophones, and very little else, "Second Base" flips the language typically associated with falling in love on its head, with the whole thing making for a genuinely lovely, clever little listen.
TEFLON SEGA & OZZIE – 22HRS
It's been a ridiculously long time coming, but finally, "22Hrs" by Teflon Sega is getting an official release this April. Originally appearing on the blogosphere over three years ago, "22Hrs" still sounds as fresh as the first day it dropped. If anything, the song serves as proof of how far ahead of the curve Teflon was, with the anime character-turned-R&B crooner's pained, shivering falsetto vocals and OZZIE's accompanying cloud-rap production making like a blueprint for a whole bunch of genres that have emerged since. Vibe on.
RENFORSHORT – EXCEPTION
She isn't afraid to kick our butts when she wants to, but renforshort is showing us her more fragile, vulnerable side on "exception." Lifted from her forthcoming EP Off Saint Dominique, "exception" is a string-swept ballad about unrequited love that could bring a person even in the most stable, long-term relationship to tears (hint: me). "If I call you baby, would that be alright?/I just want to want you without thinking twicе," sighs renforshort on the track – which oozes with a dreamlike country vibe that reminds me of a young Kacey Musgraves.
CHILD & MAHALIA – AWAKE
We Are: The Guard favorites Chiiild is beckoning us into the bedroom on their latest single – the Mahalia-featuring "Awake." While some prefer to keep it coy when it comes to these kinds of matters, Chiiild and Mahalia are refusing to hold back on this hot, sexy piece of cosmic-soul – which follows on from the release of the celestial "Sleepwalking." With lyrics depicting a couple reconnecting between the sheets after some time apart, "Awake" is a sensual, carnal experience from start to finish that's quite frankly too good to resist.
MASO (FEAT. FELICE) – HOUR LOVE
Just a few weeks on from making his debut on We Are: The Guard with the nostalgic "Brooklyn," Maso returns today with "Hour Love." The second single to be unveiled from his forthcoming album For Loving Me hears Maso teaming up with Felice to deliver a warm dose of horn-swept jazz – the kind that serves as a perfect listen on a Sunday afternoon in spring. "'Hour Love' is about wanting to be with someone when you can't," reveals Maso. "It's about cherishing the brief moment(s) you do have with the person you love, despite the obstacles in your way."
53 THIEVES – RED LEATHER
Bedroom mixtapes at the ready, as 53 Thieves is back and sounding more alluring than ever on their latest single "red leather." Comprising of British singer-songwriters Jess Mollie and Conor Jordan, New York producer Ronin, and Mississippi producer Pryces, 53 Thieves is reminding us of their unbreakable creative synergy on the follow-up to 2020's missed calls EP. Bringing together breathy-soft vocals and a skittering neo-soul beat, "red leather" is a titillating ode to loneliness and longing that's best listened to sometime after midnight.
PUBLIC LIBRARY COMMUTE – 25MPH
Look up the definition of "bliss" in Merriam-Webster and I'm pretty sure you'd find this song. Public Library Commute's Conrad Hsiang is delivering some serious good vibes on "25mph." Featured on his recent EP 1000 Summers, "25mph" is the kind of nostalgic listen that'll remind you what it feels like to enjoy barbecues, pool parties, and road trips with friends. Combining soulful jazz samples and sunny-afternoon beats, "25mph" is perhaps best compared to the recent works of Caribou with a tranquil bedroom-pop twist.
-
Don't forget to follow We Are: The Guard's Weekly Chart for more! x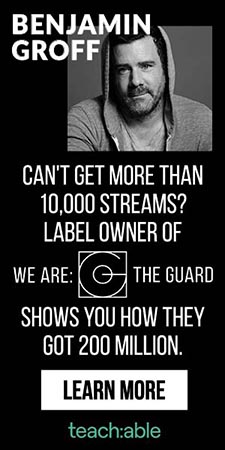 Jess Grant is a frustrated writer hailing from London, England. When she isn't tasked with disentangling her thoughts from her brain and putting them on paper, Jess can generally be found listening to The Beatles, or cooking vegetarian food.